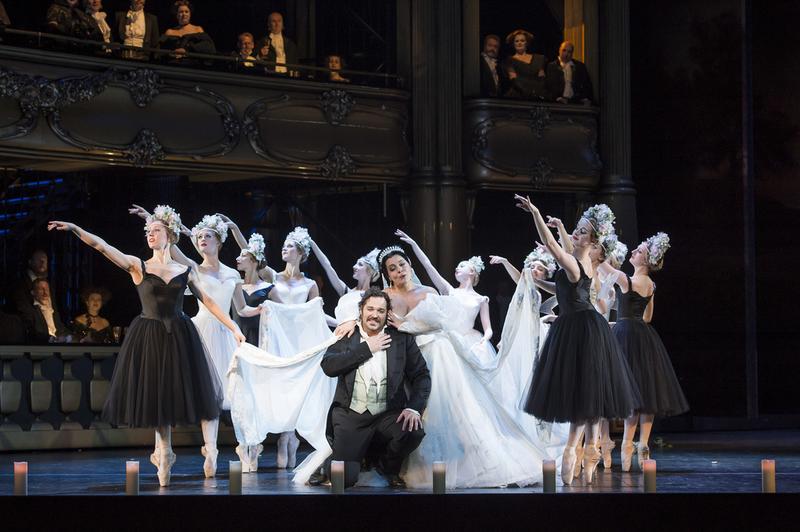 Of all the operas that feature fatal illness, murderous jealousy and bloody revenge, there's one that may be deadlier than them all. At the end of Giuseppe Verdi's The Sicilian Vespers (spoiler alert), just about everyone meets their maker.
Tune in on Saturday at 1 pm to hear the original, French version of this tumultuous work, in a recent production from London's Royal Opera House. It's led by the company's music director, conductor Antonio Pappano, and features soprano Lianna Haroutounian as Hélène, tenor Bryan Hymel as Henri, and bass-baritone Erwin Schrott as Procida.
In the mid-1850's, Verdi was on a creative hot streak that few composers have ever matched. He had just finished three operas that are still among the most popular ever written: Rigoletto, Il Trovatore and La Traviata. On the heels of those successes, Verdi got the chance to write a new opera for Paris: Les Vêpres Siciliennes (The Sicilian Vespers). When the French master Hector Berlioz heard Verdi's Vêpres in Paris, he said the work had "a grandeur, a solemn mastery more marked than in the composer's previous creations."
Program Details:
Conductor: Antonio Pappano
Hélène: Lianna Haroutounian (soprano)
Henri: Bryan Hymel (tenor)
Montforte: Michael Volle (baritone)
Procida: Erwin Schrott (bass-baritone)
Béthune: Jean Teitgen (bass)
Vaudemont: Jeremy White (bass)
Ninette: Michelle Daly (mezzo-soprano)
Danieli: Nicolas Darmanin (tenor)
Thibault: Neal Cooper (tenor)
Robert: Jihoon Kim (baritone)
Mainfroid: Jung Soo Yun (tenor)
Royal Opera Orchestra and Chorus