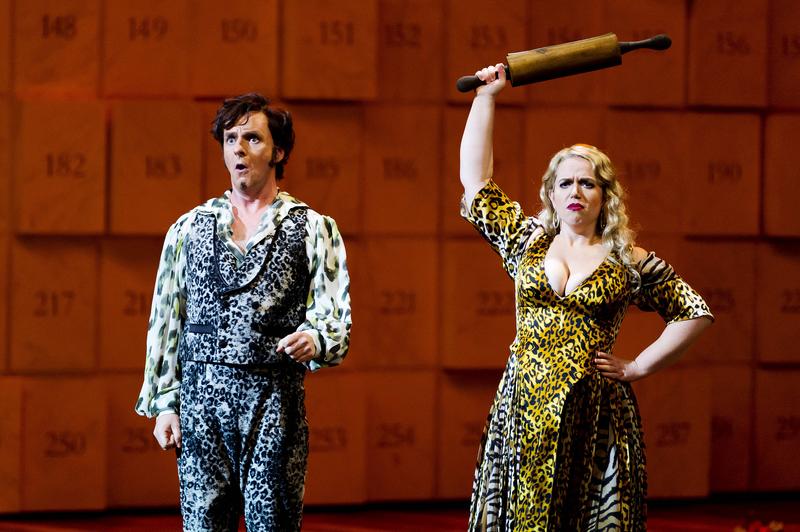 • Listen to the Operavore stream
On World of Opera, host Lisa Simeone brings us Das Liebesverbot from one of Germany's most prestigious and historic musical institutions, the Gewandhaus in Leipzig. The stars are soprano Melanie Diener, baritone Morten Frank Larsen and tenor Benjamin Bruns, in a performance led by conductor Kristjan Järvi.
Richard Wagner once called his second opera, Das Liebesverbot, a "sin of my youth." Wagner wrote Das Liebesverbot (The Ban on Love) in the mid-1830's, when he was barely 21 years old. As with all his operas, he wrote the libretto himself, basing it on Shakespeare's play "Measure for Measure."
Even the most basic description of the score makes it virtually unique among Wagner's operas. For one, it's a comedy. His only other comedic opera is Die Meistersinger, but it's a heavyweight that's over four hours long and explores some pretty serious themes.
By comparison Das Liebesverbot, is full of youthful preciousness. Thematically, the opera strikes a stand against authority -- German authority in particular. Wagner eschews German musical elements in favor of French and Italian operatic conventions and even changes the original setting of the play from Vienna to Palermo, Italy. Considering all that, it's not surprising that Wagner looked back on his second opera with a bemused eye.
Cast:
Conductor: Kristjan Järvi
Isabella: Melanie Diener (soprano)
Friederich: Morten Frank Larsen (baritone)
Mariana: Anna Gabler (soprano)
Claudio: Benjamin Bruns (tenor)
Dorella: Sonja Freitag (sorano)
Luzio: Benhard Berchtold (tenor)
Brighella: Andreas Hörl (bass)
Pontio: Julian Prégardien (tenor)
Danieli: David Steffens (bass)
MDR Radio Orchestra and Chorus