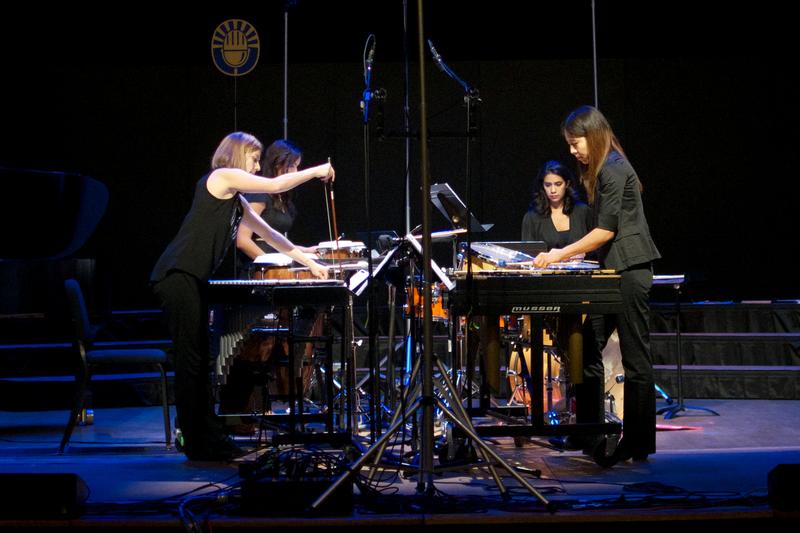 From Washington, D.C., this week's program includes one of the youngest performers From the Top has ever featured: an 8-year-old Bolivian-American pianist. He performs the music of Haydn with a delightfully infectious sense of freedom and joy. Also, an all-female percussion quartet brings us a mesmerizing piece written by a contemporary composer and the show concludes with the sheer inspiration of a youth gospel choir.
Program playlist:
Violinist Kiarra Saito-Beckman, 15, (Jack Kent Cooke Young Artist) from Bend, Oregon, performs "Carmen Fantasie" by Franz Waxman (1906–1967), with pianist Christopher O'Riley.
Flutist Taiga Ultan, 17, (Jack Kent Cooke Young Artist) from Brooklyn, New York, performs Fantaisie for Flute and Piano by Philippe Gaubert (1879–1941), with pianist Christopher O'Riley.
Pianist Oscar Paz-Suaznabar, 8, (Jack Kent Cooke Young Artist) from Alexandria, Virginia, performs the third movement, Prestissimo, from Sonata No. 52 in G major, Hob. XVI:39, by Franz Joseph Haydn (1732–1809).
Alumni feature: percussionist Marcelina Suchocka from Chicago, now living in New York City, performs "Chega de Saudade" (No More Blues) by Antônio Carlos Jobim (1927–1994) and arranged by Gary Burton.
The Excelsis Percussion Quartet performs Prelude I and Chorus I from Threads by Paul Lansky (b. 1944).
Percussionist Marcelina Suchocka
Percussionist Aya Kaminaguchi
Percussionist Mariana Ramirez
Percussionist Clara Warnaar
The Washington Performing Arts' Children of the Gospel Choir performs "Praise Ye the Lord" by Scott Cumberbatch, with pianist Clifton Williams.