Watch: Monty Python-Inspired 'All the Great Operas in 10 Minutes' Short Film
Thursday, January 12, 2017 - 11:36 AM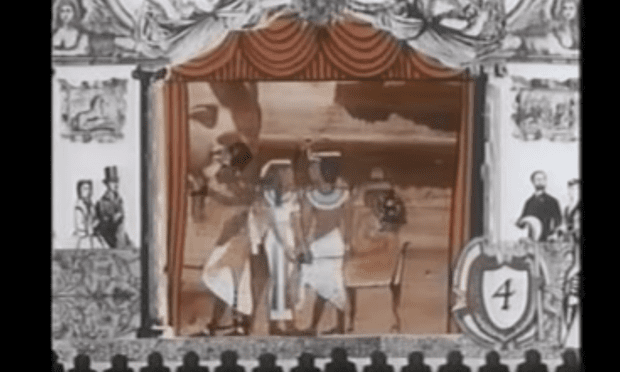 (Kim Thompson/Youtube)
In 1992, Canadian television writer and children's book author Kim Thompson created a short film that brings opera newcomers and aficionados together. "All the Great Operas in 10 Minutes" is a cut-out animation short film that Thompson wrote, directed and produced. It's perfectly self-deprecating, witty and tickles the sides of opera veterans and newcomers.
In the course of 10 minutes, viewers receive delightful recaps of some of the most notable operas in the repertoire: La Traviata, Carmen, Don Giovanni, Aida, Tosca, Tristan and Isolde, Madame Butterfly and The Ring of the Nibelung. That last one's a super value — where else are you going to get your entire Ring Cycle fix in two-and-a-half minutes?
Thompson created the short as a final project in film school. She has since gone on to write for Canadian children's television shows, such as Caillou and Franklin and the children's book series Eldritch Manor. In school, while most of her classmates made use of large sets and live actors, Thompson played small ball.
"I was the only one to lock myself in a dark room and do it all myself with pieces of paper and an [X-ACTO] knife," she said in an email to WQXR. "I narrated it myself, too, which lowered my grade on it to B+. My prof said I should have used an actor!"
Years before while in grade school, the idea originally came to Thompson when she came across a book called A Pocket Guide to Opera. "The title alone made me laugh. It was filled with brief, two-to-three paragraph story synopses, but I figured I could cut it down even shorter." Along with inspiration from Terry Gilliam and Monty Python, she said the project moved rather quickly once the basic idea was in place.
Thompson says that although the film made her laugh and that she wanted to make her classmates smile, there wasn't exactly a specifically intended audience. She thought regular opera goers would find it funny, as well as those unfamiliar with the art form. And, she said, "judging from the response over the years, this turned out to be the case."
More in:
James Bennett II is a staff writer for WQXR.
The WQXR e-newsletter. Show highlights, links to music news, on-demand concerts, events from The Greene Space and more.