Watch: Cellist Tim Smedley Uses His Music to Protest Tree Felling
Friday, January 27, 2017 - 12:00 AM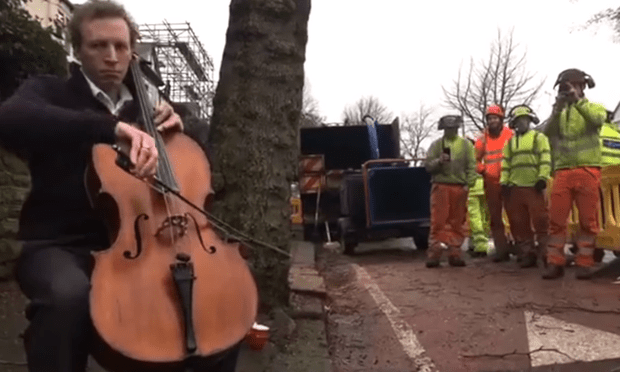 (Youtube)
Shortly before a tree in Sheffield, U.K. was to be cut down, local police allowed a group a final five-minute goodbye. Cellist Tim Smedley took the lead with a solemn performance of  "The Song of the Birds." It's an old Catalan folk tune that conductor Pablo Casals later arranged for cello, as a protest song against the Franco Regime.
In a message to WQXR, Smedley explained the local situation. The town council hired a private company for road maintenance and as part of that, they have expressed the need to fell a great deal of trees in the area. There has been local pushback, however, with organizations like Sheffield Tree Action Groups (STAG) protesting against the number of trees being felled, the timing and the general procedure. Although the company is replacing all felled trees with saplings, Smedley explained that it could take generations for the trees to provide the same benefit.
The video below was shot during a tree protest on Smedley's street. While the cellist admits that he is not as active as others in the area, he had "a spur of the moment idea" to take some kind of action in the 30 minutes the protesters had to clear the area. "I suddenly realized that as musician, I had in that moment a chance to do something that hadn't been done in the campaign so far," said Smedley. "So I ran home, grabbed my cello and printed out 'The Song of the Birds.'" Even though it was a last minute thought, the message was heard loud and clear.
Listen to his stirring performance below.
More in:
James Bennett II is a staff writer for WQXR.
The WQXR e-newsletter. Show highlights, links to music news, on-demand concerts, events from The Greene Space and more.