You Haven't Seen A Cloud Play a Piano Until Now
Tuesday, December 20, 2016 - 04:33 PM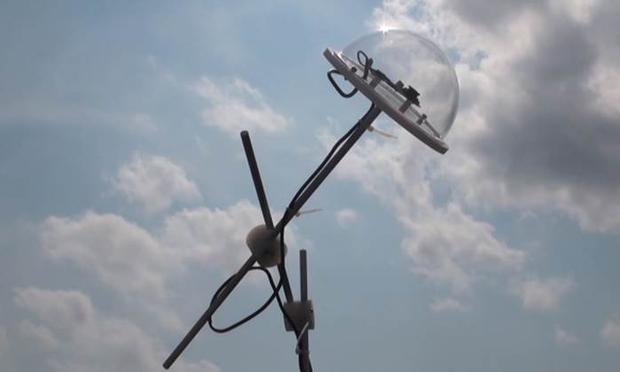 (David Bowen)
Weather has long been an inspiration for composers. Vivaldi's Four Seasons and its accompanying poems, for instance, conjured up natural images of lonely winters and breezy spring days. Chopin's Prelude No. 15, "Raindrop," begins with notes that sound like rain falling on a window and contains a passage that captures the sounds of stormy weather. And you can practically hear the swirling winds and rustling grasses in Debussy's "The Wind in the Plain."
All of these musical feats share the skies as inspiration, but artist David Bowen is taking more literal approach to the weather in music. The weather has long fascinated Bowen and his recent project answers a related question: What if a cloud could play the piano?
His artistic journey ended up with an outdoor camera that tracked the movement of the clouds above. The camera sent a live video stream to a computer, which ran with a custom program that resembled a virtual piano. When a cloud passed over one of the "keys," a signal was sent to a connected machine that would strike the corresponding key on a real piano.
As one would expect, the sounds are random. Sometimes they produce a pleasant ascending sound, following the movement of the cloud sweeping above. But other times the sounds are dark and disjointed, a reflection of nature's unpredictability. Listen to the installation in action below. If you want to learn more about how it works, check out the project's profile on Great Big Story. What do you think of the project?
cloud piano from david bowen on Vimeo.
More in:
James Bennett II is a staff writer for WQXR.
The WQXR e-newsletter. Show highlights, links to music news, on-demand concerts, events from The Greene Space and more.