Watch an Extraordinary Busker Play Chopin in the Middle of Union Square
Monday, January 16, 2017 - 12:00 AM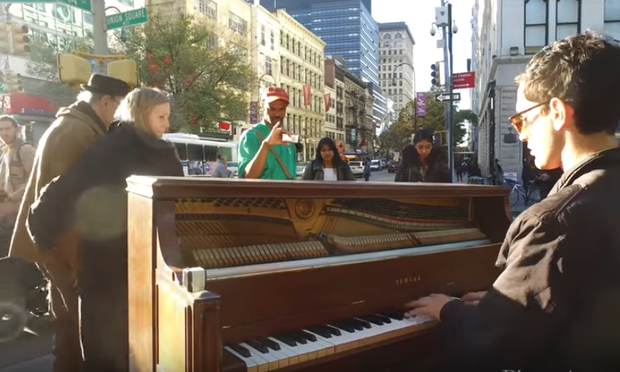 (Piano Around the World/Youtube)
When descending into the subway or strolling through the park, it's not unusual to see a busker wailing on a clarinet or crooning above the sounds of foot traffic. It is unusual, however, to see a piano. Not a portable 88-key keyboard that can imitate the sounds of the beautiful instrument, but a hefty wooden box filled with a complex system of keys and strings and hammers that can sing any tune from Beethoven to Brubeck.
Yeah, pianos look out of place on the street, but that doesn't stop Kevin Shoemaker from lugging his upright around New York City to share a musical gift with everyday people. In the video below, he is in Union Square playing Chopin's Nocturne in E flat on the piano of fellow musician Dotan Negrin, who also moves his piano around the world to grace public audiences with delightful music. Though Shoemaker typically does his public performances from June to August, this one was actually filmed on during November, making Negrin's recent upload a summery breeze during a blustery winter.
Dotan Negrin, whose YouTube channel features the Shoemaker video among other public performances, has quite an interesting story. Several years ago, he quit his day job to forge his own path. He combined his great loves — "music, traveling the world and meeting people" — to begin Piano Around the World, a project that has taken him to 35 states and 20 countries (and counting). For him, there's appeal in the challenge of doing something everyone else deems impossible and trying your hardest to make your dreams come true. Piano Around the World features street performances by Negrin, but he doesn't shy away form sharing the musical love and inviting other musicians to play the piano or collaborate on something new that can captivate the live public audience.
Update: We previously misidentified the piano's owner. Although Shoemaker and Negrin both publicly perform on the piano, the one in Union Square video belongs to Negrin, and Shoemaker played as a guest. The performance was also from November 2016.
More in:
James Bennett II is a staff writer for WQXR.
The WQXR e-newsletter. Show highlights, links to music news, on-demand concerts, events from The Greene Space and more.