Watch Live: Bang on a Can's 10-Hour Marathon of New Music
Sunday, June 21, 2015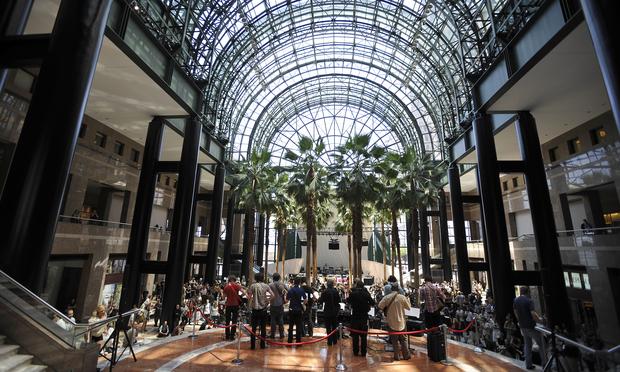 (Stephanie Berger)
Living Music. Living Composers.

More
On Sunday, June 21 starting at 12 pm, enjoy a ten-hour live video-stream of the annual, rollicking Bang on a Can Marathon of new music from the Winter Garden at Arts Brookfield. Entering its 28th installment, this year's marathon - part of the cross-disciplinary River to River festival - features performances by Bobby Previte, Asphalt Orchestra, Bang on a Can All-Stars, Grandband, Dither and many more artists. 
Launched in 1987 by composers Michael Gordon, David Lang and Julia Wolfe at the Exit Art Gallery in Soho, the annual Bang on a Can Marathon has become one of New York's most anticipated new-music concerts – a sustained collision of styles, forward-looking artists and unapologetic composer-performer provocateurs.
Over the years, the marathon has moved to different spaces from Lincoln Center's Alice Tully Hall to The Kitchen to the Brooklyn Academy of Music and featured artists who have now become part of the canon including Steve Reich, John Cage, Pauline Oliveros and Milton Babbitt, among others.
Watch the 2015 marathon live below, courtesy of Little Dog Live.
Complete Program (timings are approximate)
12:00 PM
Crossfire Steel Orchestra, Inc.
Lord Nelson - Ah Goin' An Party Tonight (arr. Kendall Williams)
Kendall Williams - Down Seven
Vicky Chow, piano
Tristan Perich - Surface Image - for solo piano and 40-channel 1-bit electronics
Dither
Lainie Fefferman - Tongue of Thorns
2:00 PM
Florent Ghys, bass
Florent Ghys - Music from the album "Télévision"
Third Angle New Music
LJ White - Wilder Shores (world premiere - with original poetry by Matthew Dickman and Michael Dickman)
Grand Band
David Lang - face so pale
Asphalt Orchestra
Pixies / Charles Thompson - Bone Machine (arr. Peter Hess); River Euphrates (arr. Stephanie Richards); Cactus (arr. Ed RosenBerg III)

Crossfire Steel Orchestra, Inc.
Kendall Williams - Rehearsals, MisConception
Bang on a Can All-Stars
Julia Wolfe - Reeling (from Field Recordings)
Johann Johannsson - Hz (from Field Recordings)
Anna Clyne - A Wonderful Day (from Field Recordings)
Todd Reynolds - Seven Sundays (from Field Recordings)
4:00 PM
Tomoko Mukaiyama, piano
Somei Satoh, Incarnations

Third Angle New Music
Julian Day, Quartz (NY premiere)
Asphalt Orchestra
Ivo Papasov, Ivo's Ruchenitsa, Trakia Suite, Ilikovo Horo (arr. Peter Hess - world premiere of arrangement)
Grand Band
Paul Kerekes, wither and bloom
6:00 PM
So Percussion and Nels Cline, guitar and Bobby Previte, drums
Bobby Previte, Terminals 3 and 4
Grand Band
Michael Gordon, Ode to La Bruja, Hanon, Czerny, Van Cliburn and little gold stars... (or, To Everyone Who Made My Life Miserable, Thank You.)
Cyro Baptista & Friends
Cyro Baptista, Forró for All
8:00 PM
Gong Linna, voice & Bang on a Can All-Stars
Lao Luo, Michael Gordon, David Lang, Julia Wolfe, Cloud-River-Mountain (world premiere commissioned by Maria and Robert A Skirnick and Arts Brookfield)
Glenn Branca Ensemble
Glenn Branca, Ascension Three
The WQXR e-newsletter. Show highlights, links to music news, on-demand concerts, events from The Greene Space and more.