Watch This Piano Duo's Must-See 'Sleigh Ride' Video That Is Just Right
Monday, December 12, 2016 - 09:31 AM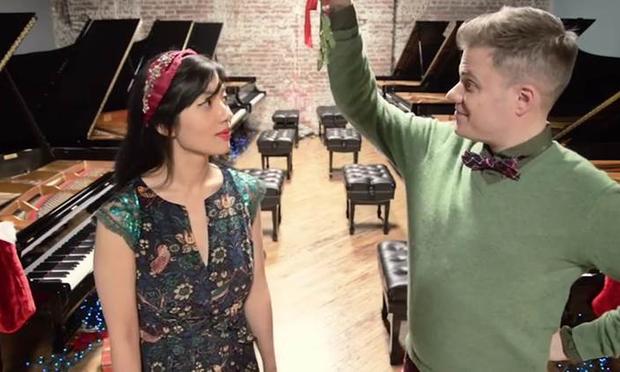 (YouTube / Anderson and Roe Piano Duo)
If you've heard of the piano-duo Anderson and Roe, it's most likely because of their cinematic music videos, such as their 10 part epic of Stravinsky's Rite of Spring. However, one that you probably missed was last year's lower budget, but no less inventive and whimsical, "Sleigh Ride."
Over the past several years, Juilliard grads Greg Anderson and Elizabeth Joy Roe, have been pioneers in the still-new world of the classical music video. Of course, many a grand performance on DVD has been made, but Anderson and Roe were among the first to assimilate the high production value and theatricality of popular music videos into classical works. Seeing their video of a Vivaldi arrangement as a freshman in college was a revelation. It was one of the first signs that classical music was heading in a completely new and exciting direction. As their mission statement reads, they strive " ... to make classical music a relevant and powerful force in society."
Shedding the metaphorical bells and whistles for literal bells and whistles ... and streamers and funny plastic sun glasses and nutcracker miming, Anderson and Roe perform Leroy Anderson's (no relation) Liszt-y and catchy rendition of the Christmas classic "Sleigh Ride." On eight pianos. At the same time. You'll see.
More in:
Justin Sergi is a freelance digital producer for WQXR. 
The WQXR e-newsletter. Show highlights, links to music news, on-demand concerts, events from The Greene Space and more.