Watch: Swedish Orchestra Uses Instruments Made From Ice
Tuesday, March 14, 2017 - 12:00 AM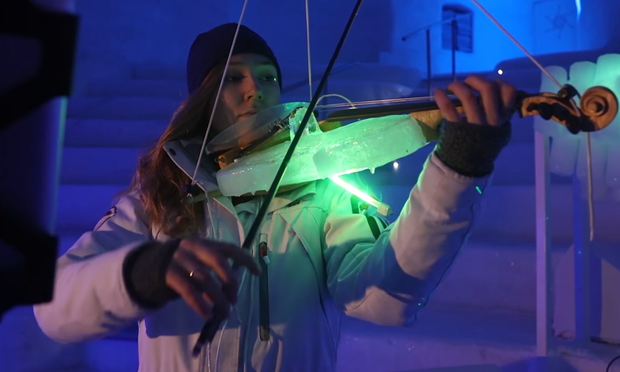 (National Geographic / Youtube)
Look, the cold is pretty amazing. We've long known that frigid temperatures are the reason that awesome overcoats, prepackaged artisanal quinoa bowls and Vivaldi's "Winter" exist. Now, we can add ICEstruments to that list.
They're the creation of Swedish artist Tim Linhart, and are so much more than good-looking ice sculptures for the musically inclined. These are fully functional musical instruments cut from frozen water, complete with their own unique complications and technical approaches.
The biggest question you may find yourself asking will probably deal with exactly how the instruments get played. A violin body made from a hunk of solid ice weighs considerably more than one made of hollow wood. That's simple enough to solve — cables suspend the instruments in the air, providing much-needed support for those who play them.
But there's a much more obvious issue: ICEsturments are made of ice, which — much like ice cream on a hot day or your heart after watching a toddler's emotional reaction to "Moonlight Sonata" — will inevitably melt. A player's body heat speeds up that process, as does the collective breathing of the audience huddled together to see the curious instruments in action. Even before they begin to melt, the increasing temperature negatively affects the tuning of the instruments, rendering their sound less pleasing as the performance moves along. In order to correct this unfortunate and natural course of events, creator Linhart turned to architecture. It turns out the ICEstruments need to be played in a specially designed concert hall, one that utilizes a ventilation system to whisk all of that hot air out of the room.
Check out a short interview with Linhart and a demo of the instruments below. And if you just happen to find yourself in Sweden sometime in the future, check out their site and get yourself a ticket to experience the coolest music you'll ever hear.
More in:
James Bennett II is a staff writer for WQXR.
The WQXR e-newsletter. Show highlights, links to music news, on-demand concerts, events from The Greene Space and more.