Watch: Two Brothers' 'Fantasia'-Inspired Musical Adventure
Monday, March 13, 2017 - 12:00 AM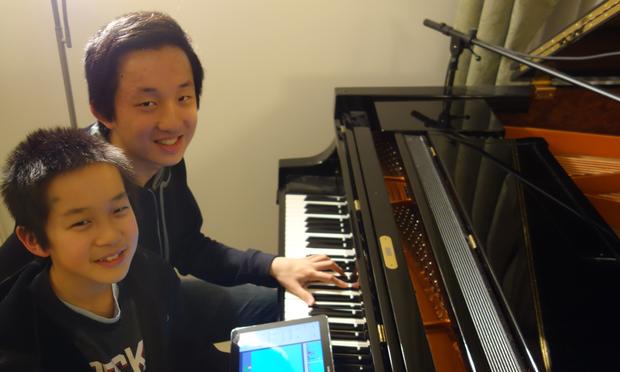 (Mingyi Liu)
Music is a powerful storytelling device — just check out Symphonie Fantastique or Disney's Fantasia if you needed a reminder of that. It speaks to all of us, and the universal appeal of music-as-storytelling isn't lost on Charlie and William Liu, together called "Charlliam."
Charlie and William, ages 16 and 11, respectively, bring some unique skills to the table. William is an animator — according to the bio provided on his site, the young artist has only recently picked up drawing. That fact makes these animations both impressive and indicative of how much he can continue to grow as a visual artist.
William's older brother, Charlie, has made the piano his specialty and boasts an impressive resume. He made an appearance on Oprah, performing alongside Lang Lang during her "World's Most Talented Kids" episode — one that also featured a 19-year-old Taylor Swift. Charlie has also been named the youngest Lang Lang International Music Foundation Scholar, and has demonstrated a commitment to the community through his organization of the "Young Artists for Haiti" project and benefit recitals for University of Iowa Children's Hospital and Plainsboro Rescue Squad. He's also begun recording and released his first album, Live, Dream, Love, in November 2016.
Late last year, the two brothers kicked off "Fantasies," a creative project that pairs Charlie's music with William's animations. The first of the stories, "The Legend of Twin Flowers," uses the soul-stirring melancholia of a Chopin Nocturne (Op. 48, No. 1 in C minor) to illustrate the eternal themes of love, death and rebirth.
The idea for "Fantasies" came about after a bout of brotherly teasing. After William's friendly boast that one of his animations on YouTube was outperforming his brother's music uploads, Charlie realized that they could combine their talents to create something new. "I always wanted to get more people to love classical music, but even though I have given many solo recitals they don't reach that many people," explained Charlie in an email. "Then I realized that maybe I could combine my music with William's animation to reach more people and an audience that usually does not listen to classical music."
The brothers plan on collaborating on at least three more "Fantasies," and until they get released we'll be happy to share this one.
And if you're looking for a little extra, check out their bloopers and outtakes! 
More in:
James Bennett II is a staff writer for WQXR.
The WQXR e-newsletter. Show highlights, links to music news, on-demand concerts, events from The Greene Space and more.