Watch: Vivaldi's 'Spring' Like You've Never Imagined It
Monday, March 20, 2017 - 12:00 AM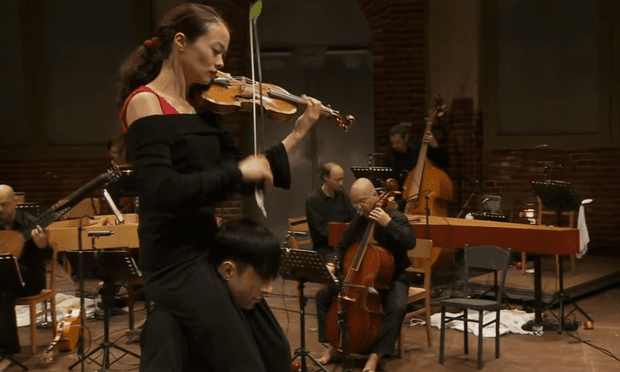 (patcucciola / YouTube)
The Four Seasons is undoubtedly Vivaldi's most recognizable and famous work — which speaks volumes, considering this is the same guy that gave the world the resplendent Gloria in D, an earworm of a double cello concerto and the crown jewel of the Kramer vs. Kramer soundtrack.
Something about The Four Seasons has made it a favorite even among those who admit to knowing next to nothing about classical music, and it's most famous "season" — Spring — has become a pop culture staple. Those measured and elegant opening strokes have been featured in seemingly everything from Carl Sagan's Cosmos to The Secret Life of Pets. There's a reason why it appears on every nondescript classical compilation used at garden parties; it's just that pleasant.
"Spring," just like the three other concerti in The Four Seasons, was accompanied by a sonnet of mysterious origins (that may or may not have been written by Vivaldi himself). The poems and the music work in concert to create a narrative describing the characteristics of each passing season. In "Spring," for instance, the music is explicitly meant to evoke the festive song of chirping birds, thunderstorms and the wild dance party of nymphs and shepherds.
What those sonnets did for the music in the 18th century, music videos can do for the 21st. The period-instrument toting Akademie für Alte Musik Berlin teamed up with violinist Midori Seiler for a choreographed performance of Vivaldi's seminal work. It's weird in the best way possible, if "weird" is indeed the right word to describe whatever is going on here.
Seiler is carried about on the shoulders of a man:
Musicians become birds:
There are mouth ribbons:
Lots, and lots of mouth ribbons:
And some smooth string choreo:
We've trimmed the video to just show you "Spring." Dancers among us, what do you make of this captivating video?
More in:
James Bennett II is a staff writer for WQXR.
The WQXR e-newsletter. Show highlights, links to music news, on-demand concerts, events from The Greene Space and more.