We Asked Parents: How Do You Get Your Kids to Practice?
Monday, September 12, 2016 - 12:00 AM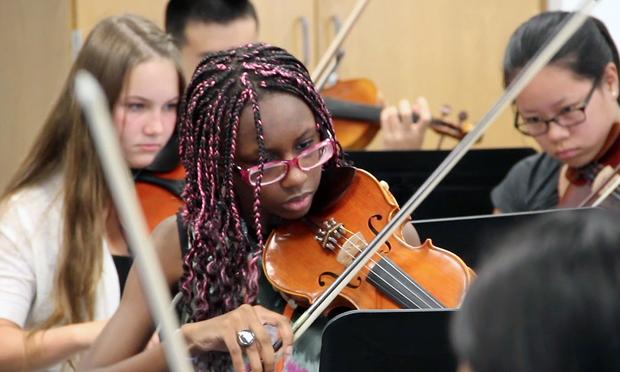 (Kim Nowacki/WQXR)
Back-to-school time also means back to music class and/or private lessons for a lot of students, so we asked parents for some tried and true tips for getting kids to practice their instrument. We also asked what doesn't work. Parents from New York to California chimed in, many with children practicing piano, cello or violin. Here is what worked, and what didn't, for them and their aspiring musicians:
The Getting Involved Approach
"The more I'm involved in her classes or practices, the easy it is for her to continue to do so." — Juan, Mexico City
"Sit with them and engage with the work. Don't harass or say negative things." — Julie, San Rafael, California
"When he was 8-years-old, I'd tell my child after dinner that I was ready for a concert. We would go into the living room, I would sit on the sofa and listen as he practiced. He felt like he was giving a concert instead of practicing. He is now 24-years-old. As he grew up, he played in many honors orchestras (and even played with one at Carnegie Hall), but the best concerts of all were always the private concerts he gave in our living room as he practiced." — Carolyn, Huntington, New York
At Their Own Pace
"I let him go at his pace. When he was less interested for a few years I let him practice less time (15 minutes) per day and made his lessons every two weeks. He was able to give that limited time and after a year or so asked for a weekly lesson again." — Charlotte, Newburgh, New York
"My children decided for themselves when to practice and for how long. Anything I did or said to 'get' them to practice failed." — Antoinette, New York
"Do not make your child practice. This is especially true for older children. My mother would make me practice the violin an hour a day, at a preset time, which always involved a tedious ordeal of arguing and quarreling, of me saying that nobody in our school practiced, that I have too much homework, etc.
"This past spring and summer, however, I was in exchange in Germany ... For the first two months in Germany, I barely practiced at all, since it was my choice. Towards the end of my stay, I was practicing almost two hours a day, because I could decide when I wanted to practice and when I didn't. Another thing that helps me practice is competitiveness. In Italy [while attending a music festival], I was surrounded by amazing musicians who would practice five, six, hours a day, so by the end of my stay there, I would find myself practicing almost that much too ... I think the most important thing a parent could do is not force their child to practice, but encourage it." — David, 16, Chestnut Ridge, New York
A Classic Tactic
"Reward System: One hour every day will generate points toward a new video game; two hours every day will generated points toward a new iPhone or Android." — Linda, New York
What Doesn't Work
"Threats." — Linda
"Grounding." — Charlotte
"Pushing without a goal." — Juan
"Telling them to practice in another room and going away to do other work." — Julie
"Parental input. When I stayed out of it, my son practiced on his own. He's at Juilliard now. It took me a long time to learn that it was always up to him." — Antoinette
What are your tips for making practice an enjoyable, or at least, tolerable experience? Music students, what is your advice to parents? Let us know in the comments.
More in:
The WQXR e-newsletter. Show highlights, links to music news, on-demand concerts, events from The Greene Space and more.