This Week's Salute to Black History, Feb. 6-10
Monday, February 06, 2017 - 12:00 AM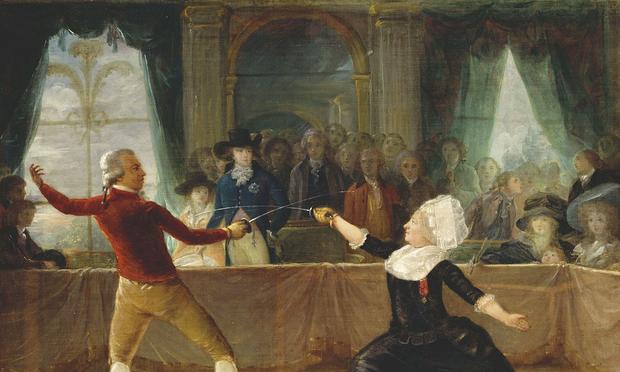 (Wikimedia Commons)
On-air, at 1 pm and 7 pm on every weekday this month, we will be featuring the music of a notable figure whose musical contributions must always be remembered. Here are our picks for the week of Feb. 6-10.
Chevalier de Saint Georges (1745-1799)
Born on the the Island of Guadalupe to a planter and a slave, Joseph Bologne, Chevalier de Saint-Georges moved to Paris at a young age. He first made his name as a master fencer, and shocked society when he revealed himself to be a virtuoso violinist. He also served as director of Le Concert de la Loge Olympique, one of the leading orchestras in Paris, and commissioned Joseph Haydn's Six "Paris" Symphonies. Saint Georges himself composed 14 violin concertos, dozens of chamber works, and six operas, though much of that music has been lost.
Paul Robeson (1898-1976)
The solemn bass of Paul Robeson occupies a revered place in the pantheon of great American voices. In addition to his athletic, stage and film careers, Robeson was known for the work songs and spirituals that formed a key part of his repertoire. As he grew older, he became increasingly politically active. A fierce opponent of US imperialism, racially motivated lynchings and fascism, Robeson propelled himself headfirst into the civil rights movement. His activities were seen as subversive by many, and he found himself blacklisted during the height of McCarthyism.
James DePriest (1936-2013)
The Philadelphia-born conductor and nephew of Marion Anderson would lead major ensembles all over the world. Polio left him paralyzed, but he fought on to build a career of international renown. In the mid-60's, Leonard Bernstein selected DePriest as the Assistant Director of the New York Philharmonic. In 1969, he began his time with the Rotterdam Philharmonic, and made appearances across the Europe and Asia. 1980 saw the beginning of a 23-year period with the Oregon Symphony. He was awarded the National Medal of Arts in 2005.
Duke Ellington (1899-1974)
Over the course of an exceptionally long career, Duke Ellington composed over 3,000 pieces of music — many of which have made their way into the American Songbook. Ellington would write music that highlighted the abilities of the individual talents that made up his orchestra and conduct from his piano bench, demonstrating his ability to really do it all.
Leontyne Price (Born 1927)
Price, who celebrates her 90th birthday on Friday, has been in turn celebrated by the musical community for over half a century. After a string of well-received European performances in the 50's, she was offered a contract with the Met Opera. In 1961, she debuted there as  Leonora in Verdi's Il Trovatore. The audience was stunned, and rewarded her with an ovation that lasted over 35 minutes. She also maintained a notable concert and recital career, in addition to her work for the stage.
More in:
James Bennett II is a staff writer for WQXR.
The WQXR e-newsletter. Show highlights, links to music news, on-demand concerts, events from The Greene Space and more.