When Everything Went Wrong, Leontyne Price Got it Right
Friday, February 10, 2017 - 12:00 AM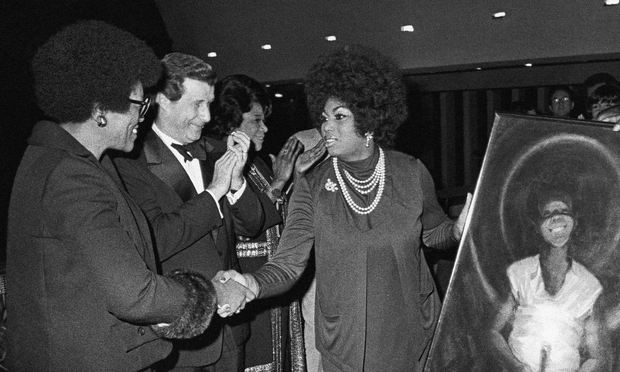 (AP Photo)
Simply noting that expectations for Samuel Barber's Antony and Cleopatra were high is an understatement. The opera was commissioned to open the Metropolitan Opera's new home at Lincoln Center in 1966, and Barber was already established as a top-flight American composer. The show's producer, designer and librettist, Franco Zeffirelli, was an experienced opera director and producer who counted Maria Callas as a close friend. And then there was Leontyne Price, opera diva and inadvertent lady of firsts, whose every action increased the brightness of her spotlight.
By the mid-1960s, Price had attended Juilliard on a four-year scholarship, starred in a revival of Gershwin's Porgy and Bess, completed a state-sponsored U.S. and European Tour and became the first African-American to sing with, not just at, the Metropolitan Opera. In 1955, she became the first black person to sing a leading role on NBC Opera Theater, as the titular character in Puccini's Tosca.
As cultural critic Diane Brooks notes, this progressive move was momentous for both parties. For several years, NBC had been quietly practicing a strategy they dubbed "integration without identification," which aimed to create more on-air diversity without drawing special attention to the shifting hues of the main cast. It was a subtle exercise in normalizing inclusivity and for the most part it worked. But when Price attracted the attention of executives and producers, they decided to make her ethnicity a central feature, in order to project an international vision of America as a land of opportunity and inclusivity — obviously meant to offset negative international perception from Cold War tensions and rampant civil rights violations. For Price, the opportunity came at a time when black America realized that television could be a useful tool in sharing the community's artistic gifts and existential struggles with audience beyond the suffocating confines of the Jim Crow South.
Price's turn as Tosca found favor with critics, even though some local broadcasters refused to air the special. When white viewers' letters of outrage and protest began to stream into NBC headquarters, the network rebuffed them with an official statement that held up ability as the only measure by which roles would be cast. Price had that ability and starred in three more broadcast specials.
The NBC Opera Theater appearances helped to make Price a household name, and in 1960 she secured a contract with the Metropolitan Opera. She delivered acclaimed performances in operas that included Madame Butterfly, Don Giovanni and Turandot. But for all of the adulation for her stage presence and technical ability, it was Antony and Cleopatra that would earn an eternal, infamous place in opera history. But somehow, Price would still come out on top.
When Barber was commissioned by the Met to compose a new work to christen the new Lincoln Center Palace, there's little doubt that Price was already on his mind. The two had a long friendship that reached back to 1954, when Price sang the premiere of Barber's "Hermit Songs." During the creation of Antony and Cleopatra, the composer wrote specifically for Price's voice; the new work would not only be a testament to his compositional skill, but also a vocal showcase for one of the world's finest opera singers.
But little would go right, thanks to the overambitious nature of Zeffirelli's libretto and production. In retrospect, though, it's hard to cast him as a villainous foil. This was a new, state-of-the-art opera house, so what producer wouldn't want a freshly commissioned work to take full advantage of the new building's technological functions and capabilities? And the libretto, criticized for being too dense, was closely modeled after the shakespearean text of Barber's favorite play — an earnest attempt to retain the tone of the original work.
Antony and Cleopatra might have gotten an A for effort, but that didn't stop the aesthetic misfires. Opera critic Peter G. Davis was there that evening and remembers the errors that marred rehearsals and opening night: lighting miscues, a dissatisfied stage crew and malfunctioning Pyramid taking it's tomb-like function too literally and trapping Price inside. Barber and Zeffirelli had two opposite visions of the same opera and that fiasco of an evening highlights the importance of communication.
Davis noted that Antony and Cleopatra's negative reception practically ruined Barber, and he lived out the remainder of his days without "the will to compose." But despite the biting remarks, many reviewers found room to celebrate Price. The New York Times, which lamented how "everything about that evening ... failed in total impact," took care to mention how Price "was superb in voice." The Chicago Tribune, which wrote that the opera was "meandering" and "tedious," at the same time hailed Price's voice as one of the few things that saved the night.
Is Antony and Cleopatra a blemish on a stellar career? Not hardly. That Price could still receive such commendation in the face of relative disaster speaks volumes about her cultivated ability, and that's not even taking into account the high esteem in which her contemporaries held her. In his autobiography, Miles Davis revealed that he wore out a recording of Price's Tosca, and remarked that "she should be an inspiration to any musician, black or white." Fond praises from the likes of Maria Callas and Placido Domingo aren't to be taken lightly, either. But such favorability doesn't need to be the litmus test for talent. Your ears can do just as fine a job. Have a listen:
More in:
James Bennett II is a staff writer for WQXR.
The WQXR e-newsletter. Show highlights, links to music news, on-demand concerts, events from The Greene Space and more.