Why Erik Satie Is Still New Music
Monday, May 16, 2016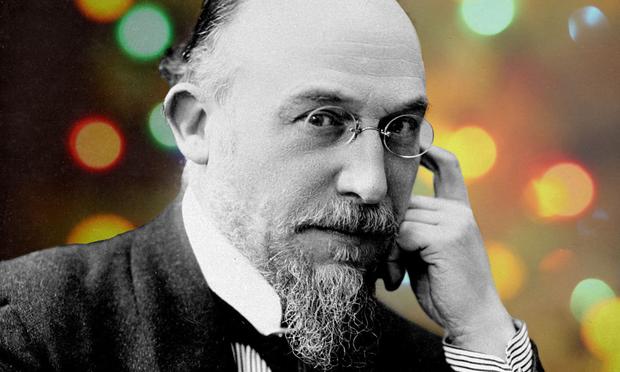 (Wikipedia Commons and Tanya Setyaeva/flickr)
Living Music. Living Composers.

More
This week on Q2 Music, host Phil Kline celebrates what would have been the 150th birthday of the playful and provocative French composer Erik Satie. Hear Phil Kline's two-hour show weekdays at 11 am, with a repeat presentation at 7 pm. 
In 1887, Erik Satie finished three piano pieces he called Sarabandes. He was 21, and they were the last music he would write under his parents roof. As he struck out on his own and moved to the Bohemian hub of Montmartre, Satie's mysterious works soon became the talk of the avant-garde. In time they would help kindle a revolution or two.
Satie cut quite a figure, at one point he dressed only in black cassocks then later switched to gray velvet suits. He played piano in the cabaret Le Chat Noir for three years and briefly associated himself with the self-proclaimed Babylonian King and Rosicrucian sect leader, Sar Peladan. He even founded his own religion, the Metropolitan Church of Art and Jesus, the Conductor, of which he was the only member. In a typical gesture, Satie advertised the premiere of an opera, Tristan's Bastard, which was probably never written.
Most importantly, he continued to write strangely beguiling piano works, which were gaining increased notoriety. People began to cite him as one of the originators of modern harmony. He became friends with Ravel, Stravinsky, Diaghilev, Picasso, Cocteau, Man Ray … everybody, really. Stravinsky called him "a knowing old card, full of intelligent mischief," adding, "I liked him from the start." Perhaps closest to him was Debussy, who always left a seat at the table and a bottle of vin ordinaire for his friend.
Satie was born 150 years ago, on May 17, 1866. Aside from his incidental mega-hit, Gymnopedie No. 1, which has been appropriated by artists of every genre and heard in countless films and TV commercials, he is best remembered for his playful and subversive wit. But there is much more at work in his music. The modus operandi of the classical common practice is teased, overturned and ignored. Triads of fifths and thirds, major and minor give way to quartal harmony based on fourths. Things are not resolved. Chords follow chords but do not suggest where they are going; there is not a sense of progression or development and often little sense of pulse.
As John Cage observed, Satie's music springs from zero, silence, timelessness, going nowhere, the opposite of the storm and stress that ran from Beethoven to Wagner. And, as much of Satie's music was written for the theater, there is no dramatic symbolism, the music does not represent anything. Satie criticized Wagner for this, saying "there is no need for the orchestra to grimace when a character comes on stage. Do the trees in the scenery grimace?"
Let's go back to John Cage. In 1944 he made a two piano arrangement of Satie's sublimely static cantata Socrate (1918), which Merce Cunningham used in several dances. Later, when Satie's French publishers unexpectedly forbid Cunningham from using the music, Cage retooled elements of Socrate, using the "I Ching" to make Cheap Imitation.
In 1949, Cage facilitated the first printing of Satie's unpublished Vexations (ca. 1893-4), a one-page piano piece which bears the inscription: "In order to play the theme 840 times in succession, it would be advisable to prepare oneself beforehand, and in the deepest silence, by serious immobilities." No one took that direction seriously until Cage arranged an 18-hour performance by 12 pianists (including Cage, John Cale, James Tenney, David Tudor, Christian Wolff, Philip Corner, David Del Tredici and Joshua Rifkin) in 1963.
When asked if Satie was still relevant, Cage said, "It's not a question of Satie's relevance. He is indispensable."
Phil Kline hosts a two-hour show weekdays at 11 am and 7 pm on Q2 Music.
The WQXR e-newsletter. Show highlights, links to music news, on-demand concerts, events from The Greene Space and more.