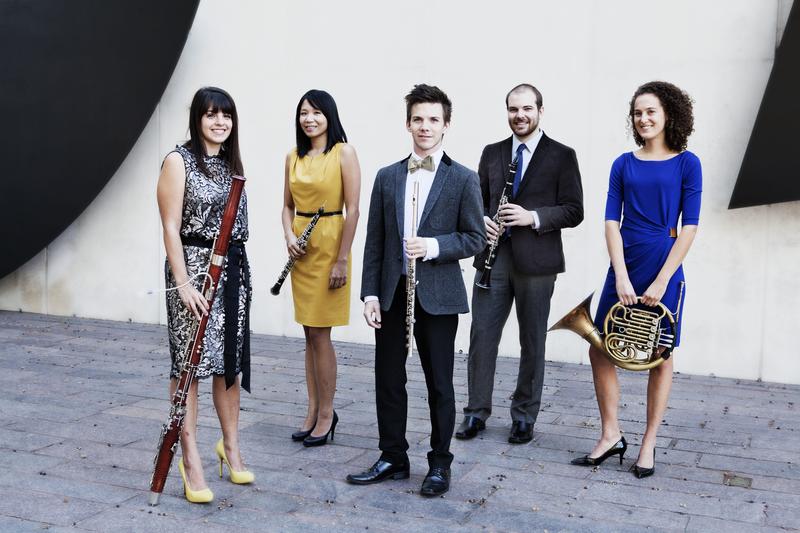 The dynamic young Houston-based wind quintet called WindSync recently dropped by the Young Artists Showcase to record a special Christmas Eve program.
As the name indicates, WindSync attempts to "channel the boy band mentality" with their unusual programming and arrangements, and sometimes even stage choreography. In-residence at The Shepherd School of Music at Rice University, the quintet visited our studio last month before their New York debut at Carnegie Hall's Weill Hall.
WindSync started with a tribute to the last night of Chanukah with their own arrangement of Prokofiev's Overture on Hebrew Themes, followed by Respighi's Adoration of the Magi, a track from their new album. Then host Bob Sherman joined the group to read excerpts from The New Nutcracker Suite, verses written by Ogden Nash to accompany the Tchaikovsky ballet score. Finally, the group added their own adaptation of 'Twas the Night Before Christmas interspersed with holiday chestnuts.

Program details:
Prokofiev: Overture on Hebrew Themes
Respighi: Adoration of the Magi from the Botticelli Triptych
Tchaikovsky: The New Nutcracker Suite (with Ogden Nash verses read by Bob Sherman)
'Twas the Night Before Christmas Medley: Little Drummer Boy, The Christmas Song,
           Dance of the Mirlitons, Jingle Bells, Rudolph the Red-Nosed Reindeer, and Sleigh Ride.
— WindSync: Garrett Hudson, flute; Erin Tsai, oboe; Jack Marquardt, clarinet; Tracy Jacobson, bassoon; Anni Hochhalter, horn
Recorded in the YAS studio at WQXR