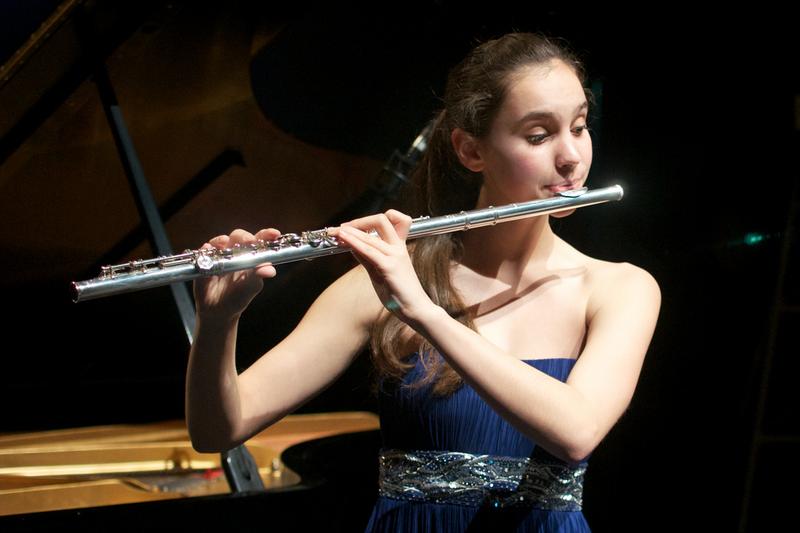 From North Carolina, this week's show features the return appearance of a From the Top alumnus who went on to win a top prize at the Van Cliburn International Piano Competition this year. He's the first American to become a medalist in more than 16 years. We'll also meet a teenage bassoonist with a beautifully poetic story about the wilderness of New England and how it has moved his heart and shaped his music.
Program details:
Flutist Olivia Staton, 16, from Vienna, Va., performing "Chant de Linos" by André Jolivet (1905–1974), accompanied by Christopher O'Riley, piano.
Violinist Qing Yu Chen, 13, from Bayside, N.Y., performing Introduction and Rondo Capriccioso, Op. 28, by Camille Saint-Saëns (1835–1921), accompanied by Christopher O'Riley, piano.
Pianist Clara Gerdes, 17, from Davidson, N.C., and pianist Hannah Wang, 17, from Charlotte, N.C., performing III. Ruhig bewegt – Sehr lebhaft from Sonata for Piano, Four Hands, by Paul Hindemith (1895–1963).
Bassoonist Isaac Schultz, 18, from Exeter, N.H., performing II. Allegro from the Sonata in F minor by Georg Philipp Telemann (1681–1767), accompanied by Christopher O'Riley, piano.
Alumni feature: pianist Sean Chen from Oak Park, California, performing Etude No. 13, "L'escalier du diable" (The Devil's Staircase) by György Ligeti (1923–2006).
Christopher O'Riley and Sean Chen, piano four-hands, performing "The Sacrificial Dance" from "The Rite of Spring" by Igor Stravinsky (1882-1971), arranged by Stravinsky.