How a Yellow Cab Ride Created A Classical Music Connection
Thursday, March 09, 2017 - 12:00 AM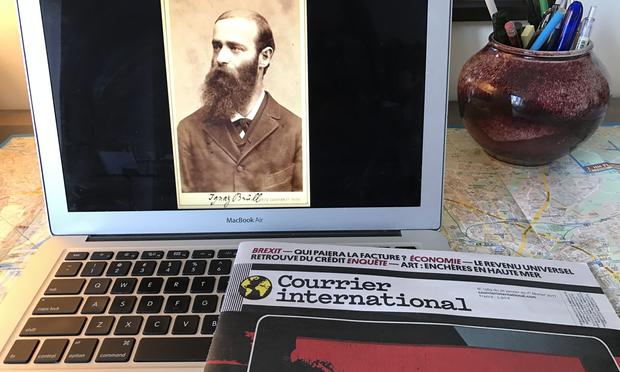 (Corinna da Fonseca-Wollheim)
The first thing I noticed as I slid into the passenger seat of the yellow cab with my kids crowding into the back was that the radio was switched to WQXR. I could hardly help it: I'm a New York Times classical music critic. With a sideway glance I took in my driver, a middle-aged black man, and the French-language newspaper he shoved aside to make room for me. When he moved to turn off the radio I stopped him. "Leave it on," I said. "I like this station."
"Who is your favorite composer?" he asked, right off the bat.
"No fair," I said. "Only one?" I ventured Beethoven.
"Too easy," he said. "Though it's a good one."
He said he'd been drawn to "heavier" fare recently: Mahler; Bruckner.
"I have a hard time with Bruckner," I confessed.
"He's heavy," he conceded, "but there's a lot of music there."
He brought up Sibelius and suddenly we were ping-ponging Nordic composers back and forth.
I tried out the name Nielsen.
"What I've noticed with less well-known composers like Nielsen," he said, "is that they come and go on the radio. There was a time, a while ago, when they played a lot of Nielsen."
Did I know Brüll?
I was stumped. He spelled it out for me, with the two dots over the u. "His piano music sounds like Beethoven," he said. "You should listen to it." 
We were fast approaching my neighborhood. I found myself wishing for slightly heavier traffic. 
He asked about opera. I told him I'd grown up in Brussels, that my parents took me to the Théatre de la Monnaie there. That I liked Mozart and Verdi. We switched to French. He said his favorite operas were those of Wagner, especially the  "Ring," especially in the Met recording with James Levine.
I asked him if he went to concerts. Not these days, he said. Not with a daughter in college and a son who only just graduated. To pay off tuition he was now working six days a week, sometimes 12-hour shifts. 
"It's nice I get to listen to this," he said, gesturing to the radio. 
My apartment building came into view. I thought of the two large bags of CDs I had packed up to donate to a conservatory. Would he be interested in a stash of recent releases?
"I won't say no," he said, beaming. As we pulled up to the curb he asked whether I kept up my French reading.
"Not really," I said. He offered a trade: my CDs for his copy of Courrier International.
"I'll be right down," I said after I'd paid the fare.
"I'll wait all day if necessary," he said.
After we had exchanged gifts we shook hands. Back in my apartment, I headed for the computer and YouTubed a piano sonata by Ignaz Brüll. It's beautiful. You should listen to it.
More in:
 Corrina da Fonseca-Wollheim is a freelance writer and a contributing classical music critic to the New York Times.
The WQXR e-newsletter. Show highlights, links to music news, on-demand concerts, events from The Greene Space and more.