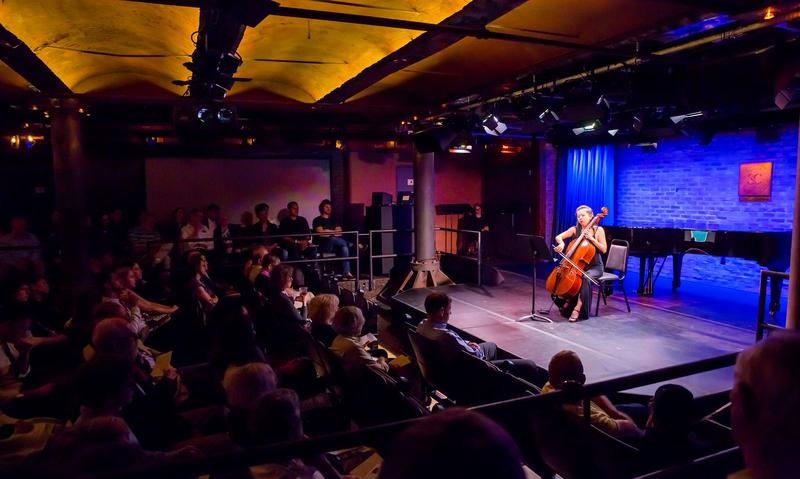 Underground, hidden from the bustle of the streets, young composers and solo musicians had the spotlight at the New York Philharmonic Biennial CONTACT! concert on Tuesday, June 3 at SubCulture. Six new-music makers wrote pieces for solo instruments, ranging from punchy trombone to the lilting upper octaves of the piano.
Hosted by composer Mark Kaplan, artistic director and co-owner of SubCulture, the evening included interviews with each composer before their works were presented by Philharmonic musicians. The audience first heard Paola Prestini's Eight Takes for solo cello performed by Sumire Kudo. Inspired by a Brenda Shaughnessy poem, the sometimes-feisty, sometimes-meditative work is varied and virtuosic. As Above, So Below for trombone by Eric Nathan, performed by Joseph Alessi, followed and contrasted Prestini's piece with intricate technical work. 
Violist Rebecca Young opened a sonic cavern with Threaded Madrigals, a piece that bends sound and silence, by British/American composer Oscar Bettison. Next, Ryan Brown (who received his doctorate on the day of the concert) introduced his Four Pieces for Solo Piano performed by Eric Huebner. The group of pieces are all played in the top half of the piano, and each is a cell of clean, focused energy. 
Michael Hersch's Of Sorrow Born: Seven Elegies for violin and Chris Kapica's Fandanglish for clarinet closed the concert. Hersch's piece, performed by Yulia Ziskel, is charged, the sections blending together despite changing styles. Kapica, an electric bass player, has "a permanent affliction with the funk," and it comes through in the energy of Pascual Martinez Forteza's clarinet and the musician-made percussion. 
Complete Program:
Paola Prestini  – Eight Takes
Eric Nathan  – As Above, So Below
Oscar Bettison  – Threaded Madrigals
Ryan Brown  – Four Pieces for Solo Piano
Michael Hersch  – Of Sorrow Born: Seven Elegies
Chris Kapica  – Fandanglish
This audio is no longer available.