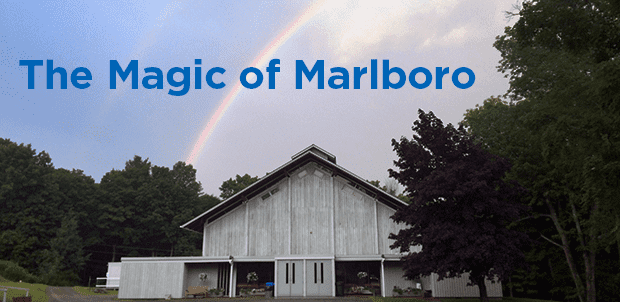 Every summer in Vermont, musicians come together to find the quiet, space and time to explore the meaning and magic of chamber music. Since 1951, the Marlboro Music Festival has been the summer home to classical luminaries such as Rudolf Serkin, Pablo Casals, Richard Goode, Aaron Copland, Samuel Barber, Murray Perahia, Jaime Laredo and current artistic director Mitsuko Uchida, to name a few.
For 50 years, the Musicians from Marlboro touring program has been taking that summertime magic on the road, bringing the spirit of its Vermont home to audiences across the country. 
In honor of this milestone anniversary, WQXR and Marlboro have partnered to create a four-part series that includes music from the festival, reminiscences from tour alumni and audio postcards from Vermont. Marlboro alum Anthony McGill, principal clarinetist of the New York Philharmonic and WQXR's artist-in-residence, hosts the programs.
Featured artists include Mitsuko Uchida, Richard Goode, Rudolf Serkin, Jonathan Biss and Jaime Laredo, among many others.
Recently in The Magic of Marlboro

Saturday, April 23, 2016
Host Anthony McGill wraps up this four-part series on the Marlboro Music Festival with a look at the tradition of the season-ending concert.

Monday, April 18, 2016
Anthony McGill hosts part three of this series about the Marlboro Music Festival and the personal connections forged on its campus.

Monday, April 11, 2016
Tune in Wednesday at 10 pm as clarinetist Anthony McGill introduces the music and the community of one of the most special chamber music festivals in the country. 

Monday, April 04, 2016
Anthony McGill hosts the first installment of a four-part series about the Marlboro Music Festival, where the annual festival fosters a summer camp-like spirit.