From Double Reeds to Double Scoops
Douglas Quint leads a double life. During the summer, he's the face of the Big Gay Ice Cream Truck, making soft-serve concoctions with ingredients like extra-virgin olive oil, balsamic-infused syrups and wasabi.
He goes to sleep at night dreaming up new flavor combinations – one of his favorites involves bacon and chocolate ice cream – and during the day, uses Twitter to tell all his fans where to find him (he frequently parks on the corner of 17th St. and Broadway, near Union Square).
In just two summer seasons, the truck has been overwhelmingly successful, earning plaudits from press including the New York Times, New York Magazine and the Village Voice, and even a recent a spot on the Rachael Ray show, praised by fans because Ray accidentally used a four-letter word after tasting an ice cream concoction that included vanilla soft serve, chocolate sauce, cashews, sriracha and a pickle.
But on Oct. 31, Quint stored his truck and put on his other hat: that of a professional bassoonist.
Quint, 39, has been on a bassoon-playing track since he was in high school. Originally from Pittsfield, Maine, he earned a bachelor's degree at the Manhattan School of Music and his masters from Juilliard. After finishing school, he did freelance work in New York and Boston, performing with groups including the Orchestra of St. Luke's, the Orpheus Chamber Orchestra, the Brooklyn Philharmonic, the Boston Pops, and the Chamber Music Society of the Lincoln Center.
He's currently pursuing a doctorate at CUNY Graduate Center, where he's done all but his dissertation, which he hesitates to discuss lest someone else discover the "spurious Mozart bassoon work" that he's currently researching.
Like many classical musicians, Quint found that work tended to dry up during the summer. One day in January 2009, Quint logged in to Facebook.
"There was this flute player who I went to Juilliard with who had been driving a truck for a few years," he said. "Her status said 'If you want to drive an ice cream truck get in touch with me.'" On a whim, Quint sent her a message, and soon thereafter, launched the Big Gay Ice Cream Truck with the help of his partner, Bryan Petroff.
"We didn't really care if it was a big success," said Quint. "We just wanted great customer service and strange treats."
This bassoon season, Quint has his plate full. He'll spend time in Boston, playing in the Pro Arte Chamber Orchestra and Opera Boston. In December and January, he'll play an onstage bassoon role in the American Repertory Theater's production of "The Blue Flower," which Quint described as chamber rock with a "Kurt Weill meets Hank Williams" sound.
Although Quint has spent most of his career playing classical chamber music and orchestral works, these days he enjoys more out-of-the-box roles. "Now that I found this job where theatrics is part of the job, I feel like my playing is going in that direction, too," he said.
Friends and colleagues described Quint as quirky, passionate, enthusiastic and creative. "I think his personality and his playing are very similar -- very positive and full of character, just like he is," said Quint's former teacher, bassoonist Frank Morelli.
Quint's musical colleagues have been overwhelmingly supportive of his ice cream endeavors.
"At first I thought the ice cream truck was such a wacky idea," said harpsichordist and organist Paolo Bordignon. "But then I saw how much Doug loves to do this, and it makes so much sense."
"I'm totally blown away by it," said violist Nadia Sirota, who is also a host on WQXR's Q2. "He took this kernel of an idea and turned it into something that is almost a franchise. I wouldn't be surprised if I saw Big Gay Ice Cream Trucks in Minneapolis."
In a climate where funding for the arts continues to decrease, and orchestras struggle to maintain full seasons, having multiple creative outlets is an asset, said Morelli. "I think successful musicians redefine what a career in music is."
Balancing his two careers isn't always easy, said Quint, who even uses different tones of voice when talking about his two passions. Although he continued to work as a bassoonist during his first ice cream season, he stopped performing this summer when he found he couldn't quickly switch gears between the two.
"The difference between dealing with two reeds and a sheet of music and several hundred customers a day is extreme," said Quint, who declines to say which side of his career is more lucrative. "I wanted to do both, and love doing both, but I couldn't."
But ice cream and classical music are related. From a business perspective, the skills he uses as a freelance bassoonist have helped him build his ice cream business. "I definitely honed my skills touring with chamber music groups," he said. "I've always been talking about my business, because as a musician you have to get the word out and interact with all kinds of different people."
For now, after a busy ice cream season, the double-life-leading Quint is happy to dust off his double reed. "Right now putting the metronome on a slow tempo and focusing on a page of etudes is so welcome," he said. "I just can't wait."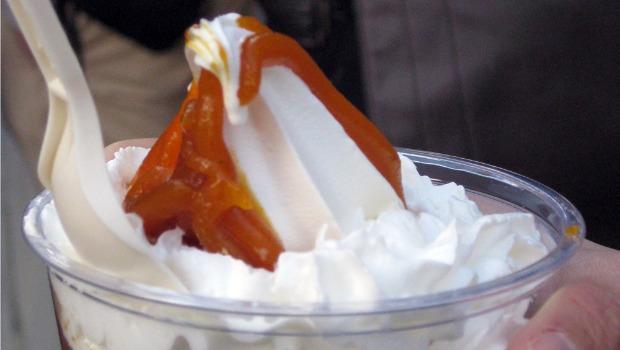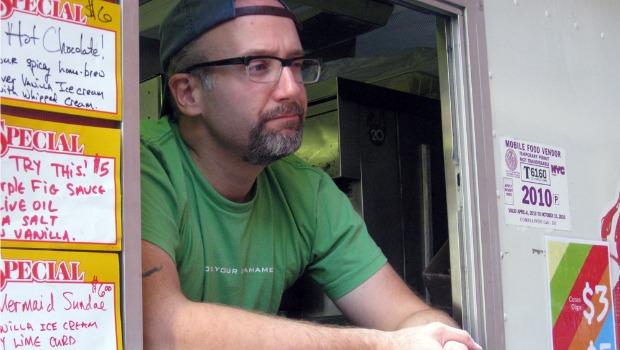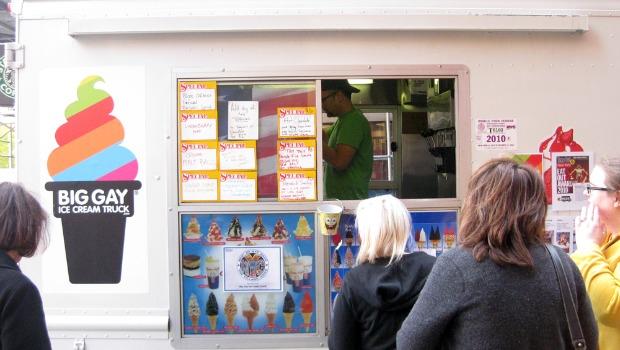 of