Twelve Questions for Alison Balsom
Alison Balsom is as far removed from the conventional beer-bellied image of a brass player as it's possible to get. Yet a brass player she is, and a busy one, too.
In a phone conversation from Minneapolis, where she was playing a recital, Balsom was every bit the energetic, quick-talking promoter of the trumpet. The 32-year-old Englishwoman has been recording for EMI since 2002, and she's been picking up awards that usually go to violinists or pianists. One of her most talked-about moments to date came in 2009, when she played before a BBC audience of an estimated 150 million people on the Last night of the Proms.
Balsom's new recording of Italian Baroque concertos is WQXR's Album of the Week. We asked her about the album, the culture of brass playing, and being more than just a pretty CD cover.
Why are there so few trumpet soloists such as yourself? It's not as if the instrument can't draw attention to itself.
It's because of the repertoire, which is so scarce compared to other solo instruments. As the trumpet itself has developed technologically, composers are beginning to realize how much scope there is for it to be a solo instrument again. Now there are some fantastic new concertos. Really, the repertoire has held us back. We don't have a Brahms or Beethoven concerto, which is tragedy. Now composers are beginning to catch on.
Is it a question of perception? Are orchestra audiences willing to accept a solo trumpeter?
Yes, as I say, the repertoire is limited. But also the instrument can be treated as a sport because it's physically demanding. People think: once you've mastered it as high and loud and fast then that's it -- that's all it has to offer. But of course, that's just the starting point for the instrument. I think that people who play the trumpet as a solo instrument have to use their imagination and find all the different colors and just treat it like an artistic instrument rather than a sport. I try to think of myself as a musician who happens to play the trumpet rather than as a trumpeter.
How much was the macho culture of brass playing something you had to navigate while growing up?
It wasn't an issue for me really. I've always played in bands and orchestras. Until you do it professionally as a soloist and the media side of it is very important -- and you need the media behind you to help raise your profile -- it's only then that people are so interested in me being a female trumpeter. Before that it was just about how I played the trumpet. I played in bands with other girls and my parents weren't like, 'well, you're a girl. You have to do this or that.' So it's only recently that it's become an issue.
England has a strong tradition of brass bands. London has at least five orchestras. But you decided to go to Paris in order to study as a soloist. Why?
In the UK, there's a strong orchestral brass tradition, which often comes through the brass band. Many, many players in British orchestras come from the brass band tradition. In Paris, it's very much a soloistic tradition, which is really what inspired me to become a soloist. I wanted to be a soloist from a young age but they really have the solo training there. It's not so much about blending as a section but rather having this interesting, colorful sound on your own. That was a big revelation for me.
Was life in the back of an orchestra just not appealing?
When I studied in London at the Guildhall School, I did play with some of the London orchestras as an extra and I really enjoyed it. But being a soloist is something I wanted to do since I was about eight. Of course, sitting in an orchestra is no easier than being a soloist but I find is more frustrating because you don't get to play so much.
What gave you the idea for this new album of Baroque concertos?
The trumpet is famous for the Baroque era. But of course, the trumpet concerti written at the time didn't have all the notes of the scale. Now, we have all the notes of the scale with the piccolo trumpet. I started to find all these wonderful oboe concertos and violin concertos and thought, 'this is a great opportunity to try and expand the repertoire a little bit.'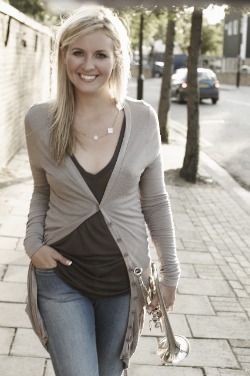 On the album you're playing music written for violin. What are the biggest challenges of adapting and transcribing this repertoire for trumpet?
The endurance is the biggest challenge. It's supposed to sound effortless on the violin. Not only do I have to make it possible on the trumpet but it has to sound easy and song-like. And I want to make sure [the transcriptions] keep the essence of what they're about. I don't want to destroy a piece -- I want to add something to it and see it from a different light.
You play the piccolo trumpet on this album. What are the differences from a traditional B-flat or C trumpet?
It's more physically demanding. You can't play it for as long on the piccolo trumpet. There's much more resistance from the instrument. You play a bottom C and it's quite hard. It needs a lot of support from your intercostal muscles and with your breathing in general. You get tired of it very quickly. Musically, you have to keep making sense musically and not let make these physical demands get in the way.
How difficult is it to tour as a trumpeter? Your hotel room neighbors must not be thrilled when it's time to practice.

It's tough being really tired on a travel day and knowing that's the day you have to practice because the next day is the concert. When you've just got off a plane it's the last thing you want to do. But at the same time, I'm not really complaining. It's a fantastic way to make a living. You find ways around it. I have to admit, a number of times I've practiced in the toilets in the airports when I get really desperate!
You and your partner, the conductor Edward Gardner, had a child earlier this year. Did that put your career on hold?
No, I played until I was eight months pregnant. I played the MacMillan Concerto with the City of Birmingham Symphony Orchestra. It was kind of crazy -- I didn't know if it would be possible but actually it worked. Then I took 10 weeks off after he was born before playing again.
Does your son, Charlie, enjoy your playing?
Yeah, he likes it. Sometimes when I wonder what to do next to entertain him I think, now's the time to do the trumpet practice and he likes it.
You'll be performing in New York as part of the Peoples Symphony Concerts on November 20. Are Americans open to the idea of a trumpet soloist?
I get such great responses in the States. People are really open-minded. I soloed with the Charlotte Symphony last night and the audience was so responsive and discerning -- no coughing or clapping in the wrong place. People were really up for it. The biggest compliment I can get is 'I didn't know the trumpet could be a solo instrument.' That's the greatest thing I can ever hear.
Interview has been edited and condensed