Elīna Garanča: Latvian Mezzo with a Gyspy Soul
There's no mystery about why Elīna Garanča is an opera star. Women who are very attractive, move well, can project intelligence and humor, and possess rich, powerful voices have historically done pretty nicely for themselves in this line of work.
In fact, some admirers argue that Garanča is almost overqualified be a mezzo-soprano – a lot dominated by witches, nurses, wise women and "trouser" roles (those male characters played by female singers).
A statuesque, blonde Latvian with piercing blue eyes and a matter-of-fact demeanor, Garanča, 34, has cultivated a large repertory of roles, including several by Mozart, Massenet, Bellini, Rossini, Verdi, Richard Strauss, and many others.
Garanča's current focus is Carmen at the Metropolitan Opera, in which she plays Bizet's gypsy temptress for the second run of performances (through Dec. 4). She is also busy promoting "Habanera," a recital album of gypsy roles, including Spanish selections by Falla, Montsalvatge, Obradors and others.
During a recent visit to WQXR, Garanča explained how the interest in Spanish music isn't such a temperamental leap from her Baltic roots, particularly since she recently moved to Spain with her husband, the conductor Karel Mark Chichon.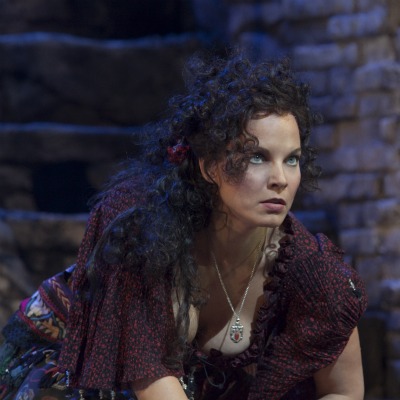 "I think I understand the colors a bit more because I've seen Spanish people in different places, north and south," she explained. "I've seen gypsies in different places so it kind of gives me the atmosphere around it. In the second act of Carmen -- the little tavern -- I can visualize how it really happened in those dark little coffee places or taverns.
At a time when there is much talk about the importance of recruiting "singing actors" instead of "park and bark" performers, Garanča's success may be tied to careful character research. When preparing to play the pageboy Cherubino in The Marriage of Figaro, for instance, she spent time on the sidelines of football practices, observing "how young boys are moving and how they pretend they are much cooler than they are," she said. "At the age of 13 they think they are 17 and start to flirt with the girls and feel all macho."
Similarly, before playing a Prince Orlofsky in Die Fledermaus, Garanča spent time observing male commuters at a local train station. "I saw how they drink and how they walk and how they gesticulate and how they scratch their leg or put their coat on the chair," she said. "Those were the little nuances that I used afterwards on the stage."
A Sometime Country Girl Discovers Opera
Born into a musical family in Riga, Garanča saw different social and cultural surroundings at any early age. She spent her winters in an artistic milieu, "surrounded by theater actors, politicians, and really crème-de-la-crème of the society." But come summertime, she says, "I was in the countryside with my grandparents feeding cows and pigs and working in the fields and cleaning the stalls."
Photos on her web site show the teenage Garanča driving an all-terrain vehicle down a dusty road, picking mushrooms and fishing with friends. Her early idols included pop divas like Whitney Houston and Mariah Carey as well as the soprano Joan Sutherland. Her formal training kicked into high gear at age 19 when she enrolled at the Latvian Academy of Music in Riga. At 22 she became a member of the Meiningen Opera in Germany and won the Mirjam Helin Singing Competition in Finland.
Garanča's breakthrough came with her 2003 debut at the Salzburg Festival, where she appeared to acclaim as Annio in Mozart's La Clemenza di Tito. This was followed by debuts at the Vienna State Opera (2004) and Paris Opera (2005), and eventually, at the Met as Rosina (2008). A contract with Deutsche Grammophon in 2005 has yielded several recordings including a well-received version of Bellini's I Capuleti e i Montecchi with Anna Netrebko.
Being thrust onto major European opera stages was overwhelming at first. Western opera recordings were scarce in Latvia and Garanča had only discovered albums by Renée Fleming and Bryn Terfel when they were smuggled in by a Canadian-Latvian couple for whom she worked briefly as a housekeeper. "It was so emotional when, years later, I met [Fleming and Terfel] and performed with them," she said.
Garanča discusses her childhood recordings:
Playing a "Blonde Amy Winehouse"
Garanča admits that her steady rise hasn't been without difficulties. A music video created to promote her latest CD has received nearly 30,000 views on YouTube as well as some scathing commentary in the blogosphere. "I find that the reaction is very narrow-minded," she said. "So many people are criticizing in those blogs. Very many of them have never bothered to come to an opera performance and experience a particular singer on stage."
She continues: "I haven't changed my classical approach, I haven't changed my style, I haven't changed my voice. It was just a little fun for this particular CD."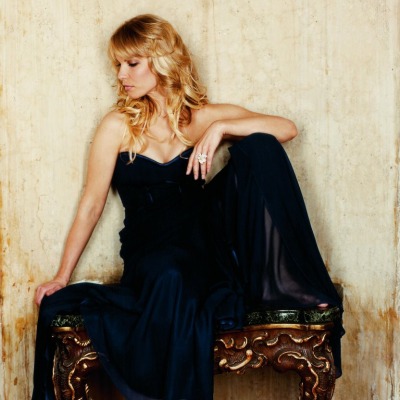 The video, which Garanča jokingly calls "blonde Amy Winehouse," shows her doing a come-hither dance and riding a horse across a sun-splashed meadow. "It was fun," she said. "I actually grew up as a child with five horses by my grandparents. Now living in Spain we have a stall with horses three minutes away from our house. I sometimes get up at 7:00 in the morning and have a sunrise greeting on horseback."
To continue the analogy, the world of opera can be like a horse race where listeners often try to predict which singers or directors are on the rise or on the descent. While older mezzo-sopranos like Cecilia Bartoli, Susan Graham and Anne Sofie Von Otter are still in the public eye, the younger generation is more weighted to soprano voices, which may bode well for Garanča.
Does Garanča ever wish she were a soprano? "Being a soprano is too much pressure for me," she said, laughing. "The reality is, for the soprano, unless your voice develops, you're very often limited. As a mezzo-soprano you have so much variety. I'm extremely happy that I'm a mezzo."
Garanča on playing Carmen: