Culture at the Cash Register
At the Macy's on Market Street in Philadelphia, October 30 was a regular business day, except for Handel's "Hallelujah Chorus."
At noon, a group of 650 vocalists, organized by the Opera Company of Philadelphia, gathered in the department store's atrium (below) to stage a flash mob version of the famous chorus, accompanied by the store's famous Wanamaker Organ. A video of the performance has since received more than 5 million views on YouTube, rising as high as the fourth most-viewed, and national news outlets -- including CNN and ABC World News -- took notice.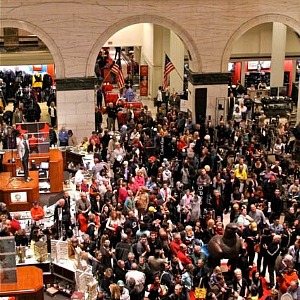 Although it may seem like a one-off stunt, there exists a long tradition of classical music in major department stores throughout the United States. Long before Muzak, the Philadelphia Macy's (formerly Wanamaker's) as well as Gimbel's, Strawbridge & Clothier and Abraham & Strauss, among others, regularly hosted string quartets, piano recitals, band concerts, choirs and symphony orchestras, especially during period from the late 1890s until World War I. Some stores would broadcast concerts over their own radio stations and attract prominent artists, including the conductor Leopold Stokowski and the composer Richard Strauss. Employee choirs were organized as morale-building activities. 
Jan Whitaker, the author of Service and Style: How the American Department Store Fashioned the Middle Class, notes that department stores saw themselves as social institutions as well as money-making ventures. "This cast the department stores in an educator role in shaping taste," she said. "They would get sometimes very large crowds for concerts. These were people who would probably not have gone to concerts otherwise."
Live music often served a very practical function in promoting music-related merchandise. The Philadelphia Wanamaker's opened the first department store piano department in 1899 and hosted as many as three concerts a day. Stores like Gimbel's in New York and the Emporium in San Francisco also employed live music to promote Victrolas, music boxes, radios and especially, sheet music.
Sometimes an event such as a new spring clothing line was heralded with small chamber groups stationed in different parts of a store. Other performances took place in grand, in-store theaters, with seating for as many as 2,000 patrons. Richard Strauss conducted a highly-publicized pair of afternoon orchestra concerts in the New York Wanamaker's in 1904, and in 1919, Stokowski led the Philadelphia Orchestra before a reported audience of 15,000 in the Philadelphia store's Grand Court.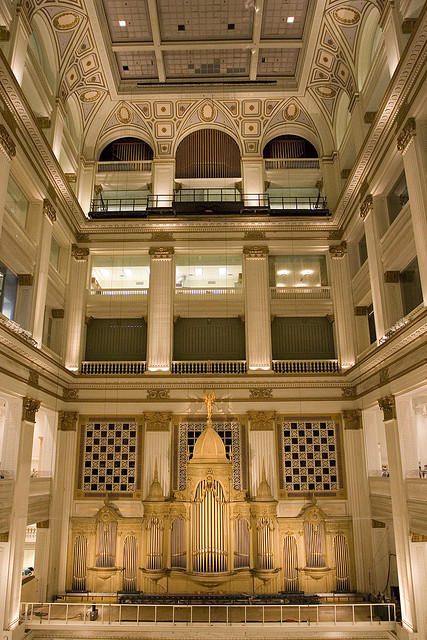 Stokowski was lured by the opportunity to perform with the Wanamaker Organ (right), which today is the largest functioning pipe organ in the U.S. Consisting of nearly 30,000 organ pipes in chambers towering up through seven floors, the instrument was built for the St. Louis World's Fair and installed in the store's marble-clad central atrium in 1911. Although it declined as the store fell on hard times and changed hands in the 1980s and 90s, when Macy's took over in 2006, the company restored the instrument to its full capacity.
The Wanamaker Organ is still played twice daily and revered by organ enthusiasts -- a glorious artifact of a performance tradition that already begun to fade by the 1920s. Yet it wasn't the only game in town. Strawbridge & Clothier maintained an employee chorus at its Philadelphia flagship store for over a 110 years, until the company was acquired by May Department Stores in the 1990s. At its peak, the chorus toured throughout the Philadephia area and at one concert, attracted some 20,000 audience members.  
How did the practice of live music in stores get started? Whitaker suggests one theory: that many department stores were founded by businessmen of German heritage who held to the notion that a public appreciation of culture should go hand in hand with commerce.
Department stores were also eager to overcome a somewhat scruffy, lowbrow image as "dry goods stores," and thus offered not only music but also lectures, art shows, science exhibits, and book festivals as a way of polishing their image. "A lot of this was P.R. for the stores – to create a positive association and give it a little bit of class," Whitaker said. "Stores were kind of hated at first. There may be a parallel with Walmart today."
What are your memories of going to department stores? Leave your comments here or call 800-543-2543.