Puccini's Wild West Opera Returns, with Horses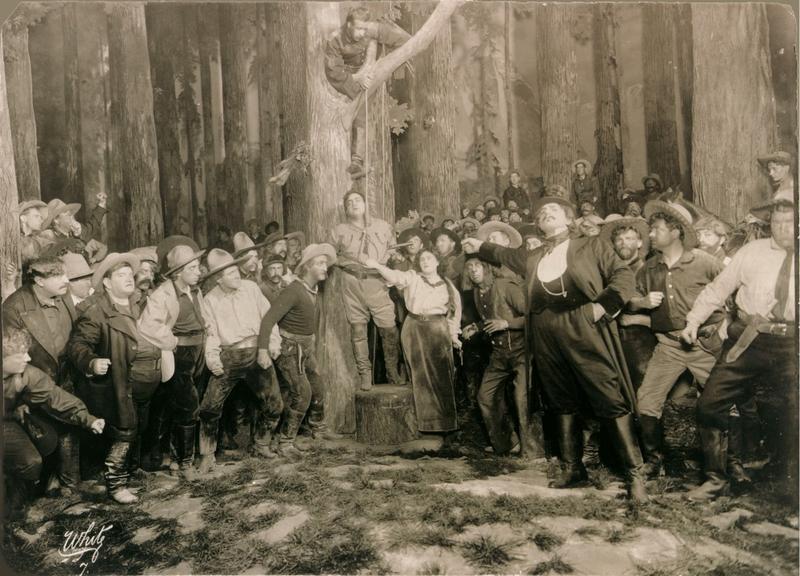 Watch a video about the horses of La Fanciulla del West

Long before the spaghetti Westerns of the 1960s, Giacomo Puccini wrote a cowboy opera, La Fanciulla del West (The Girl of the Golden West). Inspired by the gold mining towns of California, La Fanciulla premiered on Dec. 10, 1910, at the Metropolitan Opera with the great Enrico Caruso leading a cast directed by Arturo Toscanini.
On Monday night, La Fanciulla returns to the Met for the first time since 1993 for a series of performances marking its 100th anniversary. Soprano Deborah Voigt leads a cast that includes tenors Marcello Giordani and Lucio Gallo.
For years La Fanciulla has been neglected in favor of such popular Puccini rivals as La Boheme, Tosca, Madama Butterfly and Turandot. That's partly because it isn't quite as packed with memorable Puccini tunes.
But it also relates to the melodramatic plot. A story of tough gold-rush miners and outlaws, circa 1850, soaring into Italian lyricism can seem silly to modern audiences. And characters like the alcoholic Indian named Billy Jackrabbit and his squaw, Wowkle, can understandably induce squirming.
Yet La Fanciulla also features some ravishing melodies and sumptuous orchestration.
Voigt plays Minnie, a pistol-packing, poker-playing saloon owner, who falls in love with Dick Johnson (Giordano), who is actually the outlaw Ramerrez; Ramerrez is sought by Sheriff Jack Rance (Gallo), who also loves Minnie. The opera is unusual for Puccini in that nobody dies and it has a Hollywood-style happy ending.
"Minnie is one of the most interesting characters that I sing," Voigt told WQXR's Jeff Spurgeon. "For one thing, she's an American, and I don't often have the opportunity to sing an American character. And I look like her. She's supposed to be blonde with blue eyes. It's not like a Tosca stretch for me."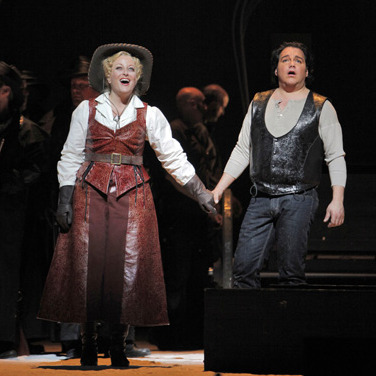 It's no accident that La Fanciulla had its world premiere in the United States. Puccini knew Americans loved cowboy stories, and while he was in New York to supervise the American premiere of Butterfly in 1907, he went to see David Belasco's play The Girl of the Golden West.
Afterward, he wrote, "The West attracts me as a background, but in all the plays I've seen, I've found only some scenes here and there that are good." Only months later, after reading The Girl in Italian, did he begin work.
The current production, directed by Giancarlo del Monaco, features naturalistic Western-style sets, a stagecoach and five horses, one of which Voigt rides in on herself. Minnie makes her first entrance brandishing a shotgun, which she uses to quell a barroom brawl.
"It's one of the greatest entrances for a soprano of all," said Voigt. "There's the phenomenal Puccini music. All the men throwing their hats in the air and saying, 'Hello Minnie.' That is just a really great way to start your day."