Ten Questions for Kent Tritle
If it's December, it must be time for Handel's Messiah. And while the perennially popular work may veer on overexposure, conductor and organist Kent Tritle isn't worried. He's embarking on a series of performances this month with two of the (very different) New York choruses that he conducts -- the Oratorio Society of New York and the Musica Sacra Chorus.
Tritle has previously played organ in the New York Philharmonic's version of the oratorio and he's probably seen some clunkers in his day too. In the off-Messiah season, he can be found leading everything from Gregorian Chant to modern works by Arvo Part and Morton Feldman. On December 17, he also debuts a new show on WQXR, The Choral Mix with Kent Tritle.
Two of the biggest YouTube hits of the fall have involved Messiah performances – one staged in a Canadian mall food court and the other in the Philadelphia Macy's. What do you make of the work's foray into popular culture?

I think it's fantastic. Anything we can do to bring choral music out to the masses as it were, out to the street is great. We know people love the Hallelujah Chorus. To have the Philadelphia Opera Company at the Wannamaker organ – not only was it an event but it was so spectacularly crafted. That was an excellent, excellent performance. Then we've seen the food court one, which in my estimation was a little bit rougher and it's orchestrated in a sense. But it's excellent that these people tried it out in their own neighborhood and did it in a way that made it work with solo voices. It connects with that idea that this work – although it's called Messiah and you can make a huge Christian statement out of it –- it's about even larger concepts.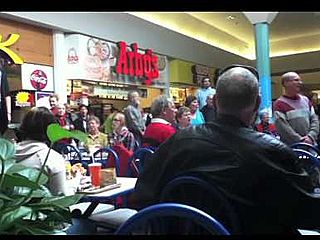 What would Handel say about having his epic oratorio staged next to an Arby's and Burger King? Are people trivializing his work?
I think he would have loved it. He'd really love it -- especially when it's well done. That Philadelphia version is just amazing the way they did it. I'm hearing from people now who are forwarding the food court version. I thought everybody had seen the Philadelphia one but clearly not. Clearly, this could happen a lot and new people could be tripped on to it each time.
There was a healthy debate on the WQXR blog about the Messiah's religious content recently. How do you approach a piece with chorus members who are inevitably of different backgrounds and may not subscribe to the work's message?
It took me a while to get comfortable with this. What I say to the chorus once all the articulations and the cutoffs, the colors and technical stuff is set: we're really looking for communication. If you're a believer, then fine. You can use that connection. If that's not your walk, then find something in that text that relates to your life or your life experience. Find what an actor would find.
There are other major choral works out there with big rousing moments -- even ones with a holiday message. Why do you suppose Handel's Messiah has caught on so much?
Regardless of one's belief system, the Christmas story is a charming story. This really sets out to tell that. Especially Part One of Messiah sets out to tell a larger arc of text. The Bach Christmas Oratorio is also essentially doing the same thing but it has this idea about texts that are devotional reflections on the moment that has happened whereas the Charles Jennens [Messiah] text really moves the idea forward. It's that dramatic arc of Part One and Part Two draws people in and that has to do with its mainstream appeal. If part three is some kind of cool down with that extraordinary Trumpets Shall Sound -- it has some things that are really delightful to the ears, let alone to the spirit.
You conduct the Messiah with the Oratorio Society of New York on December 20 and then with the Musica Sacra Chorus and Orchestra on December 21 & 22, all at Carnegie Hall. The former is an amateur group, the latter is professional. What makes the two performances different?
The difference is really amazing. On one hand, with the amateur group, the sheer numbers of people we have on stage are really in the Victorian tradition of Messiah, with a full-bodied, large sound. When you get to the final chorus, Worthy Is The Lamb That Was Slain, we have this wall of sound! But on the other hand, this Musica Sacra, which is kind of lean and mean, it's sleek, it's highly articulate, it can spin on a dime, it can take different tempi at a moment's notice and really make it work. It's kind of like the difference between the jewel decorations on a Christmas tree and the Rockefeller Center Tree.
What do you personally get out of leading the two versions?
One of the things that I've really enjoyed getting into is studying the different dynamics that apply to professional choruses versus amateur, collegiate choruses, and Manhattan School of Music kids. There is a particular kind of raw emotion that a conductor needs to bring, particularly to work with a large volunteer organization like that. That is a lot of what moves them and gets that very large choral organism moving. Whereas with Musica Sacra, things are more sculpted and in a sense reserved but paced differently. For me there is a lot of gear-shifting involved.
That must be a challenge to rethink and adjust going from one choir to the next?
To me, it is very challenging -- both to do the gear-shifting between the two organizations and the two different performances. As I've done it for a couple years I think I've gotten better and I know what to expect of myself in the process of shifting from one to another, and I've really studied how to shift back and forth.
You conduct the Messiah with modern instruments. Why not period instruments?
I've really enjoyed developing a core of orchestral musicians that I work with who can exhibit a great degree of stylistic flexibility. I've remained with them and worked with them for stylistically appropriate sounds for Baroque music and I'm really happy with what they do. I know that if my trumpeter is indisposed, this is New York and I'll find another wonderful trumpeter. There are practicalities in finding the right people and gathering those people.
You've played the Messiah as an organist as well as a conductor. How are those experiences different? Which do you enjoy more?
When one is conducting you're really responsible for the whole picture. It's a huge responsibility. I love doing that and being in that position. On the flip side of that I'm delighted to walk into the New York Philharmonic, to go to the Portative Organ and to have the opportunity to watch some other conductor work through his interpretation of Messiah. I've learned more about conducting than sitting at the organ at the Philharmonic than I have in any conducting class.
What are your hopes for The Choral Mix with Kent Tritle? Is there something you can do in radio that you can't do elsewhere?
I'm so excited for this opportunity because I think choral music, particularly in New York, is underrated. People tend to love choral music but they don't have the opportunity to hear about it and what's going on in their own backyard. Something like 22 million Americans sing in choruses, according to a Chorus America survey. As an artform, it has the single highest number of participants in this country. I hope that I can help crystallize a picture of how significant and important choral music is, and also some of the diversity of what is going on in the choral world, which is astonishing.
Interview has been edited and condensed.