The Score: Concert Venue Health Inspections
Say the words "Metropolitan Opera," for instance, and the first thing that comes to mind is probably not food related. But many of the city's concert venues offer dining options that New Yorkers and tourists alike frequent. After all, nothing says efficiency like combining dinner with a performance of The Nutcracker or grabbing a quick snack before heading in to hear Handel's Messiah. With a restaurant that's part of a larger institution like Lincoln Center, however, it's easy to forget that those kitchens are also subject to rigorous inspections by the city's health department.
Earlier this year, New York City began requiring that restaurants prominently post inspection certificates indicating an A, B or C score. "Letter grades were designed to make the inspection process more transparent, giving every potential customer instant access to important information," says Erin Brady, the deputy press security for the health department. (The grades are also easily found online.)  She notes that it will take more than a year before all of the city's 24,000 eating establishments receive a letter grade.
Arpeggio Food & Wine at Avery Fisher Hall is one of the many restaurants that has a certificate with a "grade pending." It was most recently inspected this past February, and scored 11 violation points—a vast improvement from the 59 violations it received in December of last year. Anything less than 13 points is considered an A by the standards of the new grading system. However, the violations are still alarming, particularly since they indicate the presence of mice and roaches.
"Food safety is our highest priority," says Gina Zimmer, the vice president of marketing and communications for Restaurant Associates, which manages Arpeggio, as well as all of Lincoln Center's food services, except for Lincoln Restaurant and the Metropolitan Opera House. "To my knowledge, people don't ask about our health inspection reports. I think what they assume, rightly so, is that we're in these world class institutions with very high standards, so we also have those standards." Zimmer notes that the company employs an independent third-party inspector to conduct monthly audits.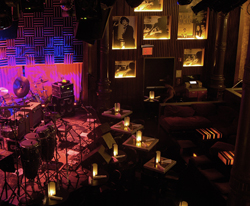 Downtown, Joe's Pub is also waiting for a letter grade, despite being inspected in early November, when it logged 20 violation points, which equates to a B. The main offenses then were the presence of flies and improper storage of sanitized utensils. Kevin Abbott, the managing director of Joe's Pub, notes that the establishment is listed as "grade pending" because they've contested the inspection and are seeking to be reviewed again with the anticipation of a higher grade. "The system that they set up is pretty fair one, and a substantial improvement from what it was before," he says. "They really work with you and give you a chance to correct the issues. It's our mission on a daily basis to make sure we comply with expectations."
One of the concert venue eating establishments that came out cleanest was Carnegie Hall, which only netted six points for improperly cleaned surfaces. "The violation that was listed online was remedied immediately following inspection," says Synneve Carlino, the director of public affairs at Carnegie Hall. It's worth pointing out that the venue only serves light fare and bar food before concerts and during intermissions—a more scaled down service compared to what's offered at Joe's Pub or Arpeggio.
In the end, however, even searches for neighborhood standbys on the health department site might well leave a diner disappointed or downright horrified by the results. The reality is that eating out in a city as old and dirty as New York will always carry with it inherent risks. Fortunately, letter grades now at least make those risks more easily apparent.
Here's a quick scorecard for concert venue eateries, with a summary of the most serious violations:
(Less than 13 points is an A, 14 to 27 points is a B, and anything more is a C.)
Arpeggio (Avery Fisher Hall): Grade Pending -- 11 points, evidence of mice and roaches
At 65 (Alice Tully Hall): A -- 12 points, missing food protection certificate, improperly stored utensils
Joe's Pub: Grade Pending -- 20 points, presence of "filth flies" and improperly stored utensils
Carnegie Hall: Grade Pending -- 6 points, improperly cleaned  surfaces
Metropolitan Opera: A -- 7 points, Plumbing not properly installed or maintained, improper utensil cleaning
Metropolitan Opera House, 6th floor: A -- 9 points, presence of "filth flies"
Le Poisson Rouge: A -- 11 points, improperly stored utensils
Blue Note: Grade Pending -- 21 points, spoiled or contaminated food and improperly cleaned surfaces