Audition Politics Confront YouTube Orchestra
A traditional symphony orchestra audition takes place behind a screen, prohibiting the judges from knowing the identities of the applicants. Some women wear flats, so the clicking of heels won't give away gender, and musicians don't talk so as not to disclose identity.
But the auditions for the YouTube Symphony Orchestra, which concluded last Friday, were anything but traditional. The tryouts took place not behind a physical screen, but a digital one -- through hundreds of videos uploaded to YouTube, and viewed freely on computers around the world. They show applicants playing orchestral excerpts on couches, concertos in dorm rooms and a cellist playing a Bach prelude while sitting atop a camel in Jordan.
The approximately 96 players chosen for the orchestra will convene in Sydney, Australia in March 2011 for a week of rehearsals, master-classes and concerts at the Sydney Opera House conducted by Michael Tilson Thomas.  
In 2009, the YouTube project got plenty of press coverage lauding the international, multimedia and collaborative nature of the project. But after the event, the reviews of the actual music-making itself weren't nearly as strong, with the Washington Post criticizing the orchestra sound as "ragged, uneven, of wildly different quality," and the New York Times suggesting that while "worthy, and in ways inspiring," it was more gimmick than substance. The Guardian went further, calling it "mediocre and pointless." The second time around, it begs the question of whether an orchestra with an unproven, American-Idol-type voting process and a less-than-professional sound deserves this level of attention.
Applicants submitted videos by late November, finalists were announced in early December, and last week, the voting frenzy began. Anybody could vote up to once a day, for as many candidates as they liked, by clicking a button next to the video on YouTube.

There are 12 finalists, out of 336 total, who live in the New York City area. During the voting period, which ended on Dec. 17, they engaged in a mostly-virtual campaign to win as many votes as possible.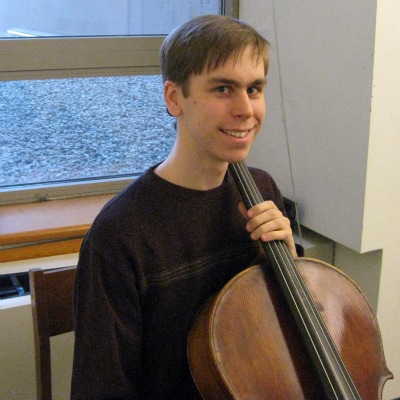 Bass clarinetist and doctoral student Christine Carter, 27, sent emails to everyone she knew and contacted the newspaper in the town where she studied as an undergraduate. Clarinetist and graduate student Mark Dover, 23, emailed all his old teachers and band directors, and encouraged them to email all their friends, creating what he called an "exponential" effect. Everyone made Facebook groups and events, continually reminding all their friends, in the Facebook sense of the word, to vote daily. "While I try not to make myself obnoxious, that might be a side-effect," said 24-year-old cellist and graduate student Ben Larsen (pictured, right) who consulted a friend who had worked on political campaigns for pointers.
"It's sort of funny," said freelance violinist Monica Davis, 27. "It's the opposite of any other orchestra audition, because you're campaigning for someone to vote for you as opposed to it mattering what you actually sound like." [see Davis's audition video]
Although YouTube doesn't post vote counts, finalists scrutinized the number of views each video received, hypothesizing that the view counts, which varied from a hundred to tens of thousands, could be related to the number of votes.
They didn't all like what they saw. "One guy has way more views than the rest of us, and he is by far the worst," said one finalist, who declined to be named. "He could potentially win, and he sounds terrible."
But in the fine print, a statement that confounded the finalist pool: the final decision rests with Michael Tilson Thomas. The conductor said that he consulted with a panel of musicians from major orchestras, which determined the finalist selection, and took into consideration the public vote but ultimately makes his decision based on artistic merit and personality. In the case of two equally qualified candidates, he does look at the personal stories and backgrounds of the musicians, he said.
Exactly how much the public vote counts – a matter YouTube and Tilson Thomas have been particularly guarded about – perhaps doesn't matter, said David Cutler, author of the The Savvy Musician and coordinator of music entrepreneurship studies at Duquesne University. "So what if it does become a popularity contest?" he said. "If you only have people who really are qualified, but you find that some people are building a fan base, isn't that exactly the kind of energy that our symphony orchestras need?"
This year's project will be slightly different from the last one, said Tilson Thomas. Not only does he think the quality of applicants is higher, but there is more time for rehearsal and more unstructured time built into the schedule. "We left them space to make their own projects, which we hope leads to a more creative, democratic situation," said Tilson Thomas.  "And that's new territory for classical musicians."
The orchestra – which broadcasts widely the personal stories of its members -- is a model for a future where orchestras are more about personality and relationship, and where the audience is part of the process, said Cutler.
"In the sports world people are totally aware of life stories and past injuries of the members of a team," said Tilson Thomas. "But we haven't been aware of the life story of the bass clarinet player in our local orchestra. One of the reasons people root for their team is they have a sense of all the members of their team and what they contribute." The YouTube project explores how social media and technology can broadcast identity and personality, making the orchestra more than just an anonymous collection of musicians but a narrative that interacts with a community.
"You couldn't be further away from playing something behind a screen."