Ten Questions for Byron Janis
Along with Van Cliburn, Leon Fleisher and Gary Graffman, Byron Janis is a leading light in the generation of American pianists who burst onto the international scene in the 1950s. Yet almost from the start he faced incredible odds.
Overcoming a rigid and numbed finger due to a freak accident at age 11, he then saw his once-thriving career sidetracked in 1973 by the onset of arthritis in both hands. He staged a comeback in the 1990s, thanks to a combination of treatments, after having served as a national spokesperson for the Arthritis Foundation in 1985.
Along the way there were many milestones: studying with Vladimir Horowitz at age 16, debuting at Carnegie Hall at 20, and being chosen as the first American artist to tour the Soviet Union.
The pianist's memoirs, Chopin and Beyond: My Extraordinary Life in Music and the Paranormal, have just been published, co-written with his wife Maria Cooper Janis. The wide-ranging book not only details his struggles with performing for many years -- often in excruciating pain -- but also reveals some colorful anecdotes of fellow musicians and claims of the paranormal.
The title of your memoirs, Chopin and Beyond, relates to the fact that you believe you had paranormal experiences with the composer. How so?
When I was very young, I started to play some Chopin and one of the first pieces I started to play was the B-minor Waltz. I loved the music. That particular waltz almost made me cry when I played it. I felt somehow close to this man – I don't understand why or how. I asked my mother to get me all the books on Chopin that she could and I started reading him. I was interested in him as a man as well as the musical aspect. I can't compare greatness but for me, if you're asking what was the one man in music that I care most about, it's Chopin.
You tell a spectacular story of a death mask of Chopin "crying." You were invited to dinner at the house of the Israeli psychic Uri Geller. After dinner he asked to touch the mask, which had been given to you by the family of novelist George Sand, and tears started appearing. What do you think really happened?
I don't know what happened except I felt at the time except we were all startled when the fluid started coming out of the eye and the mouth was frothing. By the way, this is one of three original death masks so to speak. It was actually the mask that was in George Sand's room, which is who Chopin spent about eight summers with. I can only say that when that happened I wondered if those are tears of sadness or happiness. I thought about it and came to my own conclusion that they were certainly tears of happiness at being able – and this may sound strange but it's what I felt – to come through to this dimension.
This means that I do believe [in the paranormal]. There's so much evidence of this. When there's so much evidence of something that is hard to believe people simply need ten times the evidence to convince them of something. It's funny, people who are negative will find a way out of anything.
You held off on publishing your memoirs for many years out of concern for the response. There will still be skeptics about this.

Skeptics are fine. I was a skeptic at first when these things started happening. I mean, come on! Then I realized at the time, these were real. I decided I wasn't ready from my own point of view for the reactions. Then I was, and I wrote it. I don't mind that people don't believe these things but what I did say at the end of the book – which is my whole purpose – is at least I hope that those who think this is absolutely impossible you might at least say, 'maybe.'
What was it that enabled you to get you through your childhood injury, in which you put your finger through a glass door?
We're born with a gift to play. Music was part of me. I couldn't tolerate it the thought of not playing at the age of eleven when this thing happened. I don't think we realize how strong our minds are. It can make us ill and it can make us much better than we are.
In 1958, you performed in Santiago, Cuba for an audience of ecstatic Cubans and nervous soldiers. You were one of the last American musicians to perform in pre-revolutionary Cuba. What do you remember about that?
It was New Years Eve, and I walked over to the concert hall and I saw all these police with machine guns at the ready. I couldn't figure out what was going on. And in the auditorium there were more police than there were public. They were obviously frightened to go out. Afterward, there was a reception for me and this was for middle class people so to speak. They said, 'we are waiting for our savior, Fidel Castro, to come down from the hills.' I was pretty nervous about playing because I couldn't understand what was happening. I left very early the next morning and I came back to New York and there were the headlines.
You eventually returned though.
It was wonderful to be asked back 40 years later and I was the first classical musician to be asked back. The public is an extraordinary public. The Cubans are very special people – very musical. The poverty is tremendous but they don't feel sorry for themselves. You go every ten blocks outside and you'll see people making music. Quite beautiful. They're very warm and very enthusiastic when they want to be. One of the best publics.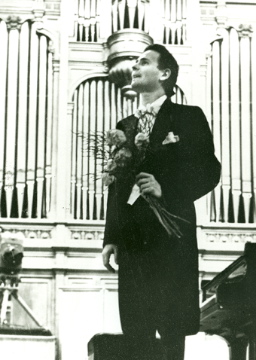 Three years after Van Cliburn won the Tchaikovsky Competition, the US government chose you as the first American artist to tour the U.S.S.R. in 1960. That was not what you had bargained for.
My first two concerts were Moscow and Leningrad. In Moscow I walked out on the stage and I was greeted with angry shouts from the audience of "U2, U2!" U2 was the spy plane of ours that was shot down about six months earlier by the Soviets. They imprisoned this guy Gary Powers, who was a pilot. Of course, that really got them going. The Cold War became much colder. Imagine the feeling I had going to the piano after that kind of welcome.
Did you consider walking off stage then and there?
I almost did. I knew I was on a mission as well. So I sat down and waited and waited until this died down. Again – mind over matter. It was very important that I started playing a Mozart sonata. The audience slowly and slowly began to warm up. At the very end of the concert these people came to the edge of the stage. Some of them were really sobbing. I thought to myself, 'why are they sobbing?' It wasn't just the music but it was because I was 'the enemy.' When you have propaganda like they have you just hear one thing. It was a big relief to them somehow.
You returned to the Soviet Union where you made a now-classic recording of concertos by Rachmaninoff and Prokofiev.
They invited me back in 1962 and I went on a seven-week tour. Then I said, 'I can't do this again.' It was exhausting. The American embassy couldn't afford it either. They were trying to change my programs too and doing all kinds of things that didn't make things easy for me. But anyway, I started that record at midnight after a concert at Tchaikovsky Hall. We went to 3:00 am. But that record won the Grand Prix and it's been a very successful record. I remember being tired, exhausted, but in a good sense.
You had surgery in 1990, which left you with a shortened left thumb and deeply depressed. But around the same time you took up composing, writing songs and even music for an off-Broadway musical, The Hunchback of Notre Dame. Why musicals and other pop styles?
For me, music is either good or bad. I love good jazz. Always have. In my teens I went down to 52nd Street in New York to listen to Dixieland. I'm not alone. Rachmaninoff adored jazz. He had Art Tatum come and play for him. I love good popular songs too.
What do you hope listeners will get from your memoir?
I wanted to be able to speak about my arthritis, and the message is if I can do it, you can do it. My point was I thought it was important to let people know we all need role models. I wanted to tell them how I handled it.
Interview has been edited and condensed