Chicago Symphony, Riccardo Muti Top Grammys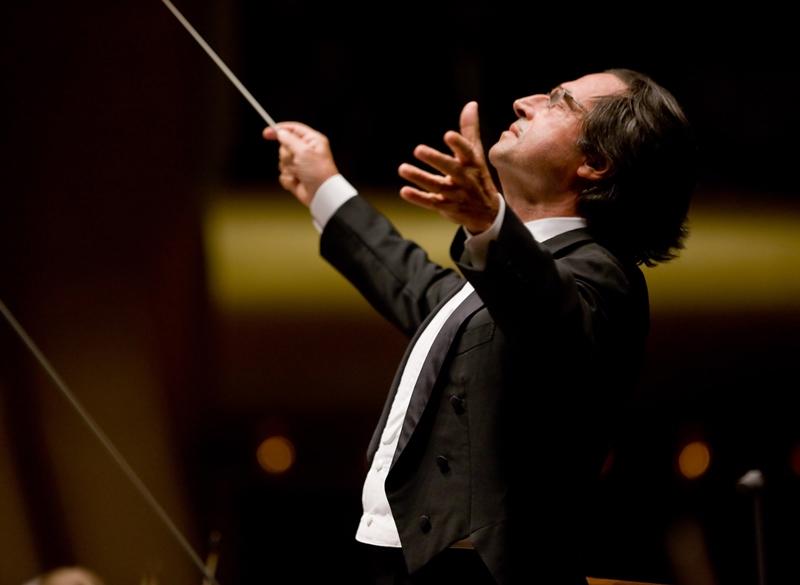 Ten days after fainting on the podium during a rehearsal with the Chicago Symphony Orchestra, prompting emergency surgery to repair broken bones in his face, Riccardo Muti became two Grammy Awards richer on Sunday. The conductor's recording with the Chicago Symphony Orchestra of the Verdi Requiem won in the Best Classical Album and Best Choral Performance categories.
The classical awards were presented at a ceremony before the televised show.
The Nashville Symphony's recording of works by Michigan composer Michael Daugherty won two awards: for Best Orchestral Performance and Best Classical Contemporary Composition. Modern music also carried the categories of Best Opera (Kaija Saariaho's L'Amour De Loin); Best Chamber Music Performance (the Parker Quartet's Ligeti string quartets); and best instrumental soloist (organist Paul Jacobs's recording of Messiaen's Livre Du Saint-Sacrement).
Released on its in-house CSO Resound label, the Chicago Symphony's recording of the Verdi Requiem was its first with Muti, who became music director in September 2010. The 69-year-old Italian conductor has faced several setbacks since arriving in Chicago. Just a few concerts into his season, he missed two weeks because of stomach pains caused by what he later called exhaustion and stress. His collapse on the podium on Feb. 3 occurred because of "a common heart rhythm disturbance," according to his doctors.
Muti has canceled his remaining performances this winter, which were to run through Feb. 19.
Following is a list of the classical winners.
Best Classical Album
Verdi: Requiem
Riccardo Muti, conductor; Duain Wolfe, chorus master; Christopher Alder,producer; David Frost, Tom Lazarus & Christopher Willis, engineers/mixers; Silas Brown, mastering engineer (Ildar Abdrazakov, Olga Borodina, Barbara Frittoli & Mario Zeffiri; Chicago Symphony Orchestra; Chicago Symphony Chorus)[CSO Resound]
Best Orchestral Performance
Daugherty: Metropolis Symphony; Deus Ex Machina
Giancarlo Guerrero, conductor (Terrence Wilson; Nashville Symphony)[Naxos]
Best Opera Recording
Saariaho: L'Amour De Loin
Kent Nagano, conductor; Daniel Belcher, Ekaterina Lekhina & Marie-Ange Todorovitch; Martin Sauer, producer (Deutsches Symphonie-Orchester Berlin; Rundfunkchor Berlin)[Harmonia Mundi]
Best Choral Performance
Verdi: Requiem
Riccardo Muti, conductor; Duain Wolfe, chorus master (Ildar Abdrazakov, OlgaBorodina, Barbara Frittoli & Mario Zeffiri; Chicago Symphony Orchestra; Chicago Symphony Chorus)[CSO Resound]
Best Instrumental Soloist(s) Performance (with Orchestra)
Mozart: Piano Concertos Nos. 23 & 24
Mitsuko Uchida (The Cleveland Orchestra)
[Decca]
Best Instrumental Soloist Performance (without Orchestra)
Messiaen: Livre Du Saint-Sacrement
Paul Jacobs
[Naxos]
Best Chamber Music Performance
Ligeti: String Quartets Nos. 1 & 2
Parker Quartet
[Naxos]
Best Small Ensemble Performance
Jordi Savall, conductor; Hespèrion XXI & La Capella Reial De Catalunya (Pascal
Bertin, Daniele Carnovich, Lior Elmalich, Montserrat Figueras, Driss El Maloumi, Marc Mauillon, Lluís Vilamajó & Furio Zanasi; Pascal Bertin, Daniele Carnovich, Josep Piera & Francisco Rojas)
[Alia Vox]
Best Classical Vocal Performance
Sacrificium
Cecilia Bartoli (Giovanni Antonini; Il Giardino Armonico)
[Decca]
Best Classical Contemporary Composition
Daugherty, Michael: Deus Ex Machina
Michael Daugherty (Giancarlo Guerrero)
Track from: Daugherty: Metropolis Symphony
[Naxos]
Best Classical Crossover Album
Tin, Christopher: Calling All Dawns
Lucas Richman, conductor (Sussan Deyhim, Lia, Kaori Omura, Dulce Pontes, Jia
Ruhan, Aoi Tada & Frederica von Stade; Anonymous 4 & Soweto Gospel Choir; Royal Philharmonic Orchestra)
[Tin Works Publishing]
Producer of the Year, Classical: David Frost