In Quake's Aftermath, Haiti Struggles to Recover
Terrible scenes continue to come out of Haiti following Tuesday's devastating earthquake. Vast swaths of the capital, Port-au-Prince, are in ruins and thousands are feared dead.
More than 30 aftershocks have continued to rattle Haiti, every tremor provoking renewed fear. The Associated Press reports that dazed and injured people have been pleading for help on the streets of Port-au-Prince. Thousands of others have been gathering in public squares, singing hymns. Communication lines are also largely down.
The International Federation of the Red Cross and Red Crescent Societies says up to 3 million people have been affected by the earthquake. But the organization now says it has run through all of its medical supplies in the country, and it is unclear when new stocks can be delivered.
President Barack Obama has pledged unwavering support to the people of Haiti as they struggle to recover. A U.S. aircraft carrier has been dispatched and should reach the area in a couple of days. Other vessels and troops are already on the scene.
Meanwhile in New York City, Mayor Bloomberg and local officials have pledged to provide whatever help they can. Bloomberg says the best way for New Yorkers to help at this point is to donate money, rather than food or clothing, because the extent of the need is still unknown.
Among the missing are U.N. personnel. The U.S. is rushing in search and rescue teams and other aid.
Many Haitians seeking medical help are wondering where to go. The hospital in Petionville outside the capital collapsed after the earthquake. Tens of thousands have lost their homes in a country where building standards are nonexistent. Buildings have been damaged and some have tumbled into ravines.
The U.S. Geological Survey (USGS) reports that the quake struck at 4:45 P.M. Tuesday, had a magnitude of 7.0, and its epicenter was about 10 miles west of Port-au-Prince. The New York Times is reporting that a number of strong aftershocks—including the first two of 5.5 and 5.9 magnitude—hit shortly after the initial quake. USGS geophysicist Kristin Marano called it the strongest earthquake to hit Haiti since 1770.
U.N. peacekeepers, many of whom are from Brazil, were distracted from aid efforts by their own tragedy. Many spent the night hunting for survivors in the ruins of their headquarters.
"It would appear that everyone who was in the building, including my friend Hedi Annabi, the United Nations' Secretary General's special envoy, and everyone with him and around him, are dead," French Foreign Minister Bernard Kouchner said today on RTL radio.
At least four Brazilian soldiers were killed and five injured, Brazil's army said. Jordan's official news agency said three of its peacekeepers were killed and 21 were injured. A state newspaper in China said eight Chinese peacekeepers were known dead and 10 were missing--though officials later said the information was not confirmed.
Some 9,000 peacekeepers have been in Haiti since 2004, including 1,266 Brazilians.
Much of the National Palace pancaked in on itself, but Haiti's ambassador to Mexico, Robert Manuel, said President Rene Preval and his wife survived the earthquake. He had no details.
Most of Haiti's 9 million people are impoverished. In 2008, following the collapse of a school in Petionville, the mayor of Port-au-Prince estimated about 60 percent of buildings were shoddily built and unsafe in normal circumstances.
Tuesday's quake was felt in the Dominican Republic, which shares the island of Hispaniola with Haiti, and in eastern Cuba, but no major damage was reported in either place.
With electricity knocked out in many places and phone service erratic, it was nearly impossible for Haitian or foreign officials to get full details of the devastation.
"Everybody is just totally, totally freaked out and shaken," said Henry Bahn, a U.S. Department of Agriculture official visiting Port-au-Prince. "The sky is just gray with dust."
In Washington, State Department spokesman P.J. Crowley said that U.S. Embassy personnel were "literally in the dark" after power failed.
"They reported structures down. They reported a lot of walls down. They did see a number of bodies in the street and on the sidewalk that had been hit by debris. So clearly, there's going to be serious loss of life in this," he said.
President Barack Obama offered prayers for the people of Haiti and said the U.S. stood ready to help. Secretary of State Hillary Rodham Clinton said the U.S. was offering full assistance--civilian and military--and a national organization of registered nurses called for nurse volunteers to provide care in Haiti.
Elizabeth Byrs, a spokeswoman for the U.N.'s humanitarian office, said it was working with independent aid agency Telecoms Sans Frontieres to get phone lines working again--a key element in organizing relief efforts.
Venezuela's government said it would send a military plane with canned foods, medicine and drinking water and provide 50 rescue workers. Mexico, which suffered an earthquake in 1985 that killed some 10,000 people, planned to send doctors, search and rescue dogs and infrastructure damage experts.
Italy said it was sending a C-130 cargo plane Wednesday with a field hospital and emergency medical personnel as well as a team to assess aid needs. France said 65 clearing specialists, with six sniffer dogs, and two doctors and two nurses were leaving.
Edwidge Danticat, an award-winning Haitian-American author was unable to contact relatives in Haiti. She sat with family and friends at her home in Miami, looking for news on the Internet and watching TV news reports.
"You want to go there, but you just have to wait," she said. "Life is already so fragile in Haiti, and to have this on such a massive scale, it's unimaginable how the country will be able to recover from this."
In New York, Mayor Michael Bloomberg is offering his thoughts and prayers to the some 125,000 Haitian New Yorkers who may have family or loved ones in Haiti. They mayor says anyone wishing to contribute to relief efforts can do so by calling 311 and contributing to the Mayor's Fund.
Haitians in Flatbush, Brooklyn have been devouring every tidbit of news they can get after the earthquake, and have been making repeated calls to family members in Haiti.
Michel Jean-Paul, who left his job at a Manhattan restaurant early last night to stop by local Haitian radio stations, was trying to reach his family in Port-au-Prince.
"Nobody answered the phone," Jean-Paul told the WNYC newsroom. "[There's] only me in the U.S. My brother, my sister, brother in law sister in law both live in the capital.  In the city.  Everything is destroyed in the city.  That's my problem today.  I don't know what can I do to talk to my family."
Councilman Mathieu Eugene, the City's first elected Haitian councilman, says the city will help coordinate relief efforts. "The Haitian people's great resolve would help them get through this difficult time."
Click here to find out how to help.
5 A.M. UPDATE SINCE THIS ARTICLE WAS FIRST POSTED: This article has been updated to reflect this morning's news from Port-au-Prince.
9 A.M. UPDATE SINCE THIS ARTICLE WAS FIRST POSTED: This article has been updated to reflect this morning's news on fatalities and international aid being offered to Haiti.
10 A.M. UPDATE SINCE THIS ARTICLE WAS FIRST POSTED: The United Nations is reporting 5 were killed in the collapse of the U.N. headquarters in Haiti and that over 100 have been reported missing, including the U.N. mission chief.
7 P.M. UPDATE SINCE THIS ARTICLE WAS FIRST POSTED: With new information on Red Cross medical shortages and aid offered by the U.S. and Mayor Bloomberg.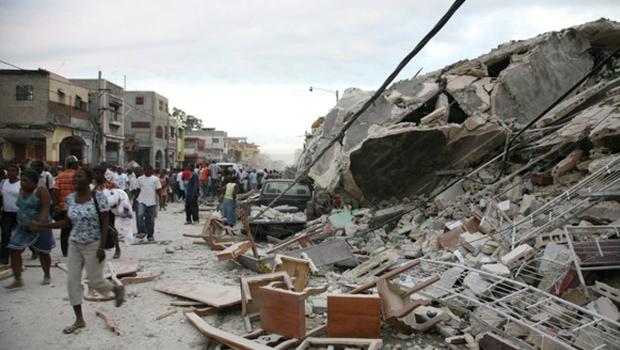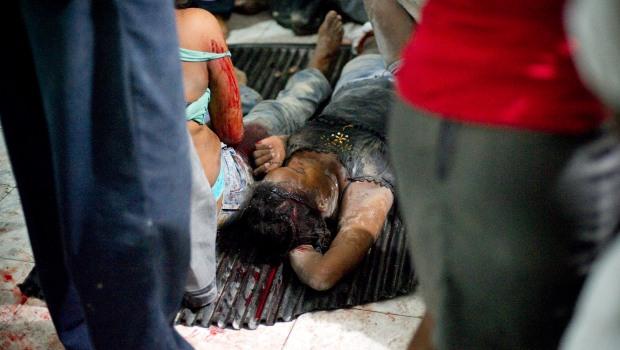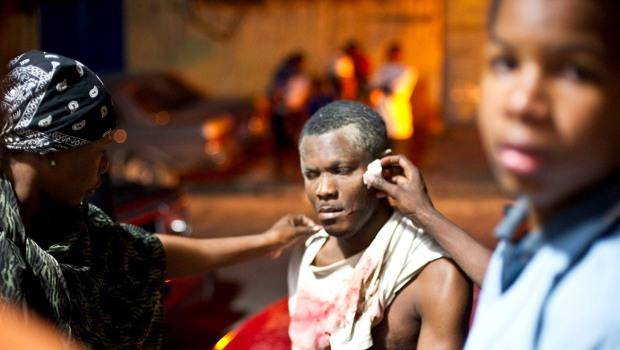 of