Bernard Herrmann: Remembering an Original who Changed Film Music
Thursday, June 30, 2011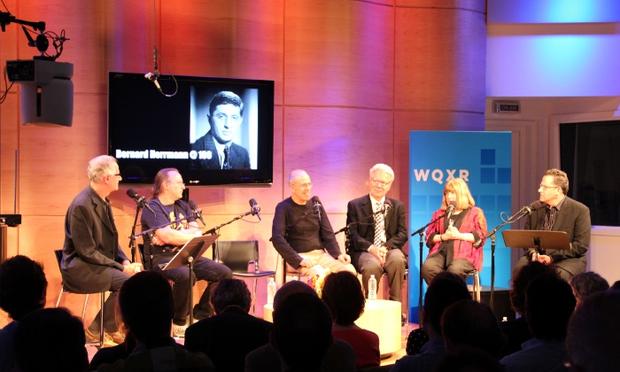 (Brian Wise/WQXR)
On June 29, the day that Bernard Herrmann would have turned 100, a panel of experts including the composer's daughter gathered for a special event in The Greene Space exploring his life and musical legacy.
Hosted by WQXR's David Garland and Elliott Forrest, the sold-out event looked at the Lower East Side native who wrote his first film score for Orson Welles's "Citizen Kane" in 1941, and went on to collaborate with directors Alfred Hitchcock, Francois Truffaut, Martin Scorsese and others over a 35-year stretch. The nearly two-hour event -- complete with video examples and a live performance -- was equal parts loving reminiscence and a bio-musicological survey.
Of the former component, the event led off with a discursive but lively remembrance by Herrmann's daughter, the writer Dorothy Herrmann, who discussed the many contradictions in her father's personality: a highly social man who had "a genius for offending people;" a master composer but "terrible violinist and terrible singer;" and an artist who pursued a solitary profession but thrived on constant chaos around him. We learned that he read as much as 14 books a week, told great stories and believed that his best score was that for the 1947 "The Ghost and Mrs. Muir."
In this clip Dorothy Herrmann talks about growing up, Herrmann-style:
Herrmann was among the first group of American-born composers to thrive in Hollywood. Until this point, "most were from the generation who were born in Europe and escaped Hitler's Third Reich," explained Hollywood Bowl Orchestra conductor John Mauceri. "With Herrmann and Rosza, these were American kids even though their parents were immigrants. There's that knowledge of a Russian-Jewish kid like Aaron Copland and like Leonard Bernstein who has this double world of a European sensibility and a Russian-Jewish sensibility."
A large portion of the evening was devoted to examining Herrmann's creative output – which not only included film scores but radio dramas and work as a conductor. Like almost any composer in Hollywood, Herrmann confronted the popular perception that film scoring is a musical form of assembly-line production and pastiche. Yet as several of the guests pointed out, Herrmann was conversant with the techniques of Debussy and Schoenberg and was eager to take those sounds to the next level.
"He was always experimenting with how you would accompany the spoken word," said Mauceri. "But also he was a conductor. He would listen to many different conductors playing the same piece, particularly when he was the head of serious music at CBS when he was in his mid 20s. It was Bernard Herrmann who was playing Charles Ives to America. It was Bernard Herrmann who was playing Arnold Schoenberg to America in the '40s." Mauceri continued:
Not only did Herrmann do all his own orchestration – somewhat uncommon in Hollywood -- but he devised such novel effects as a group of theremins for "The Day the Earth Stood Still," and the all-string score to "Psycho," with its nerve-raw shrieking violins for the knife attack scene. He was also fond of weaving in plot cues, we were told, including a reference to Norman Bates's stuffed birds in the "Psycho" cue or a two syllable ("mo-ther") motive in Citizen Kane (a reference to Charles Foster Kane's lost childhood). These points were echoed by the panelists Josh Waletzky, director of the Academy Award-nominated documentary "Music for the Movies: Bernard Herrmann," and Royal Brown, an author and film studies professor at the City University of New York
Perhaps the true sense of Herrmann's legacy can be found in contemporary composers who have learned from him. That group includes everyone from Stephen Sondheim to Danny Elfman to Michael Giacchino, the latter of whom was on hand tonight from his studio in California.
Giacchino, whose credits include "Super 8," "The Incredibles," "Lost" and "Star Trek," talked about how many of the sounds he devised for "Lost" were the direct result of growing up listening to Herrmann. "The idea of simplicity in what you do is probably one of the greatest lessons I learned from his work. And simple doesn't always mean not good or lazy. Simple is one of the hardest things to do and he just did it so brilliantly."
Here Giacchino asked Dorothy Herrmann about a particular aspect of the composer's work:
While there was much more to glean from the event perhaps the most unusual moment happened towards the end when composer, pianist and Polygraph Lounge co-founder Rob Schwimmer performed a musical selection from Herrmann's score to Hitchock's "Vertigo" with David Garland supplying the narrative – "a movie without the visuals":
More in:
The WQXR e-newsletter. Show highlights, links to music news, on-demand concerts, events from The Greene Space and more.