With a Plan in Place, Can City Opera Follow Through?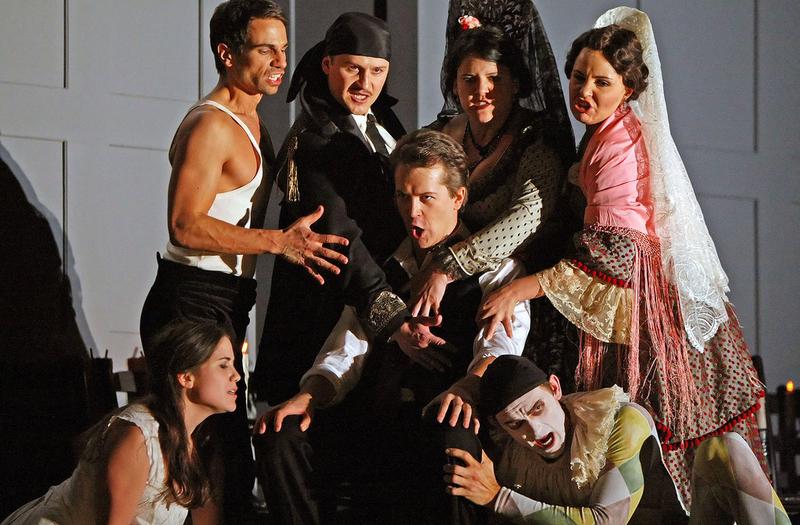 The atmosphere both inside and outside of the Guggenheim Museum was genteel this afternoon, as journalists and stakeholders converged in the museum's Peter B. Lewis Theater for New York City Opera's 2011-12 season announcement while members and supporters of the American Guild of Musical Arts and Local 802 were organized outside in protest of the company's proposed cuts for the company's AGMA contract negotiations.
Heated comments supporting both sides have run rampant online via Twitter, Facebook and a plethora of blogs, particularly in light of a recent open letter objecting to City Opera's plans to vacate Lincoln Center that has been signed by artists including Joyce Di Donato and Plácido Domingo. (Vehement arguments tweeted today included "Please don't miss the point: sans orchestra, chorus, and home, NYCO ceases to be an opera company. Now same as Gotham, etc." and "George Steel is the ******* man. Please don't crucify him because of past board missteps.")
In person, both events could have elicited actions and reactions of operatic proportions, however each side instead had their say and reached their intended audience. By the time attendees of the press conference left the Guggenheim following a brief and pointed presentation, there was no sign of the demonstration-slash-press conference.
Before announcing City Opera's 2011-12 season—four confirmed productions consisting of La Traviata and Rufus Wainwright's Prima Donna at the Brooklyn Academy of Music; Così fan tutte at the Gerald W. Lynch Theater at John Jay College; Telemann's trilingual Orpheus at El Teatro del Museo del Barrio starring baritone Daniel Teadt; plus an initiative developed in partnership with the Public Theater to present Shakesperean-based operas at Central Park's Delacorte Theater in the fall of 2012—Steel touched on the company's recent issues with labor and the David H. Koch Theater. Future venues high on Steel's wish list also include Jazz at Lincoln Center's Rose Theater, City Center (the site of the original City Opera) and Broadway houses, with additional plans to touch on all five boroughs each year.

A selection from Telemann's Orpheus
Of the move, Steel said the decision was made "simply put, because we can't afford it any longer," adding later that the company was paying $4.5 million to operate within the house shared with New York City Ballet and stating that renting the theater and outside offices alone would shave $2 million off those fees. The cost of touring is significantly less than both of these options, however Steel also mentioned that "the door [at Lincoln Center] is not closed to us" and the company may return "when it makes financial sense."
More pressing are the labor negotiations. With spirited outcry from the company's former head, Julius Rudel, in addition to the signatories of the aforementioned letter, City Opera still must contend with AGMA in its negotiations. Steel called the elimination of 14 staff positions a "stark and difficult decision" but anticipates a "full of frank exchange of views" as the company negotiates with AGMA. When the rock-solid casting of the upcoming season's productions (including soprano Melody Moore, last seen in Séance on a Wet Afternoon, in the title role in Prima Donna) Steel was confident that an agreement would be reached.
And perhaps, if the tone set from both sides of the divide was any indication, that may happen. Opera gossip blog Parterre Box published yesterday an e-mail detailing what the guild's president Alan Gordon details as New York City Opera's list of proposals for the AGMA contract, including the elimination of health insurance, employment guarantees, tenure, vacation pay, dancers and production staff members. Such changes are proposed in the hope of eliminating a deficit that has existed at City Opera for the last ten years.
What this could mean for musicians is a situation similar to the conditions that sparked the Hollywood Writer's Strike in 2007: In the late 1980s, members of the Writers Guild of America agreed to slash their residual payments by 80% to accommodate what was then a fledgling home video market. In the two decades that followed, VHS sales not only skyrocketed, but they gave way to DVDs, the then-neophyte Blu-Ray and eventually, video downloads. During this time, writers still operated at the 80% pay cut.
In this situation, City Opera is like that struggling home video market of the late '80s: Without drastic changes, in Steel's words, the "company could not continue to exist." Talks of leaving Lincoln Center were ongoing even in the time of Paul Kellogg, with attempts to relocate to Ground Zero as part of a new arts complex. And clearly the company needs to pull out of its decade-long deficit (complicated in no small part by the hiring of Gerard Mortier, who never officially took the reigns of the company but did manage to cancel a season and walk away with a six-figure payment).
Unfortunately, the rhetoric that is currently coming out of both AGMA and NYCO serves the purposes of its creators, making it hard to find a clear solution that will please all sides. However, perhaps with a little give and take—not to mention a high dose of compromise from both sides—an agreement to support the company in a period of struggle and growth (minus a 20-year lag time to reinstate benefits and concessions to AGMA's members) may be the surest way to get the company back on its feet. The plan is intriguing enough, let's hope the actions will follow.
What's your take on City Opera's 2011-12 season? Leave your thoughts in the comments below.