Young Singers Soar in Puccini's La Rondine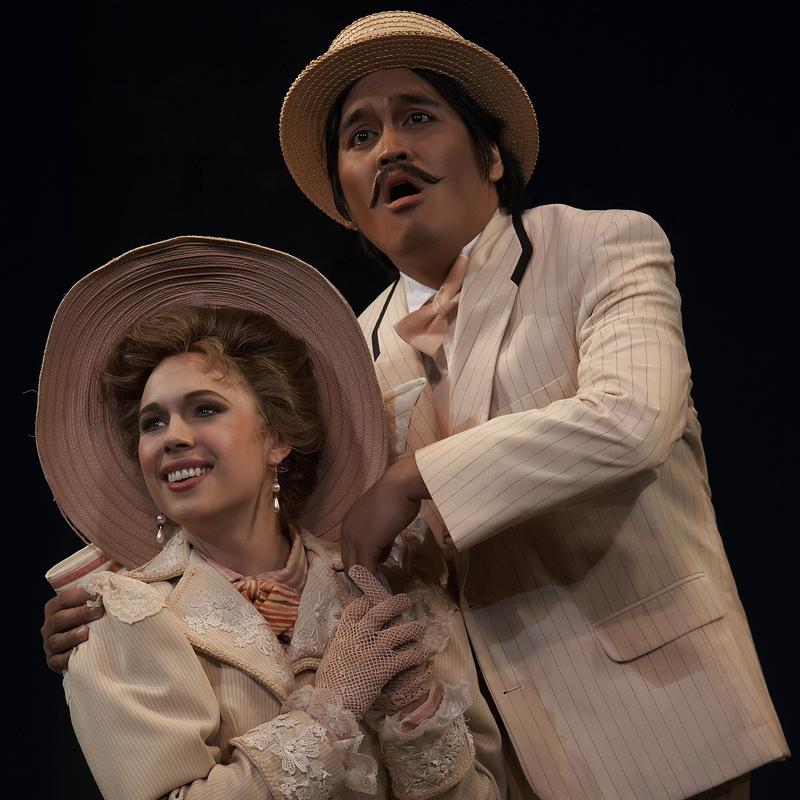 One could make a full-time (and fulfilling) career out of just seeing student and young artist performances in the New York metro area. The Metropolitan Opera's Lindemann Young Artist Development Program has recently partnered with the already strong Juilliard School's opera program, the first offering from the duo being led by no less than James Levine.
Elsewhere, institutes such as Mannes College of Music, Manhattan School of Music and Bard College boast pedigreed performances attached to such names as Regina Resnik, Lee Hoiby and Dawn Upshaw, while companies like the Opera Orchestra of New York have fostered young singers like Julianna Di Giacomo (who nearly literally blew the tent off the Caramoor Festival—another fertile training ground for young artists—in Rossini's Guillaume Tell this month).
What solidifies the importance of these productions, however, is the invaluable early exposure that they give their singers. Any vocal student will tell you that, no matter how much time they have for training, coaching and practicing, the real artistic growth comes from being in a performance or recital in front of an audience. No great shock, then, that many of the young artist programs in New York are headed by former performers, like superstar soprano Martina Arroyo and her eponymous foundation's Prelude to Performance Program.
Arroyo's Prelude to Performance runs singers through the proverbial ringer, the culmination being a fully-staged and orchestrated performance at Hunter College's Kaye Playhouse. Past productions have included Le Nozze di Figaro, Tosca, La Traviata, Die Zauberflöte and Un Ballo in Maschera, with Mozart's works being a recurring favorite. His lusty Don Giovanni alternated with Puccini's rare bird La Rondine this weekend, and featured bass-baritone Ryan Speedo Green (who appears tomorrow with the Met's Summer Recital Series in the Bronx), deemed by the New York Post as possessing "a voice as mighty as a cannon—and the magnetic presence of a superstar."
While young artist performances can always be a gamble, if you look past the technical growing pains you could spot singers in La Rondine who, like Green, seem destined for larger stages. Jonathan Morales, who recently turned from baritone to tenor, was a scene-stealer as poet Prunier. Though he had ease in the tenor's upper register—particularly in the famous aria "Chi bel sogno di Doretta"—there were the darker shades that hinted at his past tangos with roles like Papageno and Werther's Albert. His resonant, assured tone balanced both the braggadocio inherent to the character with an underlying, poetic sweetness that went down like a strong glass of port.
Prunier's two arias coincide almost back-to-back in the first act of Puccini's ode to Viennese operetta and Strauss's Der Rosenkavalier, stretching the tenor's top range but also making ample use of the lower register. It's no mean feat for any singer, but Morales rose to the challenge. In the equally (if not more) demanding role of Magda, the titular tart with a heart, soprano Clara Heikyung Yu (pictured, right) hit her money notes with a breathtaking precision and a winsome heart. While there were a few signs of struggle as the afternoon wore on, Yu has the bearings and talents of a leading soprano in the not-too-distant future. Equally charming and promising was soprano Katelyn Parker in the role of Lisette.
Beyond the musicality, however, each of these singers had a magnetic stage presence that speaks to the increasing prominence placed on acting in addition to vocal technique. Yu sparkled as Magda, beaming with girlish glee when she disguises herself as a poor grisette and falls in love with the young, naïve Ruggero (though her anguish upon leaving him in the third act was undercut by the more stoic bearing of Young Chul Park, who nevertheless paired well with Yu, Parker and Morales in the Act II quartet). Morales elicited a large amount of laughs and applause for his witty and urbane take on Prunier, amplified when alternately sparring with and wooing Parker's impish, sassy Lisette. Credit in no small part goes to director Joseph Bascetta and conductor Nicholas Fox. Sets and lighting by Joshua Rose and costumes by Charles Caine evoked Belle Époque Paris simply yet evocatively.
With many singers still discovering their voices and working towards diplomas and degrees, the idea of art and artists being works-in-progress was made all the more apparent this weekend. But the future sure looks exciting. It's also always refreshing to see companies opt for the ending in which Magda, realizing that her checkered past will not bode well for her marital prospects with Ruggero, leaves him despite his protests that her impurities are not a problem. This alternate ending has Ruggero learn through an anonymous letter of Magda's past and reject her, following which she kills herself. Sometimes thoughtful pragmatism is more tragic than any rash and bloody end.