Bard Summerscape's Golden Child
"Power is the ultimate aphrodisiac," Henry Kissinger famously said, a maxim that director Kevin Newbury quotes in his program notes for Die Liebe der Danae.
An unsavory mental image given the quote's source, it's nevertheless an ageless maxim that held true when Kissinger said it in 1973, when Richard Strauss wrote Danae between 1937 and 1940, in the mythological times of Ancient Greece and Rome, and still holds true today in a Madoff/Murdoch–saturated society. It's also a driving principle behind Newbury's sleek and modernized Danae, which runs through August 7.
Simply put: This updating works. The male chorus's line in the first scene, "The whole island is bankrupt!" has never rung truer given the recent years' toll on Manhattan. As such, Pollux is a downmarket Gordon Gecko and his daughter (Danae) a recession refusenik, an echo of Strauss's Salome (albeit hungry for gold rather than the head of John the Baptist). Danae's cousins, the Four Queens, enter as the lost Hilton sisters. With her long blonde locks, mezzo Rebecca Ringle bore a particularly uncanny resemblance to Paris—one look at her and you wish Bard could have sprung for a quartet of chihuahuas for the Queens to tote. Jupiter enters as a Park Avenue deity with all the suave bravado and magnetism of Mr. Big, while the Midas careens like the Dow between golden highs and dusty lows.
Joseph Gregor's libretto for Strauss's penultimate opera has encountered a heavy amount of criticism (as one WQXR commentator wrote, "dramatically, it's fairly pointless, and the libretto is really very poor"). Yet it's the high technical demands that come into play with showers of gold and the ill effects of the famous Midas touch have in part kept Danae from being staged more often. Newbury makes a sophisticated case for the staging elements, using a cascade of gold beads to signify Jupiter's golden shower and manipulating several lighting effects and incorporating the odd sleight of hand to represent objects turned into gold.
This is especially effective when Danae herself is transformed into a gilded statue, and Midas's anguish at seemingly destroying the woman he loves is heartbreakingly potent. Even in the grander moments of Newbury's concept and famed architect Rafael Viñoly's sets—as in Act III, which finds Danae and Midas in a robin's egg blue AMC Pacer onstage—there is a considerable amount of poetic restraint. Like Danae, we as the audience come to appreciate the heart of the production rather than its bells and whistles.
Musically, Leon Botstein also made a significant case for the work. The American Symphony Orchestra's horn section gave at one turn a quote from the orgiastic flourish before Act I of Rosenkavalier, while other moments harkened to the rush of Eine Alpensinfonie. The three lead roles are no easy task for any singer, but soprano Meagan Miller, tenor Roger Honeywell and bass-baritone Carsten Wittmoser each rose to their respective challenges as Danae, Midas and Jupiter. No singer was without fault (and each battled at times to be heard over the orchestra), but such smudges could easily be forgiven in light of the final product.
Wittmoser revealed Jupiter's human side between towering power trips and bittersweet farewells. Likewise, Honeywell had Midas's inner torment down pat, but also boasted a dulcet lyricism, most notably in his duets both with Danae and Jupiter.
As Danae, soprano Meagan Miller, a grand finals winner of the Metropolitan Opera National Council Auditions, revealed herself to be a major talent that up until now has mostly—and, given this weekend's performance, unfairly—been sequestered in Europe. A resplendent Straussian, she transformed from kittenish celebutante to a grounded woman, though still not without some feline grace. She gave a satiny counterpart to Sarah Jane McMahon's silky Xanthe in the first act before soaring to show-stoppingly ecstatic heights, capping off the opera with a transportive Act III soliloquy and (later on) the final notes.
Ultimately, what is the worth of Danae? Forget for a moment the term "second-tier Strauss," forget the staging demands made by the libretto and forget the rest of Strauss's not inconsequential canon: With swelling moments in all three acts, a final third of the opera that fires on all cylinders and a series of arias, duets and ensemble numbers that are indeed quite moving for their sheer beauty and expressionism, Die Liebe der Danae refutes comparisons and historical context and, like its hero in Midas, demands to be loved for its spirit and soul.
Leave your own thoughts on Die Liebe der Danae—either Bard Summerscape's production or the opera itself—in the comments below.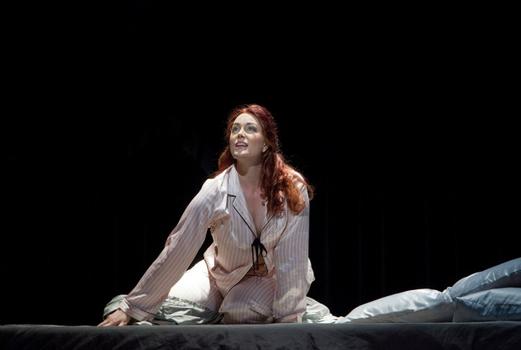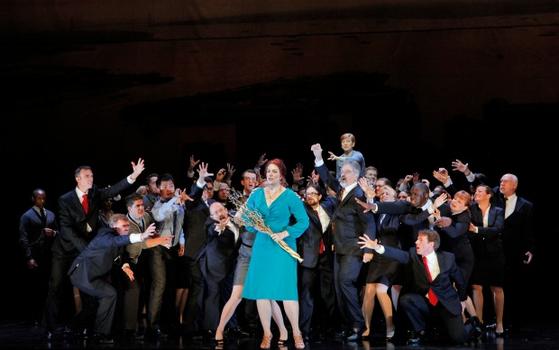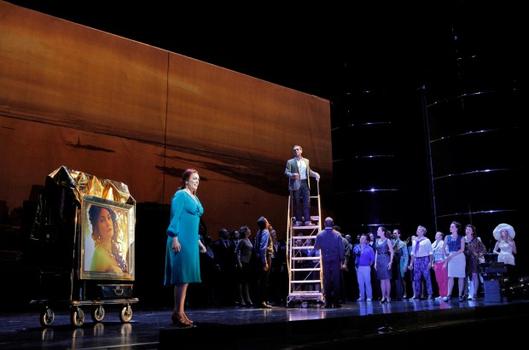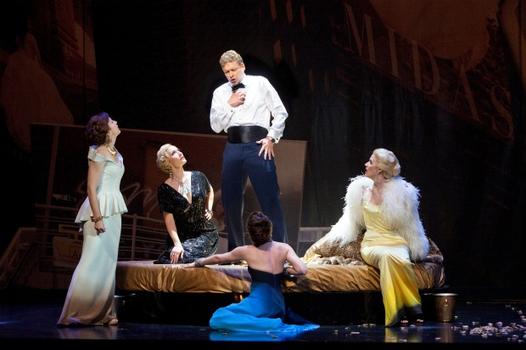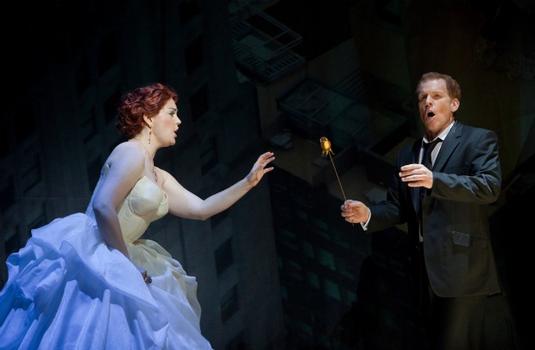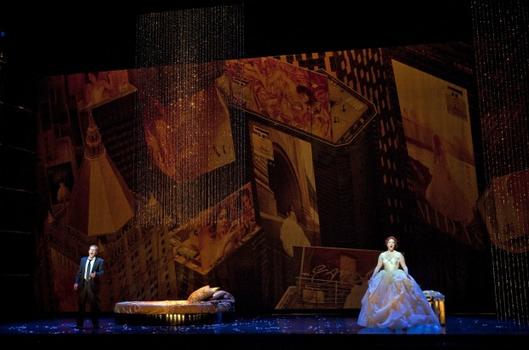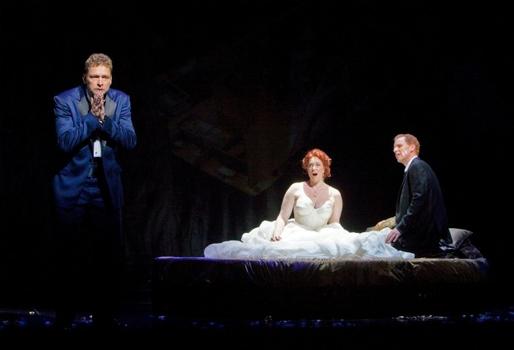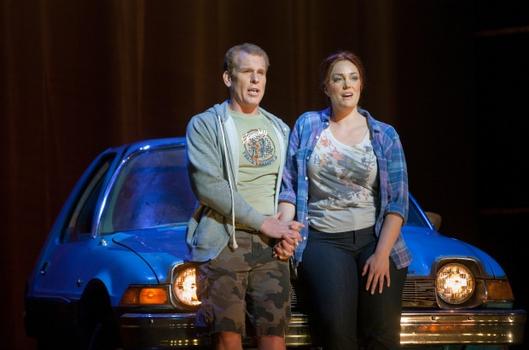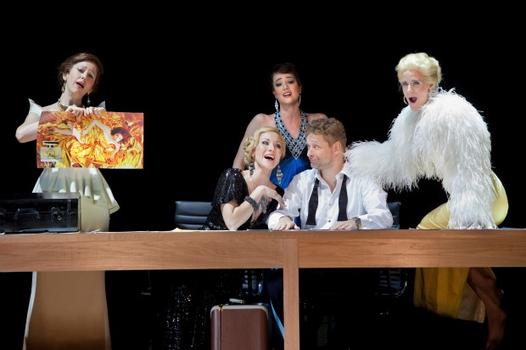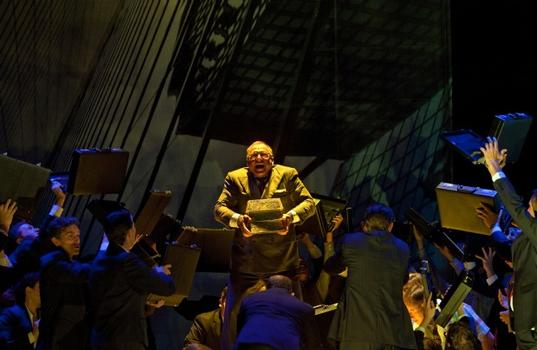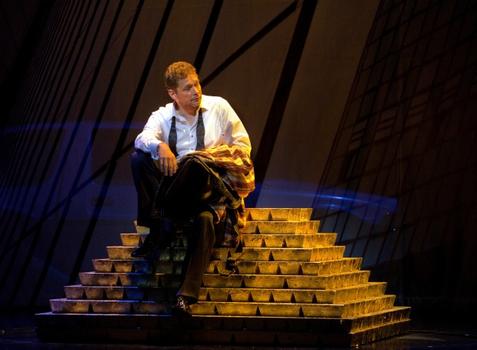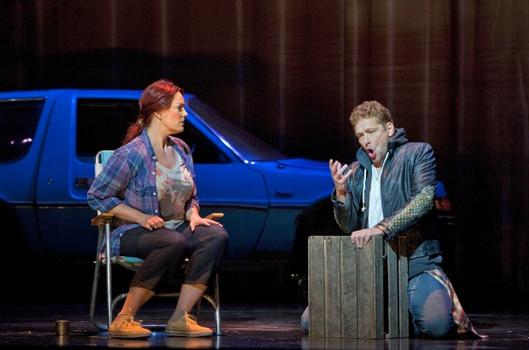 of