'Spargi' Showdown: Seven Top Singers Tackle Legendary Aria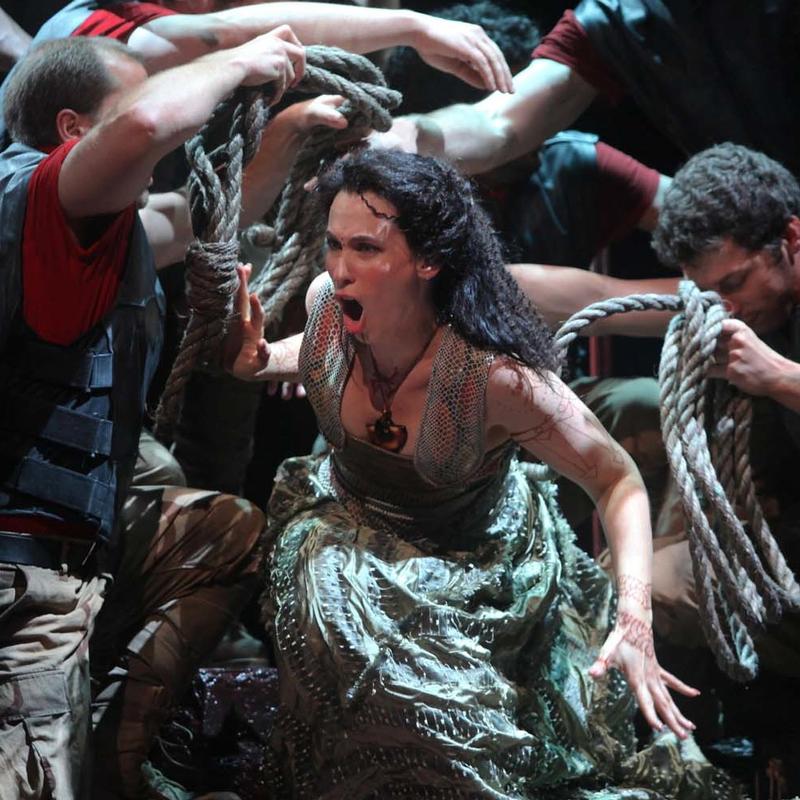 Over the weekend, I caught a striking production of Luigi Cherubini's Medea at the Glimmerglass Festival—a festival on which whose board, in the interest of full disclosure, my husband's family used to sit. Speaking with mezzo Sarah Larsen, who sings Neris in the production, the young artist conceded that initially her familiarity of the work was thanks to Callas's interpretation of the role, but that the opera stands on its own even without La Divina.
No argument here. Alexandra Deshorties, a singer I've described in other publications as possessive of "feline prowess and dramatic range," was incandescent in the title role, moving and singing in her inimitable way. Which got me thinking, particularly in the wake of Zachary Woolfe's latest article for the New York Times, is there a qualitative or quantitative way of saying who best embodies any given role? It sounds on the one hand as fruitless an endeavor as the reasoning posed in the "Understanding Poetry" essay from Dead Poets Society. But on the other hand, what opera fan doesn't delight in arguing one diva over another?
Without a large cache of Medeas to choose from on YouTube, I went to another role that Callas made a famous part of her repertoire (and one of my favorite operas): Lucia di Lammermoor. I love Lucia. It's one of those operas I can see multiple times in one day, given the opportunity, and one that has taken up a considerable amount of bandwidth on my iTunes and shelf space in my living room. Of course, there are far more Lucias than any one blog post can encompass, but below are six versions of the aria "Spargi d'amaro pianto," representing almost a century of recorded sound and some of the stealthiest sopranos. Give them a listen, and then tell us in the comments below: Who sang it best?
The First: Mercedes Capsir
Spanish soprano Mercedes Capsir holds the distinction of recording the first complete Lucia di Lammermoor in 1929. Her entire mad scene can be viewed below and boasts some obscenely extended high notes and death-defying coloratura. What's most apparent in this recording, however, is that while Capsir has some displays of showmanship—taking optional high notes, creating miniature cadenzas that show off her magpie voice—she takes a backseat to the composer, honoring the ritards and quarter notes without ever overshadowing the work as it was written. (The sound quality for this recording, nearly 90 years old, is also pretty spectacular.)
Clean Slate: Lina Pagliughi
Brooklyn-born, San Francisco-bred, Italian soprano Lina Pagliughi stepped into the recording studio a decade after Caspir for a recording of Lucia available on Naxos. If you click through here, you get a very different "Spargi," one that is less ornamented and full of cleaner tone that gives the chilling impression of a weakened woman about to die. Adding credence to this is the fact that Pagliughi takes the "Piano" notation in the score quite literally—and after 10 minutes' worth of a mad scene leading up to this aria, isn't that more natural? Her "Io pregherò per te"s will make the hairs on the back of your neck stand up.
Imperfect Perfection: Maria Callas
If you listen to Maria Callas's "Spargi" (indeed, her whole Lucia) against the score, you'll notice a great number of variations, from notes to text to a key that sounds a half-step down from the score. They're inconsequential, however, against the bigger picture, and despite Callas's voice sometimes sounding at odds with the literal "beautiful singing" that defines bel canto, it is precisely for these imperfections that she became a leading Lucia. You believe without reservation that, in the recording below, Callas is as heartbroken as a Scottish bride forced to marry against her wishes whose wedding is interrupted by her true love and who subsequently goes mad and kills her undesirable groom. It's the danger of her interpretation, the wondering if she'll tumble over the edge, that makes it so electric.
The "Dome of Sound": Joan Sutherland
I think it was Sherril Milnes who described Joan Sutherland's titanium soprano as a "dome of sound" that completely encompassed the listener. Unlike Callas—and many other star singers absent from this list (including Renata Scotto, Anna Moffo and Montserrat Caballé)—Sutherland shows no signs of struggle with the treacherous trills and unwritten high notes in the piece, hitting even the E-flats with a precision that would make William Tell jealous. But behind her vocal heft and power is an unsettling dreaminess: Out of her senses, Lucia dies happy, firmly believing that she will be finally reunited with Edgardo. Even merely listening to the deranged joy Sutherland exudes in this recording, tempered by the odd flashes of clarity, you see her Lucia hanging on by its precariously screwed-in hinge. At the end, it snaps.
Funeral March for a Dead Scotswoman: Beverly Sills
Listen to this clip of Beverly Sills singing "Spargi d'amaro pianto" directly after Sutherland's and you're struck by the dogged tempo she takes, even slower than Donizetti's indicated "Moderato." It's indicative of a Lucia laboring to cling onto her last shreds of life in order to deliver her parting words. While Sutherland's Lucia dies happy, Sills's is saddened and crushed by the pressures and sacrifices imposed upon her by the men in her life. She has the beauty of Sutherland with the heartbreak of Callas, plus an entirely Sills-ian set of embellishments that underscore her honeyed soprano even when going gently into the good night.
Long and Languid: June Anderson
Something about June Anderson's intonation and phonation—coupled with tempos comparable to Beverly Sills—make this a luxurious and plush final aria for her Lucia. And once again, like Joan, she indulges in the dreamy state of Lucia in her last moments. Her joy at being reunited with Edgardo takes on a vaguely sexual edge with her sensual singing and the darkness of her soprano makes for an interesting root to the giddily high coloraturas. While she doesn't offer as much trill or embellishments as some of her preceding generations, she's still faithful to the aria as Donizetti wrote it, much in the same cleanly unsettling way as Lina Pagliughi.
Icy Hot: Natalie Dessay
Natalie Dessay's guttural, blood-curdling scream prior to launching into "Spargi" may be one of the most terrifying things ever heard within the Metropolitan Opera House—and that's before you take into account the soprano's history of vocal issues. I was torn between both Dessay and Netrebko for this mix, particularly given that they've both appeared in the same new production for the Met.
And while I'm a huge fan of Netrebko's interpretation (to the point where I'm willing to forgive a faulty trill or a missed E-flat for her absorbing pathos), Dessay's distinctive, at times frail, voice landed her here over Trebs. (That she just released a recording of the opera—her first full account of the Italian version—with Gergiev and Beczala doesn't hurt either.) She sings Lucia like a little girl, which isn't far off from the real-life Lucia of Janet Dalrymple, whose brothers noted that, even though she married in the summer, she was as cold as ice.