A Look at the Sound Man Behind Kentridge's Films
To many in the art world, William Kentridge is a household name, especially in New York these days. A selection of the South African artist's short animated sequences of charcoal drawings are on view at the Museum of Modern Art (MoMA) this month. The Metropolitan Opera's production of Dmitri Shostakovich's The Nose that Kentridge directed opened this month to wild acclaim. While all eyes are on Kentridge, one man quietly takes it all in: Philip Miller, the South African composer who created the scores for more than a dozen of Kentridge's short films and other works.
Kentridge first recruited Miller for his composing skills in his native Johannesburg in 1994 for the score to a nine-minute film he had just shot in 35 millimeter. "William [Kentridge] as an artist has always been very interested in music and the relationship again of sound and music to image," says Miller in the Upper West Side apartment where he's staying and rehearsing while in New York. "It's always been part of the theatricality of his work…whether it's me or Mozart or Shostakovich."
The film Kentridge brought to Miller was "Felix in Exile," which is set in South Africa, after the country's first open elections, and it's one of the works currently on view at Kentridge's MoMA exhibit. In it, a man living in exile outside of South Africa is drawn in Kentridge's charcoal and pastel hand, along with a female land surveyor. The film tells the story of a history that's being erased—the old South Africa—in a process that Kentridge calls "painting over the old, the natural process of dismembering." Themes of memory and death permeate the film.
Kentridge had the whole movie made when he approached Miller, who was then in his 20s. Kentridge even had a working score—Antonín Leopold Dvořák's American String Quartet (String Quartet No. 12). But something about it wasn't working.
"He brought that along and said, 'Look, you know, I've cut the film to this…but I kind of think I'd like something else. So, won't you try?'" Miller, now 44, says, with a shake of his wiry brown hair. Miller says those were big shoes to fill. "This particular piece being…one of the most exquisite, sublime pieces of music, it was like, oh, this is great, I've got to compete with the Dvořák."
But Miller nevertheless responded--with a score that included traditional African vocals, a poignant string quartet, and sounds of water and machinery. His soundscape brings the characters and charcoal drawings alive while hitting the viewer hard with a sense of alienation and how inconsiderate progress can be.
"There's always, for me, an incredible alchemy between the moving image and the sound," Miller says. "Sound transforms what you see."
Since that first film (extract above), the Kentridge-Miller collaboration has become a well-oiled machine. It's gotten faster, for one, due to a shorthand the pair has developed while working together. Their films have also changed with the times. Miller has gotten more skilled at mixing classical music with other sounds digitally, and he's fond of using sampling in his work, the practice of taking one portion of a sound and reusing it elsewhere or looping it digitally.
"I see myself as a contemporary composer," Miller says. "Not in the sense of doing atonal dissonance that can completely and utterly alienate an audience…but for me 'contemporary composer' means looking at everything's that's around me. And what's around me is also a lot of extraordinary technology. I want to work with that…being here in the 21st century."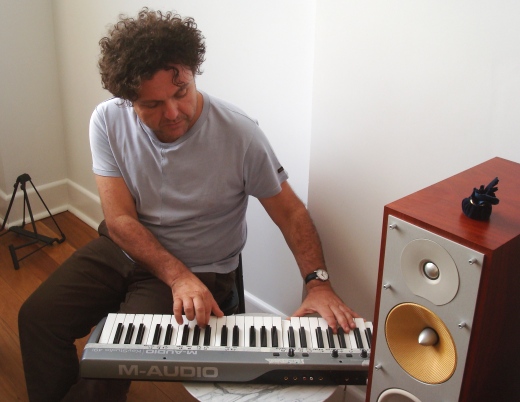 A recent collaboration called "Black Box/Chambre Noir" started when Kentridge told Miller he wanted to do a film about the Herero genocide, which took place in 1904 in Namibia.
"His instructions to me at the time were to work with little almost seeds of [Mozart's] 'The Magic Flute' and then work with Herero music," he says. Miller gamely went off to Namibia and did just that—worked with and recorded musicians and singers for the score.
"Then I started to weave and allow things to juxtaposition and collide. So, there are sort of 24 secret little tiny pieces of Mozart that are hidden deep in this music," Miller laughs. "Some people found some of them. No one has found all of them."
Miller then passed on his score--Mozart mixed with Herero "outjina" dancing sounds, singing, a zither and a brass band--over to Kentridge. Next, Kentridge responded with charcoal illustrations of puppets and mechanized objects that tell the story of Germany's colonization of Namibia. And that back-and-forth continues until a project is completed.
Kentridge says the musical and visual ideas grow from this exchange of ideas between himself and Miller. "The collaboration is built into the deep structure of the work," Kentridge says. "These conversations and revelations are one the great pleasures of working with Philip."
"Black Box/Chambre Noir" is now on view at the MoMA. The film took four months to complete, a little longer than average for a Miller-Kentridge collaboration. Its political content, which is not for the faint of heart, probably will turn some people off. But Miller says he's happy if his films and music cause a reaction in viewers. "If you don't feel anything from it, if you don't respond to it, if you just literally yawn and just look at your watch and wish it was over," Miller says. "Then…I think you've failed."
Anyone interested in checking out William Kentridge's films with Philip Miller's scores can do so by going to the Museum of Modern Art from now through May 17. For more information, click here.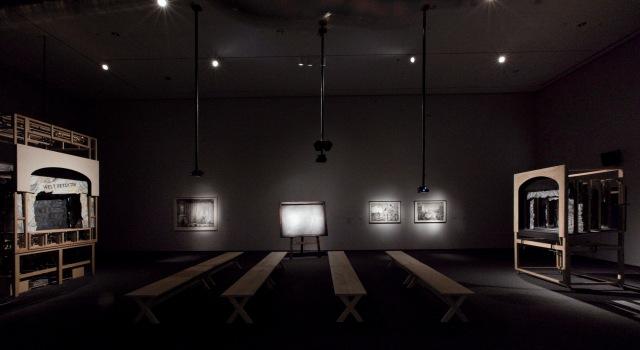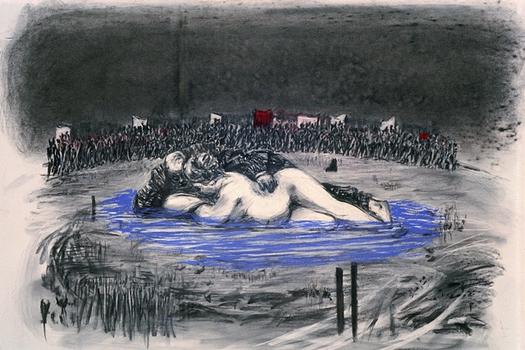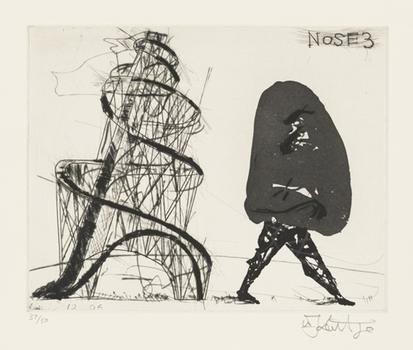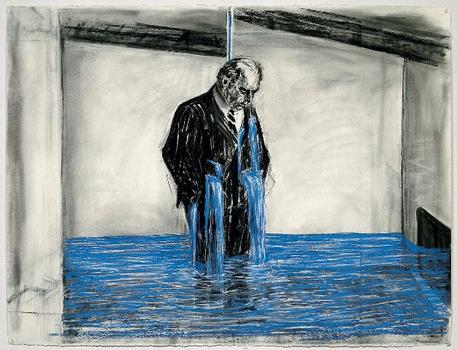 of