Episode #103
Orchestre Révolutionnaire et Romantique Plays Beethoven
Wednesday, November 16, 2011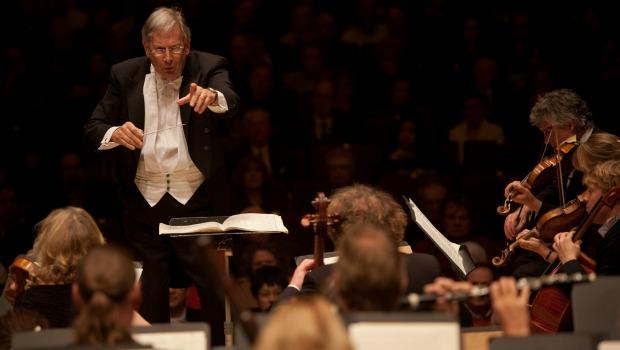 (NPR)
On Wednesday night, John Eliot Gardiner conducted the Orchestre Révolutionnaire et Romantique in three works by Beethoven: the Fifth and Seventh Symphonies and the Egmont Overture.
It was a generation ago that this period-instrument orchestra from London first took up Beethoven, seeking to re-establish the lost performance practices of the composer's time. Their lean and mean sound shocked some of the classical establishment as they went head to head with the great symphony orchestras. Yet today their approach been gradually integrated into the mainstream and many modern orchestras practice a more historically minded approach.
This concert is a chance to hear the ORR as they bring out the unique drama in three Beethoven classics.
Program Details
Orchestre Révolutionnaire et Romantique
Sir John Eliot Gardiner, Artistic Director and Conductor
ALL-BEETHOVEN PROGRAM
Our broadcast started at 8 pm and a live Web chat took place starting at 7:30 pm.
Some Highlights From Our Twitter Conversation (#CHLive):
No less than the greatest performance of the Beethoven's FIFTH I have ever ever ever ever heard.  After knowing this piece for over 40 years, I have finally heard it for the FIRST TIME.  It was played JUST as Beethoven wrote it.  Halfway thru the last movement I started to cry, no I was weeping with joy, a feeling of arrival, of renewal, of rebirth.  It's as if the soul of Beethoven was flowing through me and he was hearing it the way he wrote it - at last - at long last....  I cannot overemphasize how meaningful this was for me.
by Enrique Sanchez   

Shout out to the principal players of the ORR who taught Philadelphians about Beethoven and their instruments! #CHlive
by atonalnyc via twitter

Practically came out of my chair for the last movement of Beethoven 5! #CHLive
by danielgilliam via twitter

These performances were a revelation -so beautiful, so clear, so pure. The reference to the oath sworn by the Frenchmen to defend their country reminds me that in World War II, the first four notes of Beethoven's 5th were used by the resistance to signify defiance -- the first four notes repeat the Morse code ...-, which stands for V and thus V for Victory. Thanks for a wonderful evening.
by Ruth Ryer   

"@WQXRClassical: Wowzers. #chlive" Bravo. Applause. Amazing. Fifth Symph fresh and new reborn.
by abbyfarber via twitter
Here's the archive:
The WQXR e-newsletter. Show highlights, links to music news, on-demand concerts, events from The Greene Space and more.