Three Years After Debut, Opera Omnia Returns to the Stage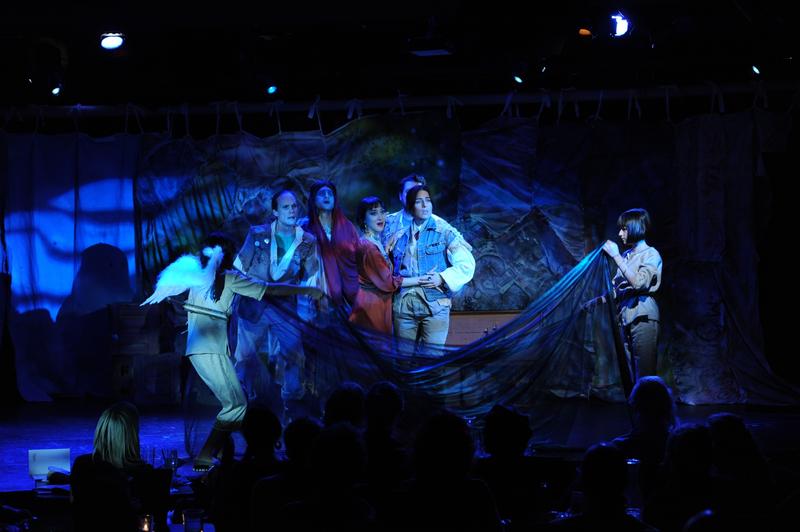 When Opera Omnia presented its inaugural production of Monteverdi's Coronation of Poppea in 2008, its venue in (Le) Poisson Rouge was still fairly green and only starting to make good on its promise of becoming a destination for classical music just as it was already setting sights on the jazz and indie pop scene. How much has changed in three years.
Today, hardly a week goes by without at least one classical act. New York City Opera co-opted the space for its VOX American Opera Lab in May, shortly after the MATA Festival concluded its run as one of the many classical fests to take over the former Village Gate. LPR has been the scene for Met diva Danielle de Niese singing Mozart, violinist Hilary Hahn stringing Bach and, later this fall, the Gotham Chamber Opera with Nico Muhly.
However, after the lauded Poppea, Opera Omnia seemed to shrink from the lime (or in this case, red) light. Writing in the program, Opera Omnia producer Wesley Chinn accounts for his company's absence in these last three years by quoting one of the less scandalous Bill Clintonisms ("it's the economy stupid"). Yet, there's still a great white hope for the company, as seen in its ambitious mounting of Cavalli's Giasone on September 1.
Francesco Cavalli, a contemporary of Monteverdi and the man poised to inherit the mantle of the composer behind Orfeo, The Return of Ulysses and Poppea, wrote 41 operas in his lifetime. Such works did indeed pick up where Monteverdi left off—almost literally, according to some scholars who believe him to be the one to have finished Monteverdi's Poppea (a claim substantiated by the opera's famous closing duet, "Pur ti miro" being echoed seven years later in Giasone). Unfortunately, we do not know the full extent of these works' impact on the genre as only 27 survive. Far fewer are seen or heard with even a smattering of regularity: By my calculations, only nine have been recorded.
Pity, that (although this is the second Cavalli opera performed in New York this summer, which is generally two more than we normally see). Cavalli's music lacks some of the flash and frills of 17th-century French opera maître Lully, yet the straightforwardness of the vocal lines coupled with sophisticated ornamentations, and the generally madcap and lascivious plots present a straightforward merging of music and drama, a simple country wedding versus a six-figure affair at the Plaza. If the latter Baroque era has often drawn comparisons to the Trump-esque excess of the '80s, this period in opera is the pared-down punk counterpart.
Which probably explains in part why director Crystal Manich tapped into the safety-pinned, ripped sleeve punk aesthetic common to the Village decades before in conceptualizing her world of Giasone. In her own program notes, Manich admits to having difficulty finding her way into the work, and was even more dubious of playing the opera as a straight "telling of Jason, the Argonauts, and the Golden Fleece set in ancient Greece," though directing it in the "casual and chill cabaret atmosphere of Le Poisson Rouge coupled with early baroque performance" was more appealing. Appropriately enough, Cavalli's operas have a similar mass-cultural appeal: LPR's atmosphere comes closer to Venice's first public opera houses rather than the drawing rooms of clans like the Medici.
As such, the marriage between art and setting is harmonious, and the DIY, street-theater-meets-St.-Mark's-Place design of the set and costumes serve to enhance the skilled musical work, which comes thanks in no small part to music director Avi Stein, whose superb ensemble work was a highlight of the evening (Motomi Igarashi had some especially fine moments on the viola da gamba).
Several singers from Poppea have been reunited, including the two central lovers once again shacking up onstage. Mezzos Hai-Ting Chinn and Cherry Duke were sweet and sultry as Medea and Giasone; Duke having mastered the art of masculine swagger and Chinn displaying a balance of Louise Brooks sex appeal with Bebe Neuwirth (in her Cheers days) humor that sounds out of sync but, like bacon and chocolate, works inexplicably well. Patrick Murray was a powerful Orestes vocally, though you wouldn't think it was the same, matricidal son from Gluck and Strauss with how manic his demeanor is here in Cavalli's world (more Gob Bluth than Book of Job).
Playing the servant roles of Delfa and Alinda, both Karim Sulayman and Sharin Apostolou earned warm receptions from the audience for their oversexed comic timing—and, in Apostolou's case, a honeyed coloratura.  The ensemble dynamic served the many plot divergences of the work well, though at times (particularly in the prelude, sung by two impish, Barbie-wielding and Hi-C-slurping children as Apollo and Cupid), the occasional amplification with microphones became a little too aggressive for LPR's intimate acoustics. There's one problem Cavalli never had to face.