Obama Signs Health Care Reforms into Law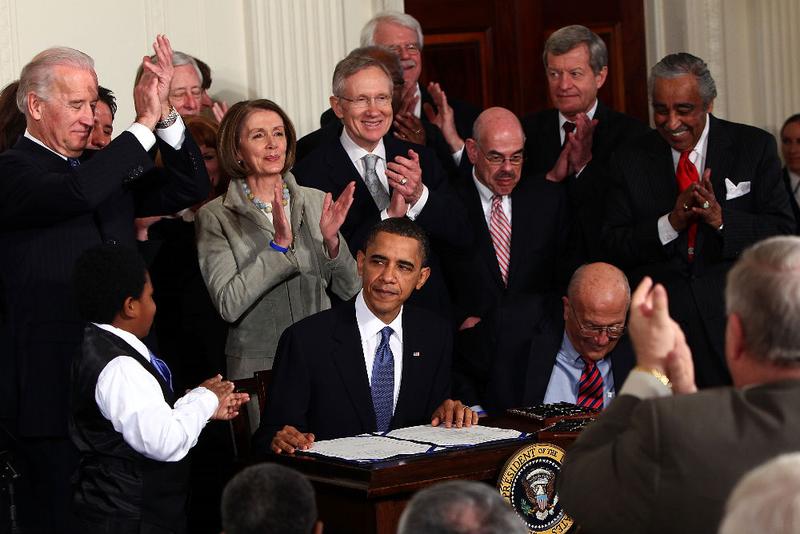 President Barack Obama signed his health care bill today just before noon, enacting one of the most significant pieces of social legislation in decades.
At the signing ceremony in the East Room of the White House, the president was surrounded by about 200 Democratic lawmakers and a handful of citizens, including Marcelis Soens, who've struggled with the health care system.
"Today I'm signing this reform bill into the law on behalf of my mother who argued with insurance companies even as she battled cancer in her final days," the president said ahead of signing the bill. "I'm signing this for 11-year-old Marcelis Soens who's also here. Marcelis lost his mom to an illness. She didn't have insurance so she didn't get the care that he needed."
A few short hours after health care reform was signed into law, debate on a bill amending started in the Senate. The measure includes final revisions to the law that were approved by the House on Sunday. Among other things, the bill would remove some controversial provisions and extend greater subsidies on insurance coverage to low-income Americans.
The Senate will pass the amendment bill through the budgetary reconciliation process that will only require simple, 51-vote majority -- not the 60-vote supermajority needed to over come a filibuster.
The House passed the bill amending the law just after approving the Senate's version Sunday evening.
Opposition to the new law also quickly materialized. Attorneys general from 13 states - 12 Republicans and one Democrat - immediately filed a lawsuit challenging the constitutionality of the measure. Republicans are vowing to make repealing the law the centerpiece of the fall mid-term campaign.