Don Giovanni Gets Somewhat Left in the Dark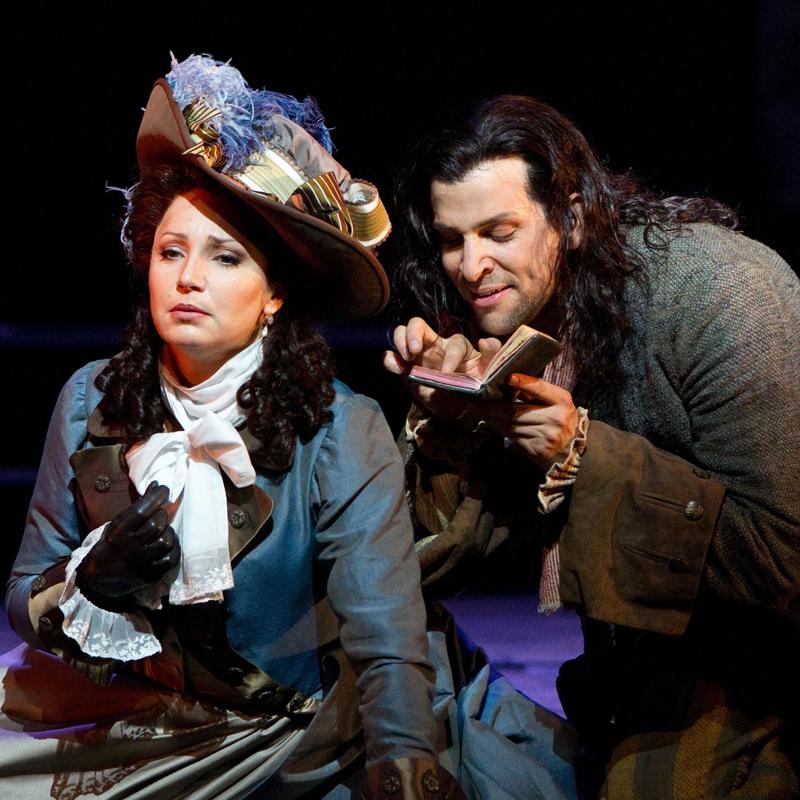 A sizable branch of cultural criticism has been devoted to the topic gender and opera, most notably in French feminist philosopher Catherine Clément's Opera; Or, the Undoing of Women. Of course, through its innocuous title alone, you can see the crux of Clément's focus and even get a taste for her sociological line of thinking.
One can do the same with Don Giovanni, zeroing in on its oft-neglected full title, Il dissolute punito, ossia il Don Giovanni ("The Rake Punished, or Don Giovanni"). It's this punishment that becomes the focus of the Met's new production of Mozart's 1787 masterwork, helmed by theater director Michael Grandage (Red) in his Met debut, and here giving power to women who would be formerly left undone.
"Hell and the literal nature of Hell is something that's very important to the piece and the nature of the piece," Grandage said in a Met promotional video earlier this year, adding that Don Giovanni is "going to Hell because he killed a man—he's not going to Hell because he seduced a lot of women."
And so in Grandage's Giovanni, while no undue amount of focus is placed on sex and sexual politics—accessories to the titular rake's mortal sin—there is an intense focus on crime, punishment and redemption. When Don Giovanni kills the Commendatore, he seems momentarily stupefied, cradling the dying man, grasping his hand and comforting him through his final moments. And from there, Giovanni (and the audience) begins to realize that the proverbial clock is ticking down.
Yet it's in this countdown that Grandage's Giovanni, while having much to recommend it, also misses the mark. "Heavens, what a day this has been!" sing the main characters at the end of the first act, reminding the audience that there's about a 24-hour period between the Don's seducing of Donna Anna and murdering of her father to his own descent into eternal fire and brimstone. The stakes aren't as high as they should be.
Paule Constable's lighting design seems haphazard: in spite of the Mediterranean balconies and colors, this Giovanni must be set in wintertime Lapland for the fleeting, undark moments onstage. Similarly, Christopher Oram's economic sets are, like the Met's opening night production of Anna Bolena, safe and inoffensive. They are reminiscent in their rotating style of the company's very fine Il Barbiere di Siviglia directed by John Cox and designed by Robin Wagner (replaced by the Bartlett Sher production in 2006).
Thankfully, whereas Anna Bolena's drab Tudor sets and costumes offered little for the eyes, there is more to look at here in Giovanni's Seville, most notably the use of the multitude of doors in scenes like the "Catalogue Aria," Graveyard Scene, and both Act I and Act II's finales. There are some truly strong moments in the visual aspects of the production—costumes, also courtesy of Oram, are a particular highlight and prove that a production of a much-performed repertory standard needn't always be dramatically reconfigured to work. But the full Giovanni leaves us with numerous questions, like, "Why is the Don grabbing and hitting his leg continually through the finale? Are pins and needles a symptom of chlamydia?"
A more compelling faction of the production, however, is its cast. As the gam-punching Don himself, Swedish baritone Peter Mattei gave a tour-de-force performance that belied the fact he had only stepped into the role earlier this week, replacing Mariusz Kwiecien after the singer suffered a back injury during a dress rehearsal. As in many productions of Giovanni, part of the demands of the title role is the singer's ability to create chemistry with his fellow cast members onstage, and here Mattei looked and sounded as if he had been working with these colleagues since day one. His "Deh vieni alla finestra" was especially dreamy and Italianate, his occasional flub with the libretto more than forgivable.
Mattei was excellently paired with Barbara Frittoli, whose revelatory Donna Elvira evoked the vengeful hunter goddess Diana (a common character in operas leading up to Mozart's time). In contrast to two Met debutants -- Mojca Erdmann's rustically feminine (and pertly sung) Zerlina and Marina Rebeka's frilly funereal Donna Anna wardrobe -- Frittoli's Elvira was equal parts ladylike and masculine. She came into Seville with guns blazing and a cadre of ladies in tow, and sporting a no-nonsense hat and jacket. You can see how her magnetism with the Don keeps the two colliding periodically throughout the opera: out of the 2,064 other women, Giovanni meets his match in Elvira.
There was less chemistry between Rebeka as the daughter of the Commendatore and her betrothed, Ramón Vargas's Don Ottavio. Vargas seemed to be an audience favorite, but brought little theatrical sensibility to his role—a fact amplified by the energy that surrounded him onstage. He gave a serviceable "Il mio tesoro," albeit one addled with vibrato, but slathered on the earlier aria "Dalla sua pace" like it was butter—haphazardly and overly rich while glossing over Mozart and Da Ponte's intimate nooks and crannies. Rebeka sailed through her two arias offering technical dazzle but not much in the way of spellbinding catharsis.
Adding the healthiest dose of comic élan was rising Italian baritone Luca Pisaroni as Leporello, a pairing that made the second act switch between servant and master more than credible both visually and vocally. His transformation after witnessing Giovanni disappear amid some truly spectacular flame-work was a stark contrast to the comedic lackey the audience witnesses in his first act detailing of his master's conquests. 
All told, there are the occasional reminders in opera that one need not build a better mousetrap: A Don Giovanni can thrive in its original intended setting, as it occasionally does here. However, a well-built mousetrap is one in which all of the gears click together in perfect precision to land that one perfect catch. Here, the mouse seems to have gotten away.