May the Truth-Force Be with You
Three years ago, the Metropolitan Opera embraced the change it wanted to see in the world by offering the company premiere of Satyagraha, Philip Glass's cantata-like meditation on Gandhi's revolutionary life in South Africa and its effects on the revolutionary's legacy.
The opening of Satyagraha (Sanskrit for "truth-force") carried with it a bluster of advertising and microsites. Posters plastered around the city asked in bold, sans-serif fonts: "Could an opera make us warriors for peace?" and "Could an opera make us stand up for the truth?" Met advertising guru Elena Park reached out to yoga instructors across the city, inviting them to the work's dress rehearsal in hope that word-of-mouth would spread the operatic word to their students. It resulted in a rightfully ballyhooed production that ranks up there with Shostakovich's The Nose and Janacek's From the House of the Dead as one of the crowning achievements of the Gelb era.
But what happens when the party ends? In its revival, which opened on Friday, Satyagraha's striking advertising was nowhere to be seen (for good reason: the Met has additions to the Ring Cycle and an upcoming new production of Faust to take up its advertising concerns this fall). However, with a fully-occupied Zuccotti Park just six miles away, the ramifications of Glass's opera are still vitally resonant.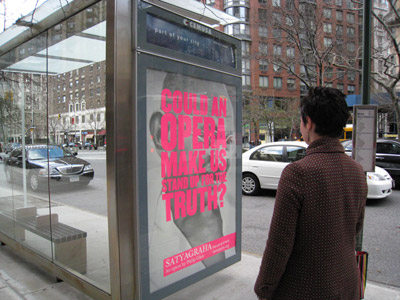 Richard Croft's soaring tenor, able to fill the entire Metropolitan Opera House even while singing a delicate pianissimo, coalesced with the Metropolitan Opera chorus and orchestra under Dante Anzolini's assured hand (no small feat in a Glass score, which requires nonstop counting among polyrhythmic repetition). Complemented by Mary Phillips as Mrs. Alexander, Rachelle Durkin as Miss Schlesen and Kim Josephson as Mr. Kallenbach, Croft and company gave Glass's opera the full force and nuance it demands. In doing so, regardless of one's feelings toward Occupy Wall Street, the score provided a much-needed salve in an increasingly tense New York.
It also serves as a reminder, over a four-hour performance and repetitions bound to cause the occasional OCD flare-up, that revolutions don't come quickly. But when they're fueled by courage and conviction, they can take shape. And, like any opera worth its salt, strong leadership and cohesive ideals and ideas, don't hurt either.