Big Loves and Books of Mormon
Nothing screams operatic throw-down so much as a catfight between two women over one man.
Going back to the days of Monteverdi and Lully, feisty femmes like Poppea and Ottavia in L'incoronazione di Poppea or Sangaride and Cybèle in Atys were far from lady-like when it came to matters of the heart. Many of Handel's and Mozart's anti-heroines take bitchiness to a level that would make Joan Crawford blush, and Wagner's love triangle between Brünnhilde, Siegfried and Gutrune causes no less than the end of the world.
The last century and change suffers no dearth of impossible ménages either, however at the same time the increase in feminist consciousness and thought (the turn of the century marked a suffragist movement that coincides eerily well with the verismo period) shaped—directly and indirectly—the trajectory of opera's heroines. Tragic irony abounded in works like Cilea's 1902 opera Adriana Lecouvreur; it's hard to beat fellow critic James Jorden's observation that it "make[s] it clear that the successful woman artist must necessarily fail miserably where it really matters, i.e., in relationships with men."
Presented in concert at Carnegie Hall on Tuesday by Opera Orchestra of New York, Adriana falls squarely in between the chronology of Puccini's Tosca (1900) and Madama Butterfly (1904) and carries with it many of the same dramatic markings, visceral colors and opportunities for diva-dom. A natural for the part is Angela Gheorghiu, who made her only New York appearance this season as the titular actress, a presciently-timed performance given the level of prima-donna-dom that she garnered with her newest EMI disc, Homage to Maria Callas.
Gheorghiu's personal life has seen its own fair share of hisses and snarls; stories of her temperament are legend. However, such myth adds to an aura that leaves her in prime position to take on roles like Violetta, Tosca and Adrianna. There were hints of discomfort between Gheorghiu and the orchestra initially, a few moments of inaudibility hinted more at Licia Albanese than Maria Callas. She teased with her crescendos and phrasing, playing with pianissimos before launching into resonant crescendos.
Her range blossomed to the point of explosion in the opera's third act, in which Adriana and the Princess de Bouillon, her rival for the affections of Count Maurizio of Saxony, come to such a head that the actress Lecouvreur delivers a searing and damning monologue from Racine's Phèdre, using the story of the Greek adulteress as a thinly-veiled accusation of the married Princess's own dalliance with Maurizio. Gheorghiu sang the tempestuous moment from her ankles, and though there was no set to speak of, she still managed a tantalizing amount of scene chewing, which is exactly what one would want from a prima donna playing a prima donna.
In the final act's "Poveri fiori," she was less sculpted but significantly freer in tone, creating a heart-stomping moment. Onstage, Gheorghiu is a paradox: When she enters in a twinkling jet-black gown or an airy white caftan, Gheorghiu seems completely removed from her tumultuous personal life—eternal sunshine of the spotless soprano. Yet at the same time, no diva without such legend could possibly be as complete an Adrianna. At the end of the third act, Gheorghiu grabbed the arm of costar Jonas Kaufmann, as if she herself was shaken by her own performance.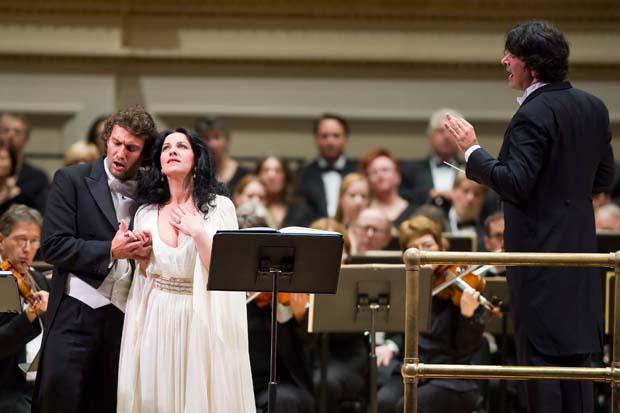 Reunited with her Maurizio from Covent Garden, Gheorghiu was complemented by the dusky tenor of Kaufmann, here adding some hot-blooded Italianism into his cool yet orotund Alpine veins. Singing an aria of emotional exhaustion to the Princess, "L'anima ho stanca," he wearily cooled the embers of his passion for the Princess, turning what she later described as the flame of their love into the ashes of friendship. Coming in between the two lovers was mezzo Anita Rachvelishvili as the spurned princess, whose dark and occasionally deadpan mezzo held its own against Gheorghiu's creamy soprano. It would be a sin to also not mention baritone Ambrogio Maestri, who as Lecouvreur's unrequited admirer, stage manager Michonnet, was full of bittersweet longing and shone in a forlorn aria—the full extent of his character's own tragic trajectory was somewhat lost in concert version.
Muhly's Polygamist Opera
Odd though the pairing may seem, like bacon and chocolate the love triangle of Adriana Lecouvreur bore a striking semblance to the women of Nico Muhly's new opera, Dark Sisters. In Wednesday's world premiere by Music-Theatre Group and Gotham Chamber Opera, the first act's finale stems from five wives in the Fundamentalist Church of Jesus Christ of Latter-Day Saints (FLDS) wondering with whom their mutual husband will spend the night. The ensemble number comes on the heels of two wives turning from passive-aggressive envy to destruction of property as they ponder which one their spouse—the Prophet—loves more.
No poisoned violets factor into Dark Sisters, a work that is more Suor Angelica (or Dialogues of the Carmelites) than Tosca given its sextet of female voices against one male singer taking on the dual role of Prophet and American television show host King. However, like our Cilea heroine, the success of the female protagonists in Dark Sisters is measured by their failure with their men…or man.
There are some obvious visual cues in Rebecca Taichman's direction of Muhly's sophomore operatic effort: The first act features all five wives of the Prophet dressed in antiquated white nightgowns, caked at the bottom with red dust and rock, symbolic of their pioneer earthiness as women and mothers. When the Prophet enters in modern black trousers and oxford shirt, he immediately seems Mephistophelean.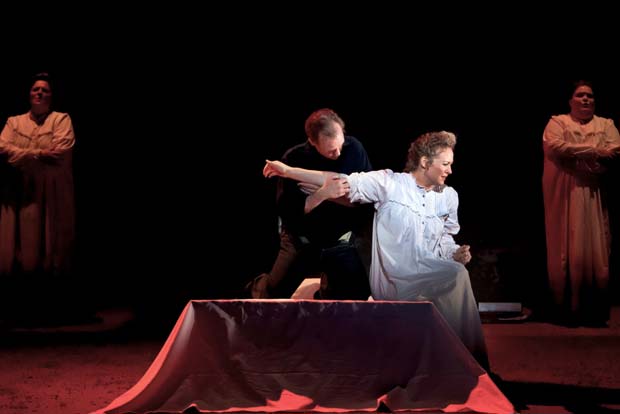 Yet Muhly's score—blooming from an opening chorale that speaks to the composer's obsession with Benjamin Britten into a lush soundscape of plains, mesas and open skies with the strings at one point mimicking rays of light breaking through storm clouds—shows that there's more to the stock characters seen on 24-hour newsfeeds.
On first glance, the family, atypical as it may be, seems happy and you grieve with them as they go through the loss of their children to government authorities. The Prophet, thanks in part to the unsettling charisma of bass Kevin Burdette, wins the audience over and promptly exits, leaving the audience to then spend the course of the first act realizing that the veneer of these pious, devoted women is just that—a game face for television cameras and wire photographers. Even the staunchest FLDS women show signs of cracking under pressure as they go public in the second act.
Some cracks happen earlier than others. The course of Dark Sisters runs mainly through wife Eliza, a tour-de-force vehicle for soprano Caitlyn Lynch, who sang with a pristine diction tempered with a nuanced urgency that was spine tingling. "How can this marriage be Your command?" she asks of the heavens about her unholy (and illegal) union at 16 to a man "whose hand [she's] scared to touch."
As the sister-wives try to reclaim normalcy—"keeping sweet" as the FLDS mantra goes—Eliza discovers that her 15-year-old daughter, Lucinda, has been promised to a man of 56 in another compound, meaning that even if there is a mother and child reunion, it will be short and she will not see her child again. This is her catalyst for change, sending a woman unsure of her place into a full-blown crisis of faith that leads to an emotional outburst on national television and an end that is more happy for the audience than the characters themselves.
Seamlessly fused with Stephen Karam's libretto, Muhly's score has much to offer. It's hard not to think the Bluebeard operas of Bartók and Dukas when hearing the varied types of soprano and mezzo roles, ranging from sweetly lyrical to unwaveringly Wagnerian. Their complex characters slipped into the odd, and oddly puzzling, stock dialogue here and there—"Do you ever wonder what lies beyond this place?" asks Eliza, echoing the words of every Disney Princess since the late 80s, but Karam's words were more often than not poetic and incisive, sensitive to the characters while also appealing to the observer's sensibilities.
Unlike Muhly's Two Boys, criticized by some for a bloodless, procedural core, Dark Sisters is full of emotion. However, because it starts with loss and heartbreak, the progression gets complicated and at times the work suffers for stagnancy. Perhaps the score itself is a nod to what one character refers to as the muted, modest tones of FLDS women, but the stakes of the story keeps the music at a high level of tension (interspersed by some comic rivalry and a starry, starry night) that borders on overwhelming.
As much of a rush as it was from one act to the next, it is still a marvel of a work, one that begs for a repeat listen, especially to delve deeper into the differences from one wife to the next. As troubled, childless sisterwife Ruth, mezzo Eve Gigliotti was full of pathological vocal curves that continually teetered on the edge, far past the brink of Eliza's own soul-baring scena, while Jennifer Check's Almera was a simple, sweet and pure role rooted in good intentions and well-meaning convictions. Muhly's use of traditional hymn Abide with Me in the opera's final scene, played simply by strings, was stunning in its unapologetic candor. Conductor Neal Goren made a strong case for the work from the pit, while 59 Productions' set showed how understated and essential video projections can be in an opera (the looming portraits of past-prophets hovering over the women's activity was especially strong).
Like Turnage's Anna Nicole, Dark Sisters will have detractors based on the subject matter—more uncomfortable to digest for some more than others. But that's also the beauty of this work, and one that will hopefully keep it seen and heard (co-commissioning Opera Company of Philadelphia mounts it next June). Verismo may have died off with Puccini, but in opera a heightened sense of verisimilitude still reigns supreme. And that's something Muhly has in spades.
Photo credits: Stephanie Berger (OONY), Richard Termine (Dark Sisters)