Kevin Puts's Opera Silent Night Evokes Grim Reality of War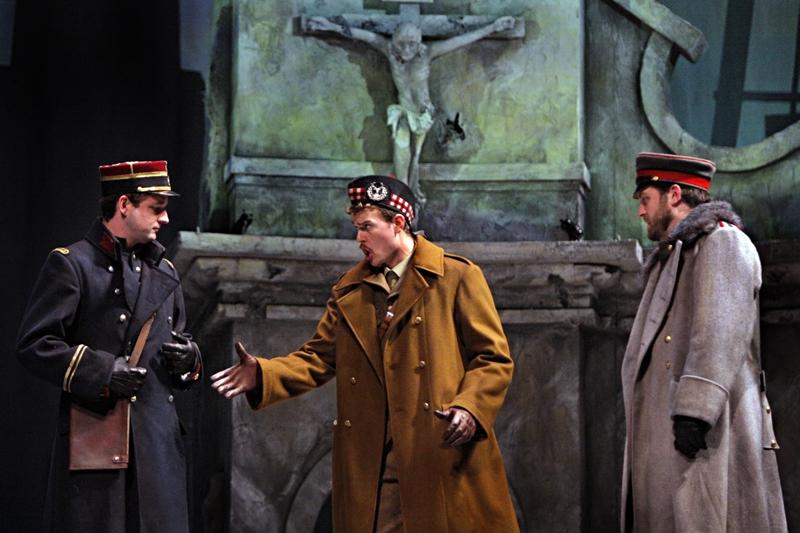 ST. PAUL, MN —
Minnesota Opera is no stranger to world premieres, ever since Dominick Argento's The Masque of Angels marked the company's opening in 1963.
On Saturday, it heralded its latest in style at St. Paul's Ordway Center for the Performing Arts: In a nod to the musical and cultural content of Kevin Puts's Silent Night, a bagpiper serenaded operagoers with Scotland the Brave. Given that the World War I-set opera was opening the day after Veteran's Day, audiences were asked as the house lights dimmed to rise and sing the national anthem as a color guard made its way through the house.
That atmosphere was heightened when it was announced that the opera's leading tenor, William Burden, was diagnosed with laryngitis the day before. While originally given the green light to sing the role of singer-turned-soldier Nikolaus Sprink, Burden felt unable to sing the role on opening night. Yet, in an occupational hazard that comes with world premieres, he was the only person comfortable with both the music and blocking. So while Burden walked the role onstage, ensemble member Brad Benoit (who had previously workshopped the role) sang from a score offstage.
Given the flurry of activity, it's the stuff of potential operatic legend that the greatest battle of Puts's Silent Night was choreographed and pre-planned.
Based on the 2005 Oscar-nominated French flick Joyeux Noël, Silent Night tempers a true moment from history of operatic proportions—a Christmas Eve cease-fire between Scottish, French and German soldiers in the first year of World War I and the inevitable complications of politics versus individuals—with a deeply-rooted musicality: On the silver screen, the incandescent Diane Kruger and Benno Fürmann play opera singers (voiced by Natalie Dessay and Rolando Villazón), while the Scots receive a fair amount of sonic indulgence with a cadre of bagpipe players and nostalgic songs of home. The Christmas setting guarantees no shortage of sacred carols and Latin masses.
Such musicality can prove just as problematic as inspirational for an original opera. Should a composer include the traditional tunes and risk compromising their own aural lingua franca? Or should they ignore the film's soundtrack entirely and risk the loss of that common ground?
Puts asserts himself immediately in this fray; opening the opera with the distorted clanging of Christmas chimes that move into epic dissonance. In the film, soprano Anna Sørensen is first seen on the opera stage singing an "Ave Maria" written in a plaintive modern style by film scorer Philippe Rombi. Onstage, Karina Wolverton's Sørensen sings an Italian aria in the style of Mozart, a glittering classical offset to the dark times ahead for Europe and an interesting inclusion of English, French and German — languages neutral to the ensuing plot. To call the rest of the score "cinematic" is perhaps ironic, given that cinema can trace its lineage back to opera and in turn this opera can credit its genetics to a film. Yet it's hard not to think of sweeping shots and tight zooms, close-ups and pan-outs.
The beginning is a frenzy of Germans, Scots and French learning that war has been declared. After perfunctory introductions, we're thrown almost too quickly into a battle expertly staged on a rotating set. But then lies the real meat as Puts's characters, set to a libretto by Mark Campbell, begin to ripen before they collide.
Puts cleverly sets up three sonically quarreling sides. He owes much to Britten when Jonathan is comforted by his local priest (and fellow enlistee) Father Palmer before switching gears and entering the land of lush Massenet imagery in a knockout Audebert aria that juxtaposes his by-the-numbers military reports with a floating letter to his wife. As a clincher, he dallies with the tumultuous expressiveness of Richard Strauss on the German side. The film's German carols are reimagined by the composer to avoid having "Adeste Fidelis" or "Stille Nacht" be the takeaway earworm, and yet still sound as if they have been sung in Teutonic cathedrals alongside their more famous counterparts.
But before you can write off the work as a first-time opera composer playing dress up in the musical wardrobe of the 19th- and 20th-century's top twenty, he reveals this to be a deliberate artifice. Puts's score mirrors the journey of the soldiers as they go from viewing the opposite side as stereotypes to realizing that the men they are firing at are just that—men. They tentatively cross into no-man's-land, show pictures of their wives, swap chocolate and cognac, bust each others' chops and huddle around a cross en masse for Christmas Eve services.
They extend the truce next morning to bury their dead and play football (Germany wins). With faces and names revealed, they quickly realize that they cannot go back to the life of December 23 when each enemy uniform was thoughtlessly shot on sight. The cease-fire is only cut short when word reaching their respective HQs and military brass ultimately intervenes.
With so many male voices, Puts's singers face an inverse challenge to that of Handel's mezzo- and countertenor-laden Baroque extravaganzas. There was the further glitch of Sprink's double-casting, which was an inadvertently keen nod to the vocal dubbing of the film's two opera singers, but Burden's comfort onstage combined with Benoit's vocal ease made for made the best solution to a sticky wicket.
Benoit and Burden paired artfully with soprano Karin Wolverton, whose diamond-edged soprano shone in a sublime Act I "Dona Nobis Pacem" during mass, and sliced through the top notes of a second-act aria full of emotional turbulence as she realizes the beauty of her art is no match for the horrors of war.  
Baritone Liam Bonner sang an Audebert conflicted by duty to his father and wife, a desolation angel gradually losing faith in his hope that the war would be over in "only a few weeks" and singing a multilingual trio with Craig Irvin's Lieutenant Horstmayer and Gabriel Preisser's Lieutenant Gordon, a realization on their parts of the moral conundrum caused by their Christmas Eve truce.
The true measure of the uniformly strong cast, however, was not the ability of each singer to stand out (which each was able to do in his turn), but their choral-like talent for blending as they bonded. Conductor Michael Christie and the men's chorus of the Minnesota Opera were particularly essential to this success—a post-battle chorus praising the escapism of sleep twinkled with unsettling longing. Without dipping into saccharine hallmarks, Puts's score manipulates in all the sorts of ways that keep us going to the opera: When baritone Andrew Wilkowske as Ponchel sings of "a magnificent silence," punctuated musically by a few noiseless Mahlerian beats, an audience normally not afraid to fidget or cough didn't dare make a sound.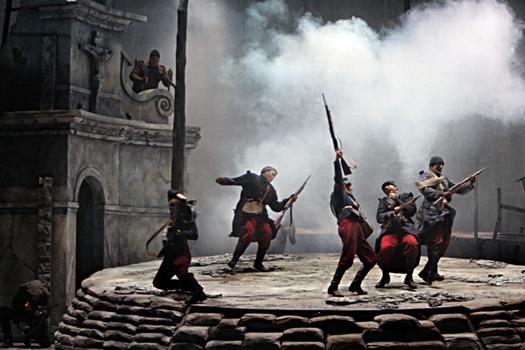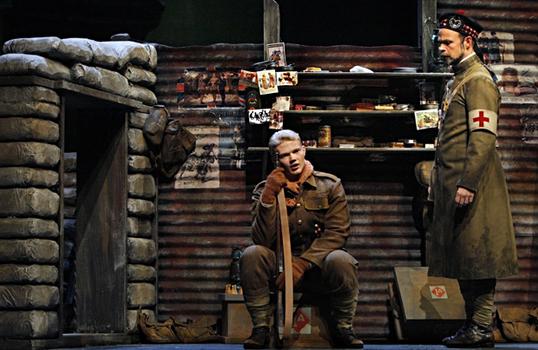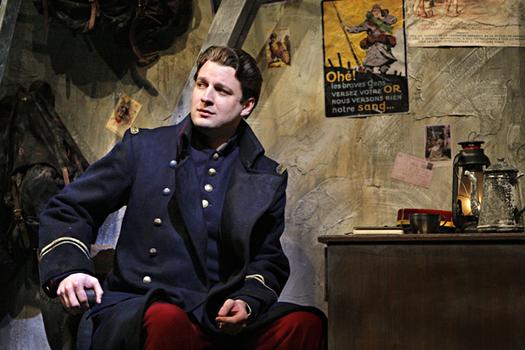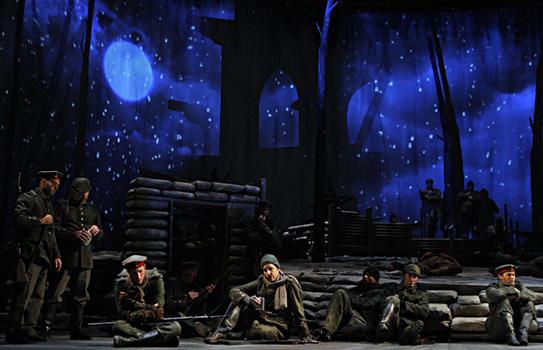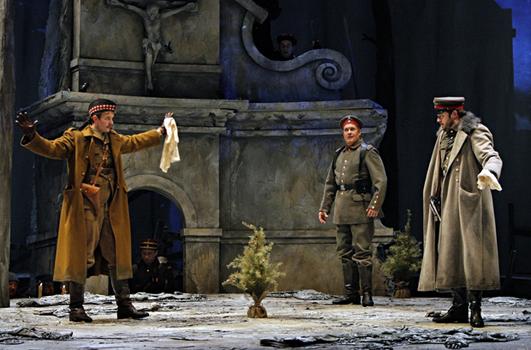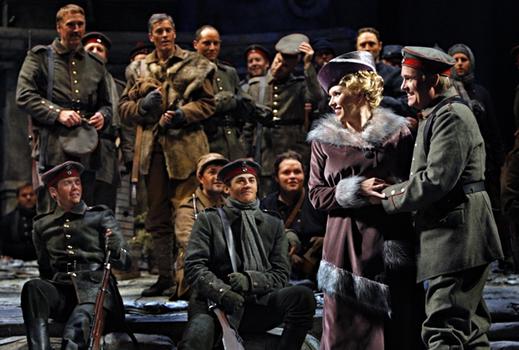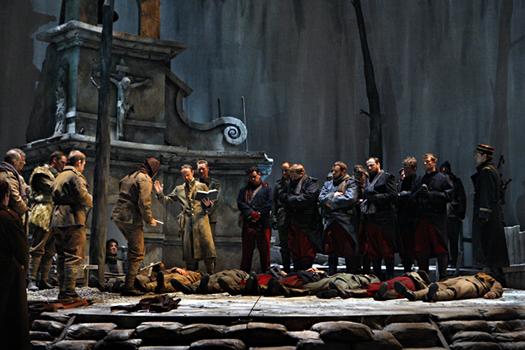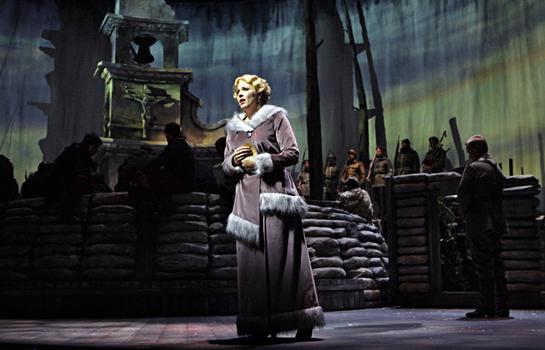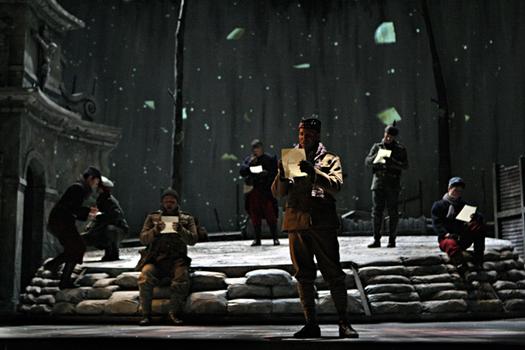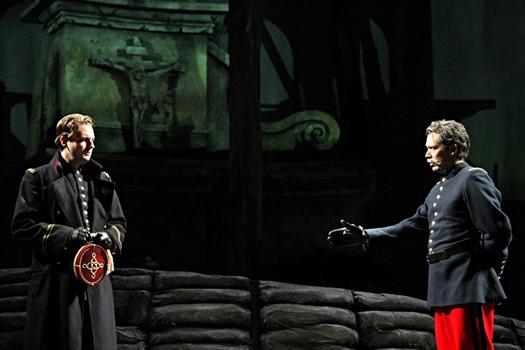 of