Silver Screen Wagner Vies for Oscar Gold
It's possible that Richard Wagner is almost as frequently represented on the silver screen as he is on the opera stage, from the iconic flight of American demigods over Vietnam to the "Ride of the Valkyries" in Apocalypse Now to the infamous "Globe Scene" in The Great Dictator set to Lohengrin's Act I Prelude.
So while it's no surprise that Wagner should factor into more than one film as we barrel towards Oscar season, the fact that the composer should factor so prominently into two buzz-generating films occupying opposite ends of the film spectrum is rather anomalous. Lars von Trier's Melancholia derives its score almost entirely from simply the prelude to Tristan und Isolde, to the point where Zentropa Music, the misguidedly enterprising music supervision company, is selling the soundtrack to the film for just under $7 on iTunes. (In dividing Wagner's overture among seven tracks, for that money, you may as well sink in an extra $3 to get Karajan and Jessye Norman's 1988 recording for Deutsche Grammophon featuring the same work cozied up alongside the Tannhäuser Overture, Isolde's "Liebestod" and the Siegfried Idyll.)
On his blog, Alex Ross calls von Trier's use of the work "at once clumsy, unoriginal, and perverse," going on to add that the extended repetition of the prelude's opening turns the notes into "a kind of cloying signature tune…[robbing] the music of its capacity to surprise and seduce the listener." There's also the point that the film's opening slow-motion effects seem Xeroxed off of Bill Viola's Tristan, and Ross's conclusion that von Trier's final apocalyptic cut "buys into a cheap conception of Wagner as a bombastic nihilist."
True to von Trier's own polarizing personality -- the buzz of Melancholia was marred by the director's questionable, uncomfortable and reprehensible Nazi comments at Cannes -- Melancholia has left many audiences divided in their opinion. Whereas Ross found it insufferable, I found it disquietingly captivating. At times when my energy and interest flagged, the Tristan Chord kept pulling me back in, like Kirsten Dunst's legs being ensnared by tree roots in the opening montage. Dunst herself was at times a milky-skinned, flaxen-haired Wagnerian maiden; a scene of her bathing nude by the light of the threatening planet recalled both Brünnhilde on her rock and a leisurely evening in Tannhäuser's Venusberg.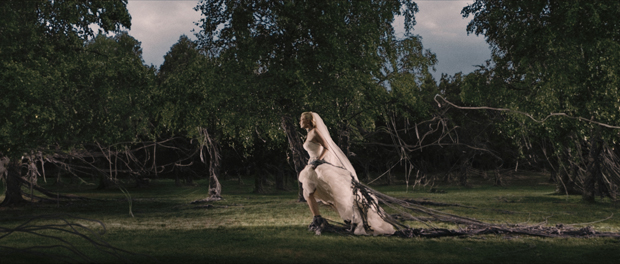 Perhaps von Trier beats us over the head more forcefully than Wagner did with his then-revolutionary leitmotifs, and the plot sometimes dragged, but the experience on the whole reminded me of my first few times with Wagner—finding myself hooked on certain moments while being daunted by length. Yet at the end, days after having seen the film, I still can't quite seem to shake it. Which works equally well as it's a film I never necessarily have to see again. The in-your-face vulgarity and bombast of von Trier's Wagner-philia contains a vibrancy and empathy, whether fully realized or not, that has been sorely lacking in many recent opera productions in New York, including the Met's new Ring Cycle.
More watchable is David Cronenberg's A Dangerous Method, crafting an unconventional triangle between Carl Jung, Sigmund Freud and Russian beauty Sabina Spielrein, who before meeting her death at the hands of Nazis would educate some of the Soviet Union's finest mid-century psychoanalytical minds. In a way, the more overt script references to Wagner make for a greater subtlety of the composer's music, which coyly manipulates the score from what starts off as a Howard Shore into quotes of the Siegfried Idyll and Das Rheingold's "Abendlich" and Niebelheim scene.
Jung and Spielrein find a mutual connection over Wagner, one that leads to their plot-forming affair, each preferring Rheingold but drawn to the psychoanalytical aspects of Siegfried. Spielrein, played with a grotesque aplomb by Keira Knightley, comments on her abusive father and unhappy childhood in connection with Siegfried's noting that the Wagnerian poster-boy came out of the worst sins (incest, adultery) to be the perfect hero. Cronenberg adapts this same hero born of sin, tailoring it to Spielrein's psyche and desire to conceive a child with Jung. At times, you even see her connection to her mentor and doctor not through her own face at all; in one memorable scene, the two scientists monitor the reaction of a roomful of listeners hearing a wax cylinder of Die Walküre. The rapture on an unnamed woman's face, accounted for in Spielrein's meticulous and methodic note-taking, expresses her own burning desire for Jung in an instance where her own visage cannot—a fact not lost on Jung.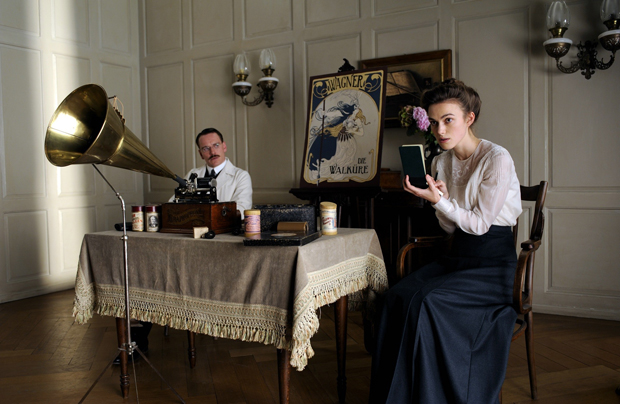 Ultimately, while Melancholia steals from Tristan and A Dangerous Method borrows from Siegfried, it's Brünnhilde that stands for both of these strong female leads. The severely depressed Dunst faces the end of the earth with the stoic determination of Brünnhilde at the point of immolation, a stark contrast to her sister, Charlotte Gainsbourg, who was a more mortal Gutrune.
More heartfelt and hopeful, in spite of a copout end title card that outlines what happens to each historical character in later years, is A Dangerous Method's Spielman. She morphs from a schizoid, needy female unable to live without the doctor who has shaped her into his image, into a woman who wields power—however understated—over her mentor. The final scene between Knightley's character and Michael Fassbender's Jung is less the parting of lovers, and more in line with Wotan's farewell to his favorite daughter, Brünnhilde. And the ensuing history of the 20th Century would harken to another, very real, Götterdämmerung. The coolness of Cronenberg's creation may not best suit an opera house, but it does wonders for the cinema.