Meet Composer Alexandre Lunsqui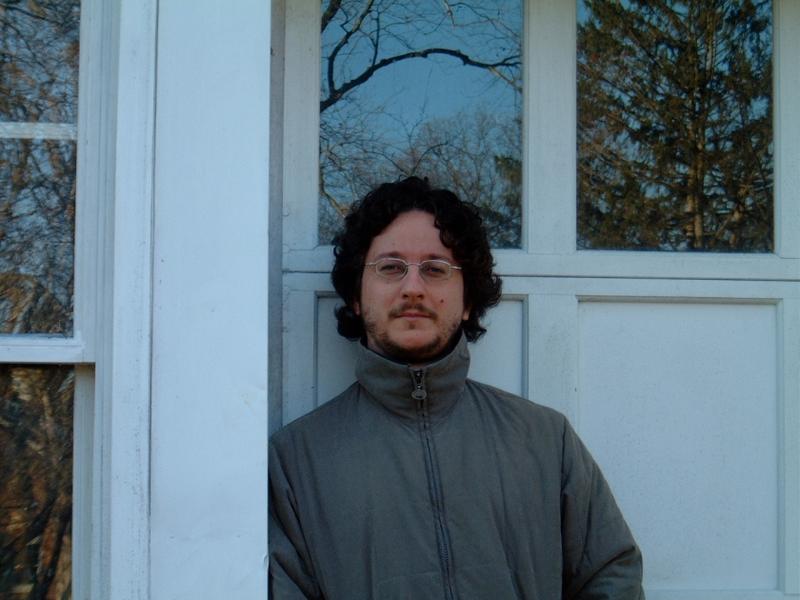 In anticipation of the world premiere of Alexandre Lunsqui's New York Philharmonic-commissioned Fibers, Yarn and Wire this Friday, December 16 and Saturday, December 17 at the Metropolitan Museum and Symphony Space, respectively, Q2 Music presents an exclusive chance to get to know the composer behind this season's NY Phil CONTACT! new-music series. Delayed webcasts of CONTACT! can be heard on Q2 Music December 21, 24 and 29.
Perhaps I should start this post with a suggestion to all the parents out there that they shouldn't underestimate the power of music toys and old colorful LP records. They have been the entry-door for my life as a musician.
I grew up in a family of Italian and Lithuanian immigrants who moved to Brazil in the late 19th and early 20th centuries. Although there were no professional musicians in my immediate family, music was always present. I remember dropping my colorful pens to listen to the lower notes of the piano as my brother was having his lesson. It was a powerful experience that I will never forget.
As a teenager, music improvisation became an obsession of mine for many years to come. Listening to Thelonious Monk was a revelation. I had been studying piano for a few years and for the first time I was exposed to incredible music that had not been written on paper. Later, as an undergraduate student at the Universidade de Campinas (in a small city near Sao Paulo, my birthplace), I organized/started a group called the In Sanum Ensemble. It was a long collaboration with a dear friend, composer/bassist Ignacio de Campos (1966-2009). We would listen to Anton Webern, Giacinto Scelsi, Olivier Messiaen, Iannis Xenakis, Karlheinz Stockhausen, Luciano Berio, Anthony Braxton, just to name a few, and we would try to mimic their styles by either writing down some passages or simply improvising. On the other side of the scope, we would compose our own material almost frenetically. This tenure with the In Sanum Ensemble was the most important learning experience I had as a young composer.
After graduation, I spent several years working as a freelance musician playing piano in all sorts of gigs, creating music for videos, arrangements and most importantly, composing. If you are not writing commercial music, living as a composer in Brazil was (and still is) virtually impossible (it is not a Brazilian "privilege", of course). This is a much bigger problem that involves more investments in education and the necessity of having a more stabilized economy. There has been great improvement in recent years, but there is much more to be done. It was during this period that a former teacher of mine, Rafael dos Santos, then studying and working at the University of Iowa, told me about his experiences in the Midwest. I decided to venture north myself. At the University of Iowa I met some incredible musicians, including composer Donald Martin Jenny, a brilliant mind and fantastic musician who had been teaching in Iowa for over 30 years and whose best known pupil is composer David Lang. During that time I also worked with Jeremy Dale Roberts, formerly professor at the Royal College of Music in London, and John Rapson, a jazz trombonist, composer and improviser, an incredible musician with whom I had the chance to play a lot of original music. 
The atmosphere in Iowa was of total music immersion. Being surrounded by the snow for several months was also a unique experience for someone from the tropics. I remember walking back home crossing fields covered with snow at night after a full day of work in the music department. I also remember driving to the Amish community of Kalona before sunrise to experience a sense of peace and quietness that I haven't experienced since then. The word nostalgia is inevitable here. It is not the kind of highly complex nostalgia so masterfully depicted in Andrei Tarkovsky's film Nostalghia, but nostalgia from the simple yet profound experiences I had during those years in the Midwest.
While in Iowa City, I found out that French composer Tristan Murail was teaching at Columbia University. I had met him several years earlier when I was an undergraduate student in Brazil. It was probably back then that I started to wonder how to conciliate rhythms from my own culture with the highly complex harmonic colors of the so-called Spectralism. I finished my studies in Iowa and headed to New York to pursue a doctoral degree at Columbia.
New York City is, without question, one of the most energetic cities in the world. It was not very easy to live in a shoebox during my first two years in New York, but I knew I had been given a unique and very special opportunity. When things were getting slightly more settled for me in New York, the tragic events of September 11th 2001 took place. I cannot describe the emotions of the subsequent days, weeks and months from the attacks. It is something that still resonates very deeply.
The years at Columbia were very productive. There I had the chance to work not only with Tristan Murail, but also with Fred Lerdahl, George Lewis, Jeffrey Milarsky and many talented young composers who helped to make the music department a wonderful and creative center over the years. The ever-exciting atmosphere of New York also led me to some long lasting friendships and music collaborations:
Greg Beyer, Michel Galante and Alex Lipowski are three of these cases. It was such a joy to be around Michel and Alex when they were still dreaming about the creation of Argento Chamber Ensemble and Talea Ensemble, respectively. This is also where I met Greg Beyer and Erin Lesser, two extraordinary musicians with whom I still have very close relationship.
In 2010, while I was working as an adjunct professor at Columbia, I heard about a teaching job opening in my hometown, Sao Paulo. I applied for the job and in two months I had to be back in Brazil to start my duties as a professor in composition and theory at the Universidade Estadual Paulista, UNESP. There is only so much we can plan in our lives. After more than a decade living abroad, including one year studying at Ircam, Paris, I found myself having to adapt to my own country.
Only a few weeks into this new job, I was back in New York for a premiere of my piece Kineticstudies with the Talea Ensemble - the piece was a Fromm Commission from Harvard received the year before. I was in New York City for only a few days when I coincidentally received an email from the New York Philharmonic commissioning me to write a new piece - Fibers, Yarn and Wire. Knowing that I would be back in New York for the premiere of a new work with such a prestigious group somehow softened the impact of leaving this incredible city after many years.
Since this post is about a journey, I would like to end it by quoting something from a program I saw while flying from Sao Paulo to New York just one day ago. It is from food-traveler-turned-philosopher Anthony Bourdain (from the No Reservations program): "Everything changes. Everything stays the same. Maybe not."