Why Opera Boston's Closing Should Really Scare New Yorkers
In the midst of the holiday season, Bostonians were hit with the unwelcome news that the city's second opera company, Opera Boston, would close its doors as of January 1.
Staff members were notified on December 22 following a board meeting two days earlier that sealed the company's fate. According to the Boston Globe's Geoff Edgers, at least six of the 17 board members were not present at this meeting, which ended in a vote to disband. Edgers also implies that this was not a unanimous decision: Stephen M. Weiner resigned from the board over disputes with leadership, which included an edict that newer members not be included in financial problem-solving. "There were a number of people who, once they began to realize there was a financial problem, wished to have it addressed," Weiner told the Globe. "They were not consulted.''
As of press time, Opera Boston (who did not respond immediately to a request for comment) is still advertising its February production of Tippett's The Midsummer Marriage on its Web site, where it is also soliciting donations and teasing another future production of Bellini's I Capuleti e i Montecchi. No mention is made of the company's impending closure; in fact there is still an active job posting for a director of development. The company's last tweet was sent on November 8, touting a recital by company member Hae Ji Chang.
This past January, Opera Boston experienced a turnover in leadership with Lesley Koenig (a former assistant manager and director of productions at the Met and general manager of San Francisco Ballet) taking over for founding general director Carole Charnow. The decision less than a year later to dissolve the company entirely comes as a shock even to Koenig, who was in California when she received the news. "I came in and made every effort to bring the institution to the next stage. And I'm very sorry the board has made this decision," she told the Globe. Moreover, according to Edgers, founder and president emeritus Randolph Fuller denied financial problems when contacted earlier this month.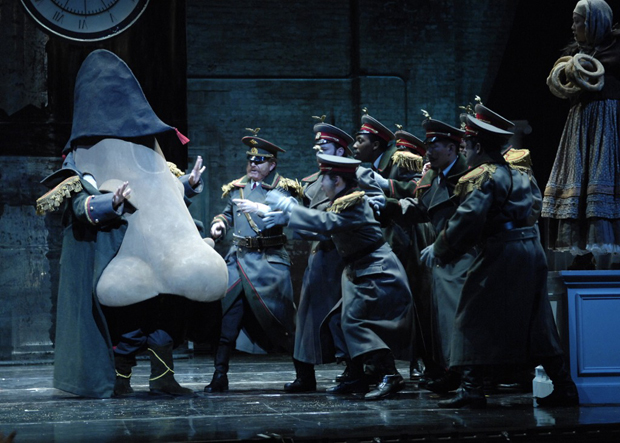 Opera Boston's production of The Nose. 
The news is indeed, as Koenig put it, "a tragedy for Boston." While Boston Lyric Opera, New England's largest opera company, produces its fair share of crowd-pleasing productions, its output allowed more than enough room for two companies to coexist in the same city. Even with two of BLO's four productions this year coming from the contemporary pool (Peter Maxwell Davies's The Lighthouse and John Musto's The Inspector), Opera Boston filled a particular niche for rare works from all eras, garnering praise as a thinking-person's company. Its recent productions included a Fidelio starring Christine Goerke, Osvaldo Golijov's Ainadamar with Dawn Upshaw, the North American premiere of Eötvös's Angels in America, a highly-praised showing of The Nose prior to the opera's Met debut and the 2010 world premiere of Zhou Long's Madame White Snake, a work that won the 2011 Pulitzer Prize for Music. For all its accolades, attendance was still touch-and-go.
Many have attributed this closure to the notion that Boston is "not an opera town," according to Charnow. However, difficult though it may be to run an opera company anywhere, even in Boston (where this reporter was born) with numerous failed companies in its past, there are still issues that extend beyond the climate and setting. Boston is the home to New England Conservatory of Music and Berklee College of Music. It's readily accessible to Rhode Island, which has a solid music program at Brown University, and the city also sustains one of the country's highest-regarded symphony orchestras. To blame this on the environment is ignoring greater issues.
At its core, Opera Boston's issues were financial. According to Edgers, the company had a $220,000 deficit when Koenig came in. Twelve months later, that number had more than doubled to $500,000 (which was also the number quoted as the budget for The Midsummer Marriage). Freelance musicians for the company filed a complaint with the state attorney general's office to chase down payments.
However, such problems don't crop up overnight, nor do they come unfounded. The events that occurred in the week of Opera Boston's announced closure are indicative of a mismanaged board and company. The suddenness of the announcement has also raised eyebrows among fans, employees, former board members and journalists. And, unfortunately, what it also shows is that the merits and survival of a company rely in no small part on its leadership. Even given Koenig's own esteemed pedigree, the company still folded.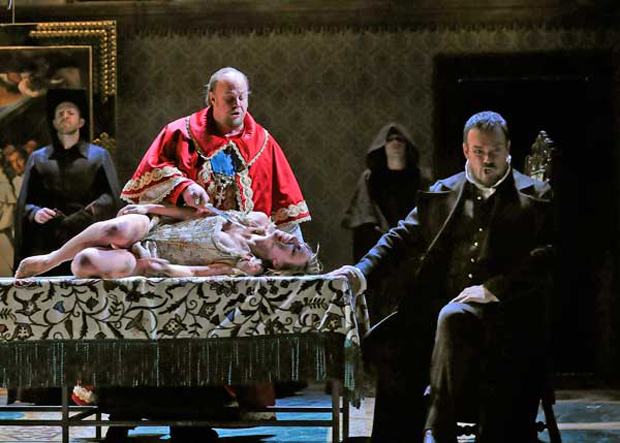 Opera Boston's production of Fidelio.
As I write this on a train that originated in Boston and will leave me back in New York, I realize very intimately how close the two cities are and, baseball and accents notwithstanding, how similar they are. The sad story of Opera Boston is blamed on the city itself, but many of the events mirror the continued demise of our own New York City Opera. Many of that company's missions—such as a focus on new and rare works, including premieres that have gone on to net Pulitzers—are similar to Opera Boston's.
And while the decision to leave Lincoln Center has proven to be truly controversial, and the idea of becoming a roving company still bound to leave many with misgivings, even that radical change could be sustained with strong leadership. George Steel is, like Koenig, a keen artistic mind with a successful track record at Columbia University's Miller Theatre and some stellar productions at City Opera. But, like Koenig, it's hard to see how he will be able to successfully steer this ship with an equally unstable board and administrative situation. Sadly, the company has yet to recover from the stillbirth hiring of Gerard Mortier in 2007.
We've seen the effects these issues have had in Boston. What we'll see from City Opera this year as it (hopefully) makes steps toward a February season opener at the Brooklyn Academy of Music is still anyone's guess. But the precedent set is scary.
Was Opera Boston's best option to close? Could this influence other companies around the country? Leave your thoughts in the comments below.
Photo credits: Clive Grainger.