When the Fourth Wall Comes Tumbling Down
Perhaps as a late Christmas gift to the audience, or possibly in an added bit of baffling nonsensicality, bass René Pape marked his last appearance in the Met's limpid new production of Faust with a moment of devilish spontaneity.
After the opera's iconic "Jewel Song," and as Méphistophélès reenters with Faust noting how Marguerite has taken to her new baubles, bangles and beads, Pape parted with the French language for a beat to add the line "Diamonds are a girl's best friend." (In fact, it's the same line uttered by a lion puppet after the same aria in Joan Sutherland's Who's Afraid of Opera TV show take on Faust.)
The momentary break in character, not out of place for a devilish character, was preserved on broadcast and posted almost immediately to Parterre.com (you can listen here) where it was met with a range of reactions from the popular gossip Web site's readers. "The ad lib is cringe-inducing," wrote one fan. "Real amateur hour stuff. And I like Pape quite a bit; I'm not just being petty." Another said: "It may be a wretched production, and he may sing like a God. But he behaved like a pig."
Others found the incident to be less reproachful, calling it "a bit of a 'last day' joke from somebody who did a great job. [It] sounds like an OK thing to do – especially in the production like this which deconstructed the original story this much first of all." And one conspiracy theorist even posited that Pape was asked to ad lib the line "by various powers that be."
At least it came in a lighter moment, at a point where the audience was already laughing; it could have been much worse if, during the first act, Pape had told Faust "I'm going to make you an offer you can't refuse." Heck, Faust could have said "Here's looking at you, kid" instead of "À toi, fantôme adorable et charmant" as he drinks to his youth and Marguerite. Siebel could have told Valentin "May the Force be with you" before the soldiers depart for war and all three male principals could have sneered "Go ahead, make my day" before the fatal duel.
It's a slippery slope, but as Zachary Woolfe pointed out in the New York Observer earlier this fall, following a sly smile from Anna Netrebko during the Met's opening night of Anna Bolena, breaking character is no new phenomenon on the opera stage, such as Jon Vickers's famous rail against a vaguely tubercular audience member. In a production of La bohème, Enrico Caruso was paired with the severe Nellie Melba, who considered her costar to be an animal. He lived up to her expectations during "Che gelida manina" in which he pressed a hot sausage into her palm as he sang of her tiny frozen hand. One night during Tosca, Maria Jeritza stabbed her Scarpia with a ripe banana. Kathleen Battle sang Susanna's final aria of Le Nozze di Figaro in the dark one night after continually berating the Met's wardrobe mistress (who was married to the master electrician).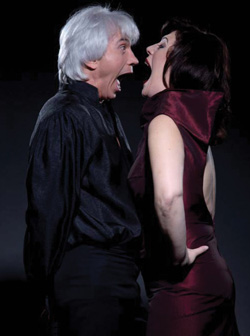 Performing a Rescue
Nowadays, soprano Sondra Radvanovsky and baritone Dmitri Hvorostovsky (pictured) are known to prank each other onstage with well-hidden fake tattoos and eyeliner tricks. But there are also the moments of rescuing an awkward situation: During a Met performance of Lohengrin, tenor Leo Slezak was left stranded onstage when his swan-pulled boat sailed offstage too early. Turning to the audience, Slezak saved the moment by asking "Tell me, please, what time is the next swan?"
In a production of Carmen at New York City Opera, mezzo Gloria Lane unexpectedly had to finish the opera herself, singing both title role and Don José and stabbing herself with an imaginary knife after tenor David Poleri stormed offstage. Galiano Masini reportedly shouted "Up yours!" to an unkind audience during a production of Tosca and was also rumored to break a performance in order to ascribe a botched high note to the local "damned laxative mineral water."   
Operettas like The Merry Widow (a recent DVD of a Zürich performance includes a nod to the local beer) and Die Fledermaus are wide open to fourth-wall breaking. While many fans were shocked to hear a pop culture reference pop up in Gounod, it may have been less surprising to hear the same reference thrown into Lehár or Strauss. "Unlike operas, operettas aren't sacred," wrote David Mermelstein for the Los Angeles Daily News in 2005. "They don't deal in great truths or noble themes."
Mermelstein's comments about the operetta came at the beginning of his review for the Los Angeles Opera's production of The Grand Duchess, the company's take on Offenbach's La Grande-Duchesse de Gerolstein. Helmed by sitcom man Gary Marshall and warped out of proportion into a work with so many extraneous cultural references (from The Sopranos to "Hush, hush sweet Charlotte"), Marshall's Duchess was a shtick too far, making Family Guy seem tame by comparison. There, the fun was forced and there was no Verdian level of tension to cut. In Marshall's hands, the spontaneity of the ad-libs was pre-planned and scripted. It does tells us something: With such an extreme example, there is obviously a discernible line to be crossed. But the question remains: does the same line extend to six little words uttered by René Pape?
Was Pape out of order by adlibbing in Faust? Have you seen any moments of the fourth wall breaking down in an opera house? Leave your thoughts in the comments below.