Navigating Choppy Dramatic Waters to Find a Musical Oasis
Watching Wednesday night's The Enchanted Island at the Metropolitan Opera, I was struck by a similar feeling I had seeing Roman Polanski's Carnage in cinemas over the weekend: In both cases, you have a cast of top-rate performers forming a whole greater than the sum of their considerable parts, and yet without this element what remains would be nowhere near as compelling.
Inspired by the musical pastiches of the 18th century, The Enchanted Island fuses a Shakespeare-inspired plot with music by a variety of Baroque composers. It had its world premiere on Dec. 31.
William Christie, whose Met debut in a revival of Così fan tutte last season was somewhat of a damp squib, conducted with lusciously judicious hand. The Les Arts Florissants maestro sounded entirely in his element with the Metropolitan Opera Orchestra as he held court over a score patched together with cherry-picked works by the likes of Handel, Vivaldi and Rameau. This is the sort of performance that should have, much like Neptune's applause-garnering entrance to the chorus from Handel's Zadok the Priest, been Christie's Met debut.
An extensive cast full of living legends and bright young things fired on all cylinders and managed to stay on an even keel. Joyce DiDonato brought her Handelian chops to the Met with gale force, singing a Sycorax full of unmitigated anger and motherly pathos, perhaps going through the evening's biggest transformation both physically as she ages in reverse from dingy grays to vibrant gold and emotionally as she reclaims her native land and brings herself to forgive David Daniels's poignant and polished Prospero.
Luca Pisaroni, matched with DiDonato as her son Caliban, added some basso gravitas to anchor the score. His pastoral love song to Helena is definitively tender, allowing for Pisaroni's bass-baritone to glow with poignant sentimentality but also reveal the breakable and hypersensitive cracks in his character—cracks that come wide open in his second act lament. When in this moment Pisaroni is consoled by DiDonato, he silently grabs her as she sings, holding on fervently before collapsing on the ground, bereft and heartsick. It's a touching moment guided by the heartbeat of the music without moving in twee tandem.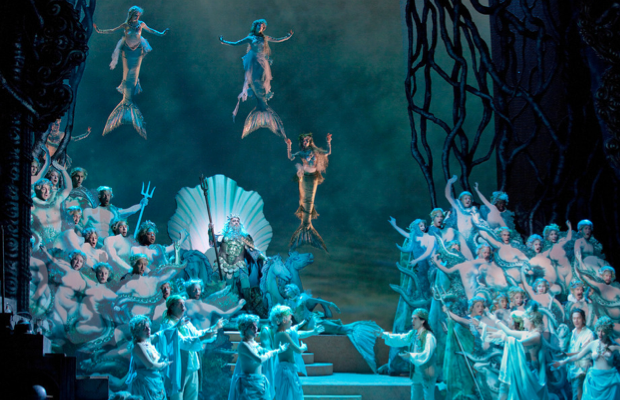 In a brief cameo as Neptune, Plácido Domingo, though occasionally unclear in his English diction, was everything you wanted in a god who was at turns omnipotent and world-weary. Glowing and gamine soprano Lisette Oropesa and wine-dark countertenor Anthony Roth Costanzo were ethereally earthy as the lovers Miranda and Ferdinand, while soprano Danielle de Niese brought puckish playfulness to the role of Ariel. The Midsummer lovers—notably soprano Layla Claire and tenor Paul Appleby—all had supple and sun-dappled moments.
The Enchanted Island is not without merit apart from its cast. The creative team of director Phelim McDermott, set designer Julian Crouch and costume designer Kevin Pollard (the triumvirate behind Satyagraha) along with lighting designer Brian MacDevitt has created a production that ranks with Satyagraha and The Nose as a high point of the Peter Gelb era. While the Met is still too cavernous for the intricate intimacies of the Baroque era—compare for example, Danielle de Niese's nuanced Handel disc with Christie for Decca with her strong but less adorned performance as Ariel on the Met stage—McDermott's vision makes the case for Baroque opera's grandeur. Projections from 59 Productions create a tempest that eschews Robert Lepage's overly literal imagery in favor of stylized spectacle.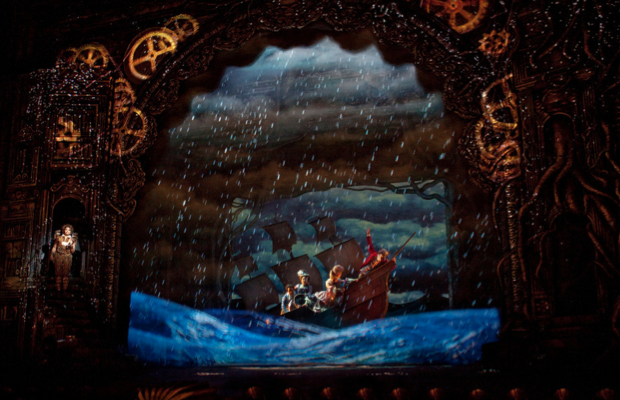 With so much to recommend this Island, the crippling weaknesses of the opera's libretto are all the more galling. Jack-of-all-trades Jeremy Sams (of Chitty Chitty Bang Bang renown…I'm going to let that credit sink in for a minute) worked with Christie and Peter Gelb to fashion a semi-original story out of this collection of arias, stranding the lovers from A Midsummer Night's Dream on to the island from The Tempest as a catalyst for mistaken identity and romantic entanglements. On the surface, it's a plot that seems in keeping with many of the Baroque works, which, long before Disney gave perky facelifts to downer stories like The Little Mermaid, dealt expertly in mashups and happy endings.
Unfortunately, that leaves us with 11 characters to follow. Sams paints unevenly, allowing overloaded brush strokes to flesh out some characters in heavy globs while leaving others barely covering the canvas, leading to a zero-sum game. The vast majority of the first act functions as a sort of Baroque fashion show in which one singer takes the runway with an aria and exits allowing another character to come on with their refashioned couture. Lather, rinse, repeat. What's more, it's hard not to groan at retooled and clunky repetitive lyrics like, "I can float like a bee in the treetops/Going 'Whee! Look at me in the treetops!'" If opera is the seamless marriage of words and music, this relationship needs marital counseling.
Without an arc—one element that is pulled taut in Shakespeare's plays and Baroque opera—we're on a ship lost at sea.  The excuse that Baroque opera was often repetitive, comprised of recycled arias, or light on plot is refutable: We've seen firsthand evidence of this just recently with Christie's Atys at BAM. Which leaves us with the question: Does this brave new (or new-old) world have a life beyond this world premiere run at the Met? Or is this showing of the work's simple skill the true beginning of its end? Perhaps one of Prospero's own arias sums it up best: "Chaos, confusion, madness, delusion: What have I wrought here? What have I done?"